Difference Between 9k, 18k Gold and Platinum

Difference Between 9k, 18k Gold and Platinum

---
Gold is the traditional precious metal of choice for diamond and moissanite wedding sets. But with many different karat golds available, and the ever-tempting platinum bands, which is best for your engagement rings?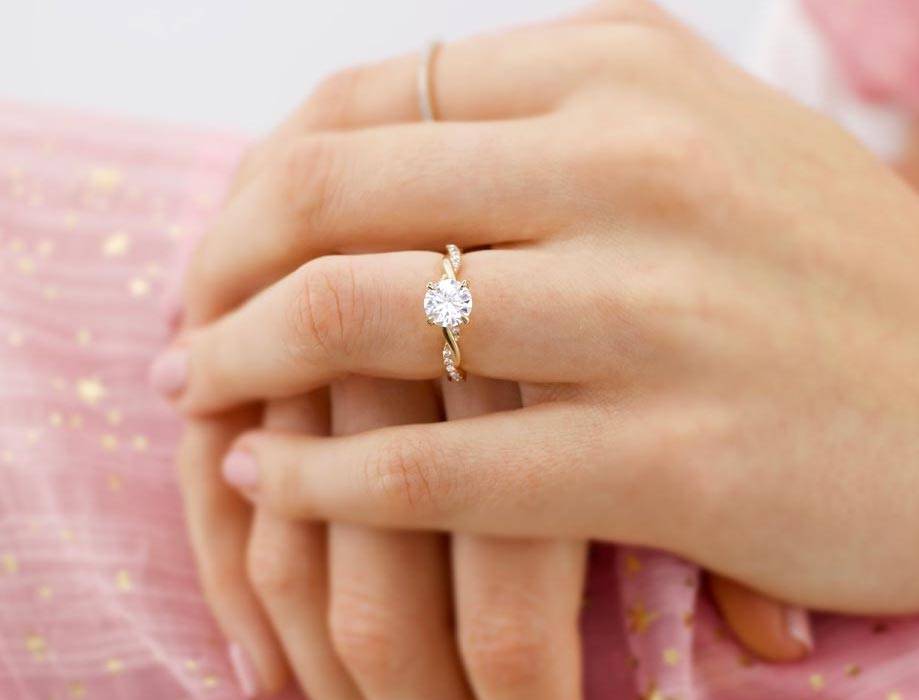 Gold karats refer to the amount of pure gold in a precious metal. 24k gold is 100% pure gold – you very rarely see 24k gold jewellery simply because it's so malleable and can't stand everyday use as moissanite wedding sets or other jewellery items.
The Charles and Colvard Forever One range features many 18k moissanite engagement rings. That means the precious metal is made from 75% pure gold, combined with other, quality metal alloys. With 18k gold you get a beautiful gold lustre but with durable, strong features from the metal alloys.
9k gold is comprised of 37.5% pure gold – it is more alloy than gold and thus less expensive. You'll immediately notice that the quality just isn't the same; it lacks the shine and warmth that you'll see in an 18k gold engagement ring. Lily Arkwright are proud to sell exquisite 18k moissanite, emerald, rubies & sapphire Charles and Colvard Forever One and Chatham lab grown wedding sets.
Platinum is a light silver-coloured precious metal. Platinum rings have a different feel to gold rings, which tend to be more traditional. The silver colour can almost be described as white, as it's amazingly light in colour. Just take a look at the Gisela Knife Edge Round Cut Solitaire moissanite Engagement ring to admire the bright glow of platinum.
The platinum precious metal used in the Charles and Colvard Forever One range is almost completely pure. Unlike gold, platinum is incredibly durable and doesn't require an alloy-based composition.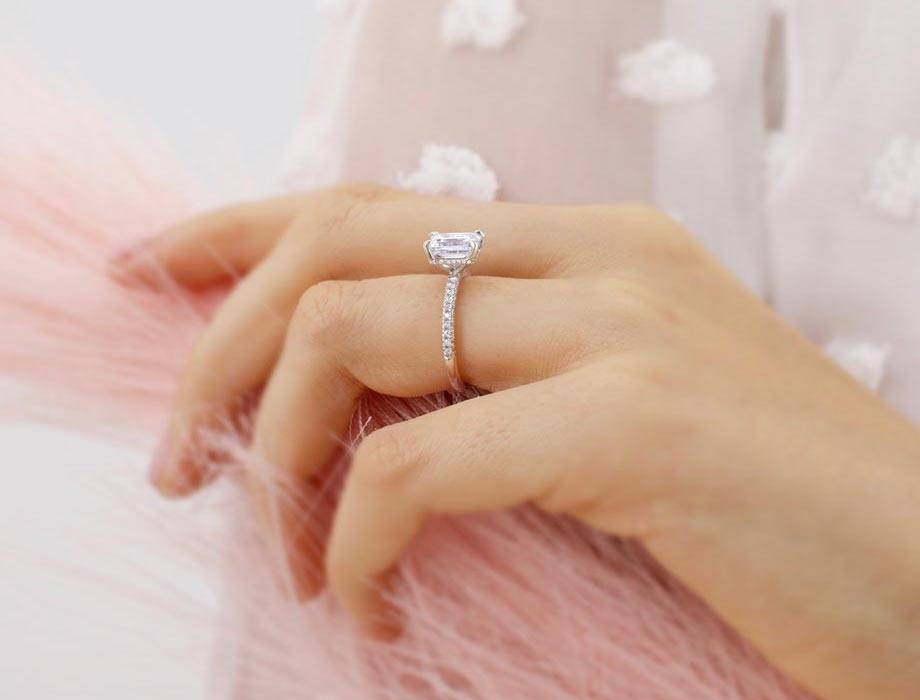 Which Is Best for Moissanite Wedding Sets?
The low moissanite cost compared to diamonds means you probably have more budget to spend on higher quality precious metals to form the base of your moissanite wedding sets. Although, both diamonds and moissanite look exquisite set into both gold and platinum rings. Consider platinum if you want modern and contemporary jewellery, and 18k gold if you prefer a warm, rich and traditional style.
18k gold that's well-made will be very durable and practical as a wedding ring as long as you take good care of it. Whether you opt for 18k gold rings or a stunning platinum set, your other half will be blown away by the beauty of our precious gemstones.
If you have any questions about the 18k gold and metal alloys used in our jewellery, don't hesitate to contact us at hello@lilyarkwright.com
We pride ourselves on our ability to produce stunning ethical and sustainable fine jewellery at an amazing price point, supported by unrivalled customer service. We offer the highest quality moissanite engagement rings, lab grown diamond engagement rings and coloured gemstones. Make sure to also check our are collections of moissanite earrings and pendants as well, for a gorgeous bridal set.
Lily Arkwright are proud Assay Assured jewellery retailers and committed members of the National Association of Jewellers based on honesty, integrity and professionalism. All precious metal jewellery offered by Assay Assured jewellery retailers carries the legally-required independent hallmark verifying the precious metal content, a protection over and above legal requirements. Read our glowing customer reviews on Trust Pilot.
If you are interested in booking a consultation or simply would like to find out more information about ourselves or our collections, please call us on 0161 537 6773, alternatively you can email our jewellery consultancy team at hello@lilyarkwright.com.
Did you enjoy this article? Which would be your favourite, Gold or Platinum?
Let us know your thoughts and leave us a comment below. Also are there any future topics you'd like us to cover?
Wishing you all the best, The Lily Arkwright Team x