All about the Padparadscha Sapphire
Created: October 17th, 2021

All about the Padparadscha Sapphire

---
The Padparadscha is an unusual gemstone, replete with light pastel tones of orange and pink that bring to mind the delicate lotus flower after which it's named. Actually a specific type of sapphire, the padparadscha is a unique jewel favoured by royalty (Princess Eugenie's engagement ring features one of these stunning stones). Read on for our guide to padparadschas, and an exclusive look at our new collection of rings which feature this striking gem.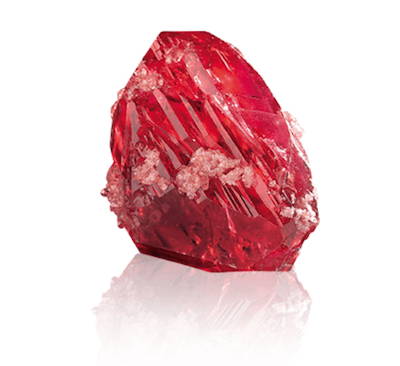 Photo Reference: Chatham Lab Grown Padparadscha Rough Stone
First discovered in Sri-Lanka, the warm pink and orange tones of the padparadscha are highly regarded for their rarity and colourful appearance. One of the rarest types of sapphires, natural padparadschas are difficult to come across and almost always come in an oval, cushion or asymmetrical cut to preserve as much of the rough stone as possible. The most prized jewels are those which have not been colour treated and present a paler, more delicate shade of pinkish orange.
As the sapphire is the birthstone of September, this is also the case for padparadscha. Perfect for representing a specific date, perhaps a birthday, having an engagement ring set with this stone is a wonderful way to symbolise a hidden meaning.
Padparadscha (because it is a sapphire) scores very highly on the Mohs scale of hardness, which measures the scratch resistance of a mineral. Ranking just below diamonds and moissanite, at 10 and 9.25 respectively, padparadscha scores 9. This means that the gemstone works wonderfully as an engagement ring, and can be worn everyday in a piece of jewellery.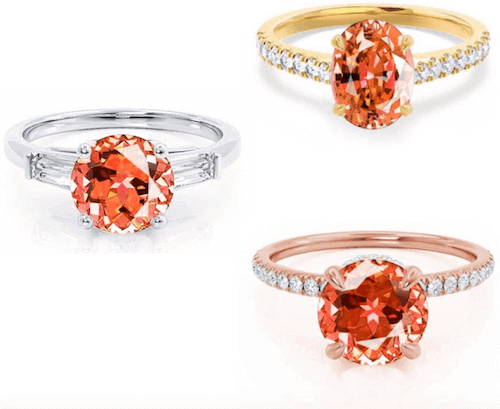 Chatham Lab Grown Padparadscha
All of Lily Arkwright's padparadscha is grown in a lab using cutting edge technology that allows for colours, carat sizes and cuts that are practically unheard of in the mined variety. Chatham were founded over 80 years ago and are world renowned for their stunning gemstones. It's worth pointing out that grown jewels are aesthetically and chemically exactly the same as their mined cousins, the only difference being that they weren't formed in the earth millions of years ago.
First started by Carroll Chatham in 1938, the company has spent years perfecting their processes and only sells the very best gemstones. They are so strict in fact, that ordinarily around 80% of the rough crystal is discarded, and only one in every 200 gemstones made meet their stringent standards for clarity and colour.
All our Chatham gemstones come with a certificate of authenticity, and a limited lifetime warranty, and all our jewellery has been UK hallmarked. Making sure the metal content and condition of our rings is exceptional, all our pieces are examined by a separate third party to ensure the utmost quality. Chatham stones are also all exceptionally clear, falling within the VVS and VS range (very very slightly included and slightly included????), they are also priced at a much more affordable rate to the mined stones. We are the only UK stockists of Chatham and you can see their store locator here (include link).
The most famous padparadscha ring adorns the finger of Princess Eugenie, featuring a halo of diamonds around a stunning oval cut padparadscha sapphire, all set in an 18k rose gold band that perfectly reflects the rose tones of the gemstone. The most similar design we have in our collection is the Rosa ring, which when set with a padparadscha and in rose gold is a gorgeous alternative.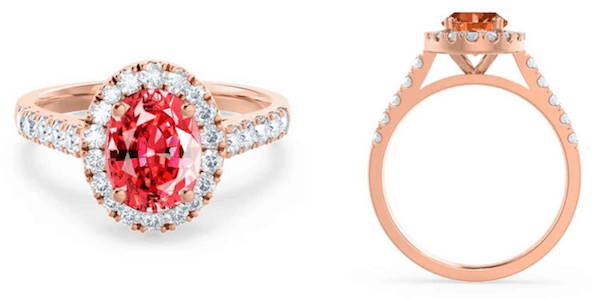 Photo Reference: Rosa Chatham Padparadscha 18k Rose Gold Ring
Some Examples of our Padparadscha Rings
We have recently released a new collection of engagement rings which all feature lab grown padparadschas. Coming in a wide range of traditional diamond cuts, let's go over a selection of our pieces.
The Florence ring features an emerald cut centre stone, held securely in place with a four prong mount and all enclosed in a plain band. Measuring 2.10mm across, the band is available in a choice of metals, from 18k yellow, white, and rose gold to 950 platinum. As Assay Assured retailers, all of our pieces are UK hallmarked meaning they have been checked by independent third parties to ensure the highest quality.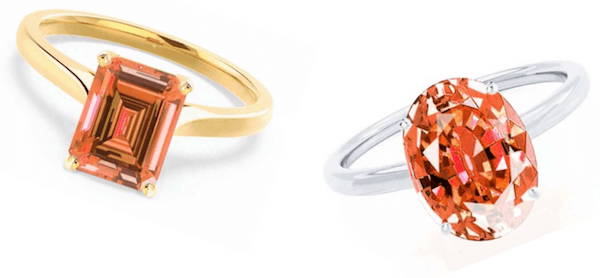 Photo Reference: Florence and Lulu Chatham Padparadscha 18k Yellow and White Gold Rings
Another of the stunning padparadscha rings is the Lulu. A petite setting, and available in a variety of cuts but most popular in an oval shape, the Lulu's plain band only stretches a tiny 1.65mm across and is rounded in shape for ultimate comfort.
A padparadscha set into the Lorella trilogy ring makes for a three stone engagement ring with extra edge. A centre brilliant round cut moissanite is bordered by two brilliant round cut padparadschas, all held in place with four prong mounts and a detailed gallery.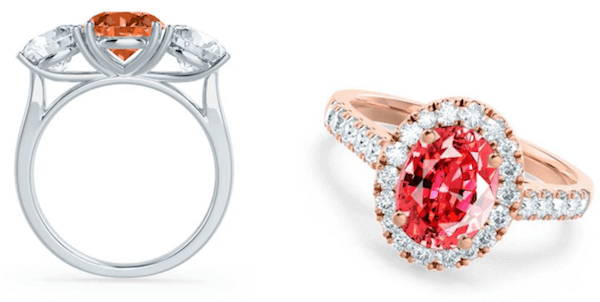 Photo Reference: Lorella and Rosa Chatham Padparadscha 18k White and Rose Gold Rings
The Rosa is a ring setting that we've already discussed as it most closely resembles Princess Eugenie's engagement ring, however this halo ring with it's oval padparadscha is an impressive option all by itself! With a pavé of diamonds down the band as well as in it's halo, the sheer sparkle of this ring is bound to dazzle.    
It is also worth remembering that all of our rings also come with free and insured global shipping, as well as a 30 day hassle free returns policy*.
Bespoke Ring Design Service
If you love the idea of a padparadscha engagement ring made exclusively for you, make sure to check out our bespoke design service. We can make any dream ring a reality, and our fabulous team of JET trained Jewellery Consultants can guide you each step of the way. All of our rings also come with a 30 day complimentary free resizing option, making sure that your choice is the perfect fit.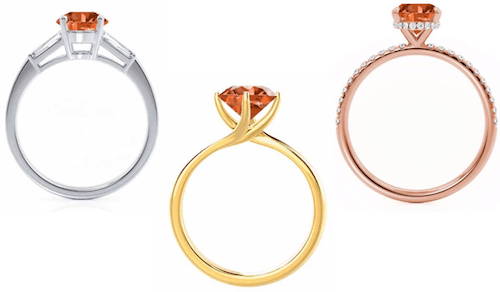 Photo Reference: Lovetta, Annora and Lively Chatham Padparadscha 18k White, Yellow and Rose Gold Rings
Why Choose a Padparadsha Ring?
This unique gemstone is a striking alternative to the traditional mined diamond solitaire, and is perfect for couples who want a gemstone that is unique as well as spectacular. If you fancy yourself an individual and rare engagement ring then this might be the right gemstone for you!
Coming at a better cost to your wallet as well the environment, our Chatham lab grown padparadschas are a gorgeously clear set of stones that come in sizes and shapes that are incredibly rare in the mined variety. Make sure to check out our entire new collection of padparadscha rings.
An unusual stone choice, but this gemstone is bound to leave a lasting impression and is perfectly suited to those who want a more unique jewellery piece for their engagement ring. Hopefully you've learned some interesting information about the padparadscha sapphire and are considering this gemstone! Let a member of our team know if you have any questions or queries, as we're always happy to help and committed to finding you the perfect engagement ring!
We pride ourselves on our ability to produce stunning ethical and sustainable fine jewellery at an amazing price point, supported by unrivalled customer service. We offer the highest quality moissanite engagement rings, lab grown diamond engagement rings and coloured gemstones. Make sure to also check out our collections of moissanite earrings and pendants as well, for a gorgeous bridal set.
Lily Arkwright are proud Assay Assured jewellery retailers and committed members of the National Association of Jewellers based on honesty, integrity and professionalism. All precious metal jewellery offered by Assay Assured jewellery retailers carries the legally-required independent hallmark verifying the precious metal content, a protection over and above legal requirements. Read our glowing customer reviews on Trust Pilot.
If you are interested in booking a consultation or simply would like to find out more information about ourselves or our collections, please call us on 0161 537 6773, alternatively you can email our jewellery consultancy team at hello@lilyarkwright.com.
*On standard collections that are not designated 'made to order'.
Did you enjoy this article? What do you think of the padparadscha sapphire?
Let us know your thoughts and leave us a comment below. Also are there any future topics you'd like us to cover?
Wishing you all the best, The Lily Arkwright Team x