How To Choose Your Perfect Moissanite or Lab Diamond Stone Size
Created: January 01, 2020

How To Choose Your Perfect Moissanite Or Lab Diamond Stone Size

---
One of Lily Arkwright's most frequently asked questions is "What stone size should I choose?". Unfortunately, there is no right answer to this question. Stone size is entirely personal choice, completely individual to the wearer. As a guide, typically 1.0ct & 1.5ct are most popular for brilliant round cut moissanite engagement ring. However, popularity doesn't mean that this size is right for you. To help you on your path to choosing your perfect stone size, we've collated all the necessary information and points to consider when selecting your centre stone.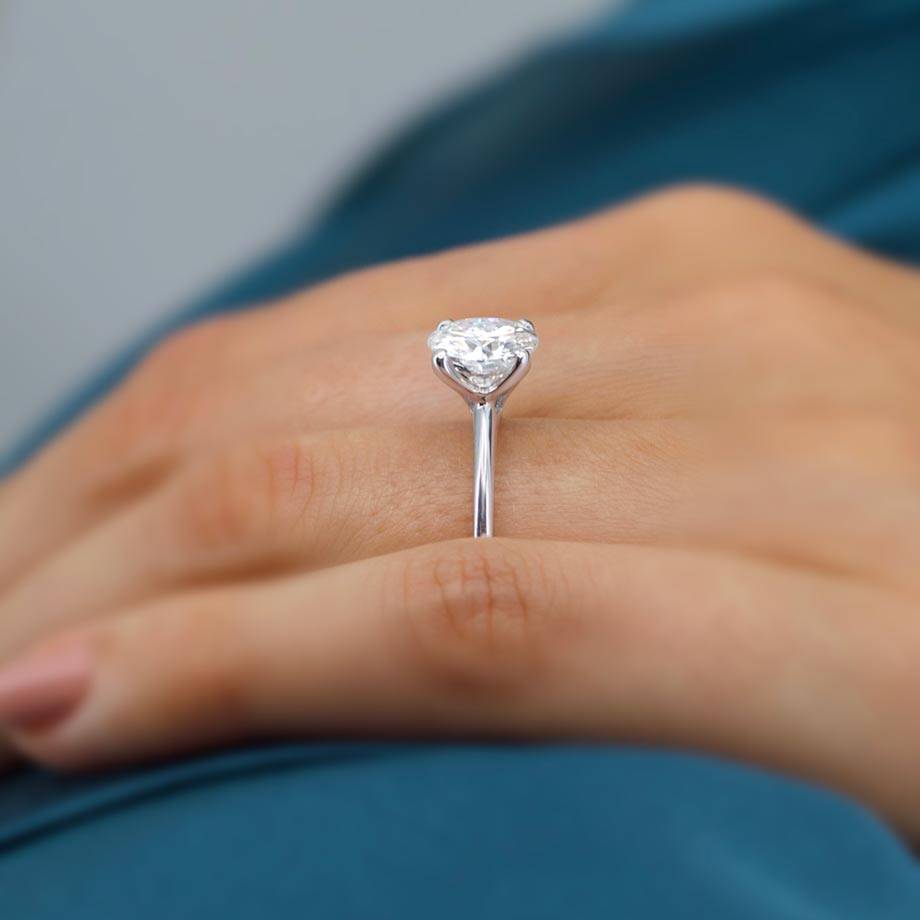 Carats are the universal unit of measurement for precious gemstones. Unlike the name may suggest, carat size actually refers to the weight of a gemstone, with 1ct equivalent to 200 milligrams. The larger the carat, the heavier the stone will be, which does not necessarily mean an increase in stone size. Two gemstones can be equivalent in weight but not size, therefore, carat weight is not a true indicator of stone size. For example, moissanite weighs roughly 15-18% less than diamonds, meaning that a brilliant round 6.5mm diamond weighs approximately 1ct compared to moissanite which weighs 0.88ct. Therefore, to make comparison easier for our customers we list our moissanite stones in approximate diamond equivalent weights according to their diameter.
To accurately understand the size of a gemstone it is important to look at its measurements in millimetres. All carat weights listed on our website are expressed in comparable millimetre (mm) size to scale, approximate average carat weights and approximate diamond equivalent weights. For more information click here to view our stone size comparison chart.
A strong appeal of moissanite engagement rings are that they enable couples to opt for a larger centre stone for a fraction of the price of a natural diamond. This presents the perfect opportunity for couples dreaming of a sizeable centre stone to be able to afford their dream ring, a fact that is highlighted on the Boho Weddings website. However, your budget may determine the stone size you choose, as there is a relationship between cost and size of moissanite gemstones.
For those wishing to portray their moissanite centre stone as a natural diamond you may also want to consider how realistic it would be for you to afford your chosen carat size in a diamond equivalent. Although a 2.2ct moissanite centre stone may be within your budget, a 2.2ct diamond can reach up to £50,000. Nevertheless, if you aspire to own an extravagant gemstone engagement ring, don't let this put you off. Here at Lily Arkwright we believe Moissanite is a stunning stone superior to mined diamonds in many ways, with more brilliance, fire and sparkle, as well as strong ethical origins, which everyone should be proud to show off!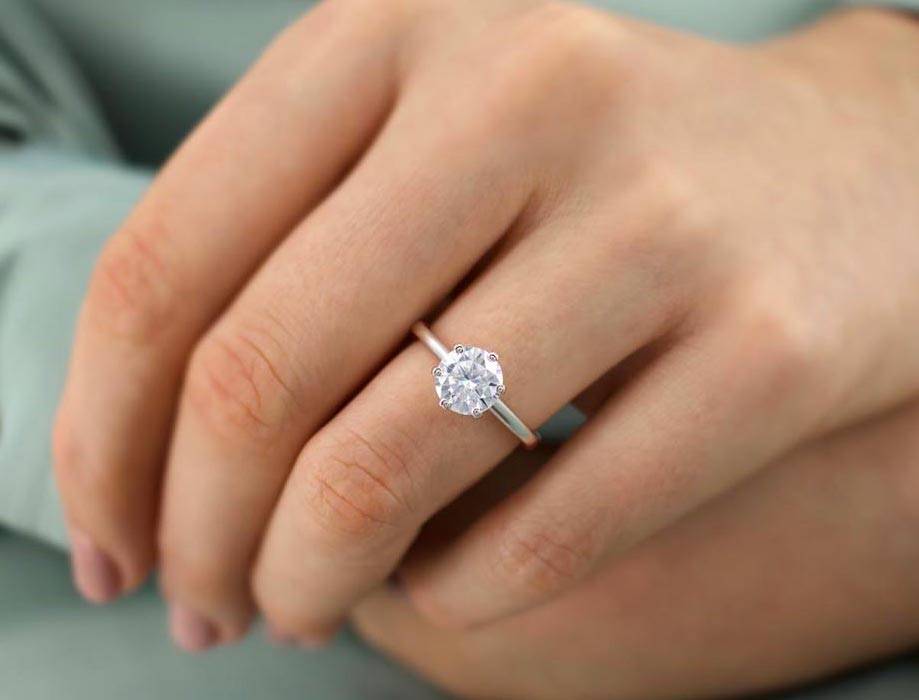 If you're planning a surprise engagement for your partner and are unsure of what stone size to choose, we recommend that you consider their personal style. Take into account what jewellery your loved one owns and wears, as well as their fashion tastes and opt for a stone to compliment this. If your fiancé-to-be is a minimalist a smaller stone size may be more desirable, whereas those with a love for glamour and extravagance are likely to dream of a larger centre stone. Make sure to check out are moissanite earrings and pendants for a beautiful bridal set.
To answer this you must consider the lifestyle of the wearer. A larger stone needs to be worn with care, as it poses a higher risk of being knocked and damaged due to its size. Therefore, if the owner has a physical job or lives a very active lifestyle it may be advised to choose a smaller centre stone (or ensure that you invest in insurance for your ring!)
You may also want to consider the heavy weight of larger stone sizes. If you or your partner aren't used to wearing a lot of jewellery this heavier carat weight may be uncomfortable to wear. However, if you are dreaming of a large stone size, don't let this put you off buying your dream ring; we're sure you will easily be able to adjust to wearing a ring you truly adore!
Certain cuts, settings and metals can create the illusion of a larger centre stone. The intense sparkle a Charles & Colvard Forever One brilliant round moissanite creates the appearance of a larger stone compared to equivalent carat weights in alternative cuts. A bright white metal band, such as platinum or 18k white gold, can enhance this sparkle by reflecting light through the centre stone for maximum brilliance and shine and producing the effect of a larger centre stone.
Elongated cuts, such as oval, pear and marquise, are also preferred cuts for those lusting after a large centre stone. Not only do these cuts appear bigger due to their shape, they also elongate the wearers hand, creating a slender appearance which accentuates the size of the centre stone. The setting you choose can make your chosen gemstone more prominent. A halo setting is superior for creating the illusion of a larger stone through maximising the surface area of the stone by surrounding it with a halo of sparkling G/H SI conflict-free diamonds. Compliment this setting with a knife edged or petite band and slender prongs to exaggerate the centre stones size.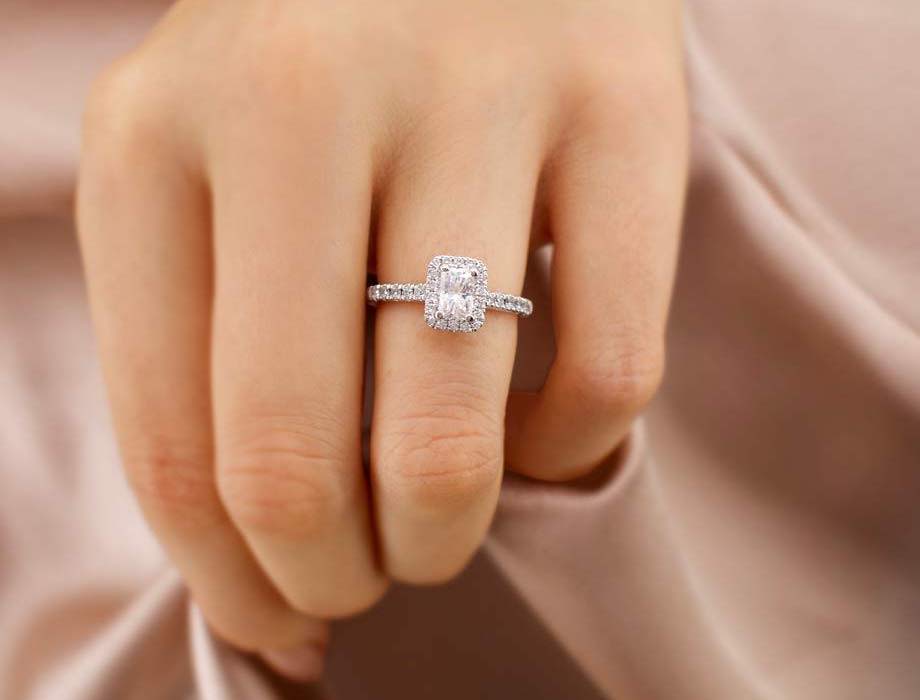 Another question with no right answer. No stone is too big if it's what yourself or your partner dreams of. However, if you are unsure of the ideal stone size for your ring, keep in mind the wearers hand. A big stone can appear even larger on a small hand and vice versa. However, there is no right or wrong when it comes to how the ring appears on the hand, again this is dependent on the appearance desired by the wearer.
Here at Lily Arkwright we offer free hand comparisons so you can compare your dream moissanite engagement ring in a number of different sizes using to scale hand mock-up. This allows our customers to truly envisage the appearance of the stone on your own or your partner's hand. If you are interested please get in touch via email at hello@lilyarkwright.com.
Ultimately, an engagement ring is a symbol of love. As the popular saying goes, you can't put a price on love and this should be applied when shopping for an engagement ring. The story behind an engagement ring is to symbolise the love shared between you and your partner, not to flaunt huge stones and expensive purchases. The size of your centre stone doesn't reflect the amount of love your partner has for you; no matter how big or small your chosen gemstone, the love within your relationship doesn't change. It's your ring to be worn every day for a lifetime, and, as long as yourself and your partner are happy, no stone size is too big or small.
We pride ourselves on our ability to produce stunning ethical and sustainable fine jewellery at an amazing price point, supported by unrivalled customer service. We offer the highest quality moissanite engagement rings, lab grown diamond engagement rings and gemstones.
Lily Arkwright are proud Assay Assured jewellery retailers and committed members of the National Association of Jewellers based on honesty, integrity and professionalism. All precious metal jewellery offered by Assay Assured jewellery retailers carries the legally-required independent hallmark verifying the precious metal content, a protection over and above legal requirements. Read our glowing customer reviews on Trust Pilot.
If you are interested in booking a consultation or simply would like to find out more information about ourselves or our collections, please call us on 0161 537 6773, alternatively you can email our jewellery consultancy team at hello@lilyarkwright.com.
Did you enjoy this article? Do you have a size preference or were you surprised after receiving your ring? Is there a pressure to opt for a large moissanite or lab diamond?
Let us know your thoughts and leave us a comment below. Also are there any future topics you'd like us to cover?
Wishing you all the best, The Lily Arkwright Team x