Your guide to choosing a Moissanite Engagement Ring
Created: December 01, 2015

Your guide to choosing a Moissanite Engagement Ring

---
Firstly, congratulations are in order! You've found that special someone and now you need to find an engagement ring for your proposal.

Finding the right ring can be an overwhelming process, trying to capture your love and admiration for each other whilst balancing style, the latest trends and cost, is thwart with difficulties. Don't worry, this comprehensive moissanite engagement ring guide will run through all the critical steps to ensure you find the perfect engagement ring that will be treasured forever.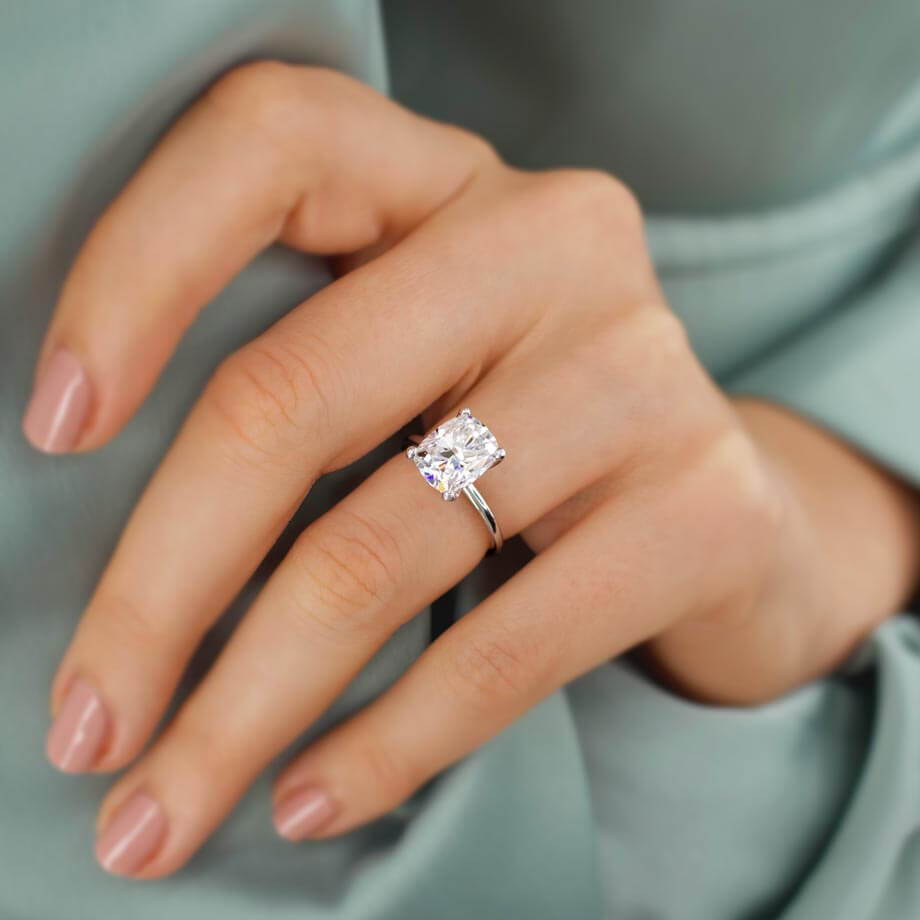 The cut of a gemstone refers to it's symmetry and proportions, not the actual shape of the gemstone. The cut will affect how many facets each stone has and the amount of light that is dispersed and reflected from the stone, this affects how much your ring sparkles.
We stock the worlds premium moissanite, Charles & Colvard, Forever One. We use the GIA (Gemological Institute of America) scale of colour, simply put, this ranges from D, through to a Z rating.
A "D" rating has the least amount of colour, whilst a Z rating has a light yellow colour, truly colourless diamonds (D) are prized for their rarity.
All our Forever One gemstones are graded as DEF and are colourless.
The clarity of a stone is determined by the amount of inclusions, the fewer inclusions the greater the clarity of the stone. It's common for all gems to have natural flaws, these often look like tiny crystals, clouds or feathers.
Lily Arkwright moissanite gemstones are graded by a certified gemologist (gemmological Institute of America) using a 10x jewellers loupe to ensure each stone has no visible inclusions.
All our gemstones are measured in carats, this denotes the weight not the size of a gemstone. In some cases rings will have accompanying secondary stones, side stone and melees, these are always included in the overall carat weight of a ring.
One of the main benefits of choosing a moissanite engagement ring from Lily Arkwright is the amazing price point of each ring, you can save thousands of pounds when buying a moissanite stone compared to a natural diamond. This allows our customers great flexibility when choosing what size carat stone they require without being restricted by cost.
Typically an equivalent 1ct diamond solitaire retails from £4000 - £10,000, here at Lily Arkwright you can purchase a 1ct, Charles and Colvard, Forever One moissanite stone from £740.
Now we've covered the basics, what gemstone shape to choose? This is really a personal choice, the traditional and most popular of which is a brilliant round cut shape. Symmetrically cut and faceted to maximise the incoming light which is then dispensed throughout the stones perfect proportions, each facet reflecting against each other to maximise that special sparkle.
A brilliant round gem can be set is a variety of different ring styles such as a solitaire, three stone setting or halo. A brilliant round cut is the most popular stone cut on the market today, a true classic that suits any setting and ring style.
Or, perhaps a princess cut shape, as seen on the Hitched website. A square with pointed corners created in the 1970's, square at the top narrowing into a cone at its base radiating fire and brilliance, a classic alternative to the brilliant round engagement ring. Typically this is set within a princess cut solitaire ring.
Alternatively, an oval gemstone is a popular choice, similar to a brilliant round stone but with a contemporary elongated finish. Set with or without side stone melees.
Cushion cuts are a popular choice with celebrities and have, a rounded square shape which displays the stones brilliance. Set with or without side stone melees, or even a halo.
Emerald cuts are another hugely popular choice, a rectangular shape which carries over a larger surface area, this cut really displays a stones clarity. Set with or without side stone melees.
Photo Reference: Bespoke 1.36ct Oval and Round Cut Moissanite Trilogy Ring
Here at Lily Arkwright we offer a wide range of moissanite engagement rings and lab diamond engagement rings in a range of metals including white gold, rose gold, yellow gold & platinum.
Your choice of metal really depends upon your partners preference, an ever increasingly popular choice is white gold or a platinum band. Traditionally a yellow gold band or alternatively a rose gold band offers a contemporary style.
It's important to remember your wedding band metal should match your engagement ring to ensure you avoid wearing or scratching.
Sustainable & Ethical Jewellery, UK Hallmarked & Warranty
Lily Arkwright are proud to produce sustainable luxurious jewellery at an affordable price point, it is important to us that your jewellery is ethically sourced and conflict free. We craft all our rings here in the UK and each and every piece is tested and UK hallmarked ensuring you receive British craftsmanship and unrivalled quality.
You can rest assured all our moissanite stones come with a limited lifetime warranty and we stock Charles & Colvard premium, colourless, Forever One range. All our products come with free UK delivery as standard.
Here at Lily Arkwright we're always on hand to help, please feel free to drop us a line with any queries and we'll be happy to help hello@lilyarkwright.com
We pride ourselves on our ability to produce stunning ethical and sustainable fine jewellery at an amazing price point, supported by unrivalled customer service. We offer the highest quality moissanite engagement rings, lab grown diamond engagement rings and coloured gemstones. Make sure to also check our are collections of moissanite earrings and pendants as well, for a gorgeous bridal set.
Lily Arkwright are proud Assay Assured jewellery retailers and committed members of the National Association of Jewellers based on honesty, integrity and professionalism. All precious metal jewellery offered by Assay Assured jewellery retailers carries the legally-required independent hallmark verifying the precious metal content, a protection over and above legal requirements. Read our glowing customer reviews on Trust Pilot.
If you are interested in booking a consultation or simply would like to find out more information about ourselves or our collections, please call us on 0161 537 6773, alternatively you can email our jewellery consultancy team at hello@lilyarkwright.com.
Did you enjoy this article? Do you have a better understanding of moissanite rings?
Let us know your thoughts and leave us a comment below. Also are there any future topics you'd like us to cover?
Wishing you all the best, The Lily Arkwright Team x