Recent Posts:
Lauren & Sam - April 2018
Welcome to Lily Arkwright Stories.
We take a huge amount of pride in offering the worlds premium jewellery pieces, featuring Charles & Colvard Moissanite & Chatham lab created precious gemstones, including Rubies, Sapphies & Emeralds.
Every jewellery purchase is special, and we take a huge amount of pride and great satisfaction when we are able to assist you on your journey before asking that all important question, those four special words. Will You Marry Me.
To say a special thank you to each of valued customers we have created Lily Arkwright Stories, a place dedicated to our customers and friends across the world, here we celebrate the tales behind the triumph, the untold love stories and most importantly it's all about you.
If you would like to be featured on Lily Arkwright Stories, please contact our Marketing Team, who would love to talk to you: hello@lilyarkwright.com  
---
Introducing: Lauren & Sam
May 2018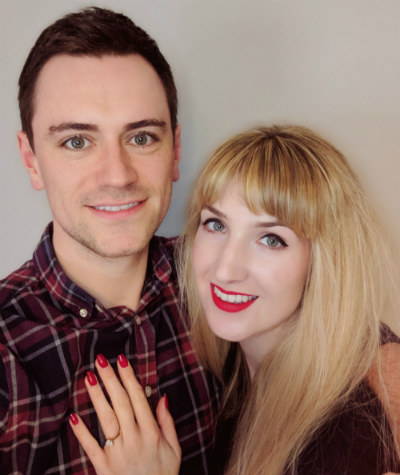 "We're Lauren and Sam, we're 29 and live in Portsmouth but we're buying a house together in Bournemouth. We have a little dog called Teddy and a very old cat called Button.
Lauren is a beauty and fashion lover, blogger. Read all about Lauren's Lily Arkwright expereince at: wwwlaurenlovesblog.co.uk
How did you and Sam first meet?
Lauren: We met around 6 years ago at work. On his first day I was told there was a new member of staff I should meet. I really wasn't in the mood but said fine! Sam walked in and I was absolutely shocked to meet someone so good looking! He was tall, handsome and I don't remember anything about the conversation except his eyes. Over the next 6 months he asked me out three times and I said no each time...
Sam: About 5 1/2 years ago, I got promoted to the same role as Lauren. We spent two weeks working closely together while I shadowed her to learn the role. We still joke that she was the boss and took advantage of me! At the end of the two weeks we were driving back from a meeting and I invited her to an inpromtu dinner date, Lauren said yes and I was thrilled. We went on our first proper date the next day (to a Mexican restaurant called Coriander, turns out she hates the herb coriander!)
How did Sam pop the question?
Lauren: It was quite a long process! On New Years Eve we were doing our usual weekend ritual - Sam was in the bath and I was sat with him chatting (poor guy gets no peace). We were discussing 2018 and what we were planning on doing together. I said I would like to get engaged and Sam said ok! He told me to choose a ring and let him know, I picked the ring, sent him the link and tried to wait patiently! About a month later we were at his mum's house and I was having a lie in. I came downstairs, she grabbed me and shouted "congratulations!". I was sleepy and confused but he'd told his mum he was planning on proposing soon. A couple of weeks later, he went and asked my parents permission.
Sam: On 30th March, we went out for dinner at Koh Thai in Southsea which was delicious. We walked back in the rain which was really romantic, as we got home Lauren went to pour us a prosecco giving me chance to get the ring and propose.
Lauren: He was on one knee and said "Loz will you marry me". I grabbed the ring, squealed and jumped at him for a full, legs round waist hug!
Why did you opt for the Isabella Pear ring design?
I knew I wanted a pear-shaped ring in yellow gold from window shopping in the Brighton Lanes. I wanted something really simple and classic but slightly unusual, which for me meant minimal looking, no halo or details on the band but with a shape of stone I've not seen others with. I loved the Isabella ring from Lily Arkwright - the gorgeous slim gold band which gets narrower by the stone, minimal prongs and making the stone the centre of attention! I contacted Lily Arkwright and asked if they could make me an Isabella with a pear shaped stone and they sent me a mock up design really quickly which was perfect.
Why did you opt for a Moissanite centre stone?
Sam jokes that I researched my engagement ring more than my thesis! I'd wanted a clear stone but I wasn't keen on a new diamond after learning about the environmental impact of mining them and the ethical issues which are often linked with diamonds. I looked at second hand rings but none matched my very picky idea of what I wanted. I then looked into lab grown diamonds and was almost convinced but then heard about moissanites! They're very hard and durable, more sparkly than a diamond and cheaper so I could have more sparkle for the money... I couldn't see a down side to my choice! Through my research I discovered Charles and Colvard are the "go to" brand to get moissanite from but it was hard to find a reputable seller in the UK. Then I found Lily Arkwright! I stalked them on Instagram for a long time and finally contacted them to design the ring I wanted.
Picking the size of stone was the biggest challenge - because larger carat moissanites were within budget, there was a wide range of sizes I could pick. Lily Arkwright have a printable stone size page which you can cut out to see how big different carat sizes are. I cut out almost every size of pear and balanced them on my ring finger taking lots of photos and sending them to my mum and best friends for their opinion. I decided I wanted the 9x6mm (1.5 carat) stone which I felt fit my finger well.
How was your overall experience with Lily Arkwright?
They have been wonderful! They're easy to get in touch with and I always get really quick responses to my questions. They don't seem to mind that I ask about a million questions and understand that when you're making a choice this important and lasting you'll be doubtful, confused and hesitant as well as over-excited and too impulsive all at the same time! My ring requires resizing and they've promised to do it for free as part of the Lily Arkwright promise and with a really quick turnaround. The ring is just so beautiful and absolutely what I expected and wanted. I'm so pleased with it and feel so lucky I get to wear it for the rest of my life!
What advice would you offer anyone when trying to choose an engagement ring?
Do your research, but go with your gut! I was really glad I went and tried on rings on the high street first - I learnt what style suited me and that I wanted a yellow gold band that I could wear with a pear shape centre stone, that Is simple and elegant. It also helped me work out what size (ish) I was. The only thing I couldn't see in a shop was moissanite but I'm so pleased I chose one! I love it!
---
Would you like to be featured on Lily Arkwright Stories? Please get in touch for further details at hello@Lilyarkwright.com