A Guide to Brilliant Round Cut Moissanite
Created: October 01, 2017

A Guide to Brilliant Round Cut Moissanite

---
The ultimate, timeless gemstone cut. The brilliant round cut is a century old breath-taker, easily adaptable to suit your vintage style or modern edge.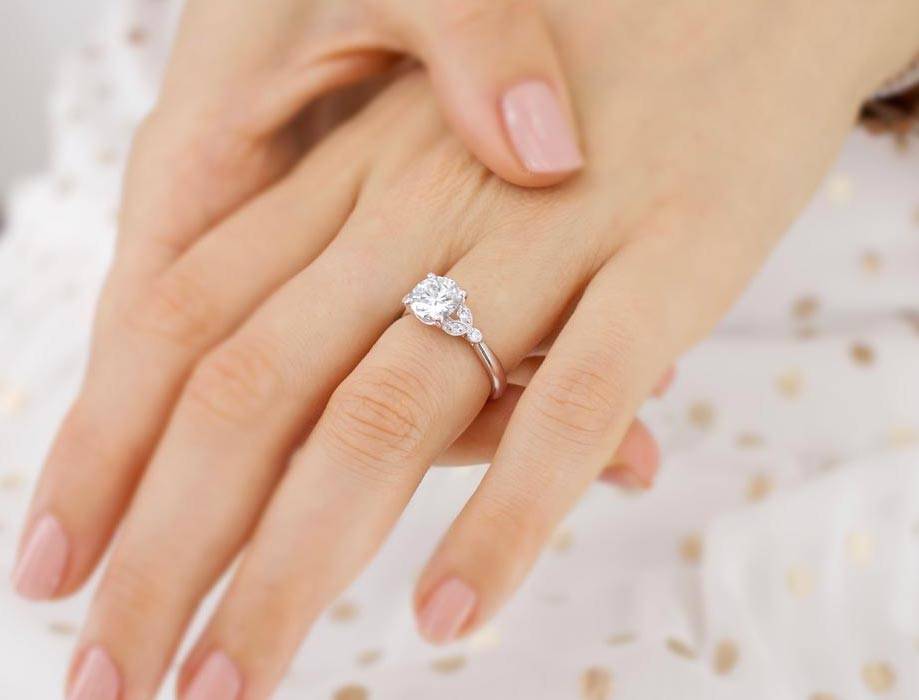 The brilliant round cut, the most popular of all cuts especially for diamonds, is almost 100 years old. It was carefully calculated by a diamond cutter by the name of Tolkowsky in 1919, and has since become the most popular cut for engagement rings worldwide.
Shape: round when viewed from above, cone shape from the side.
Facets: 58
Style: classical
Cut grading: The excellent grade brilliant round cut will be not too shallow or too tall. To reflect all light back through the diamond, rather than out the sides, the height needs to be perfect. When achieved, the brilliance of the "brilliant" round cut is truly phenomenal. It is the best gemstone cut for diamonds and moissanite in terms of brilliance, fire and sparkle.
Hearts and Arrows: In some instances a diamond that has its facets precisely cut and has excellent symmetry can showcase patterns that look like hearts and arrows, here at Lily Arkwright we stock Charles & Colvard brilliant round Hearts and Arrows in a wide variety of brilliant round cuts, these can be used in any of our collections, just get in touch and ask for details.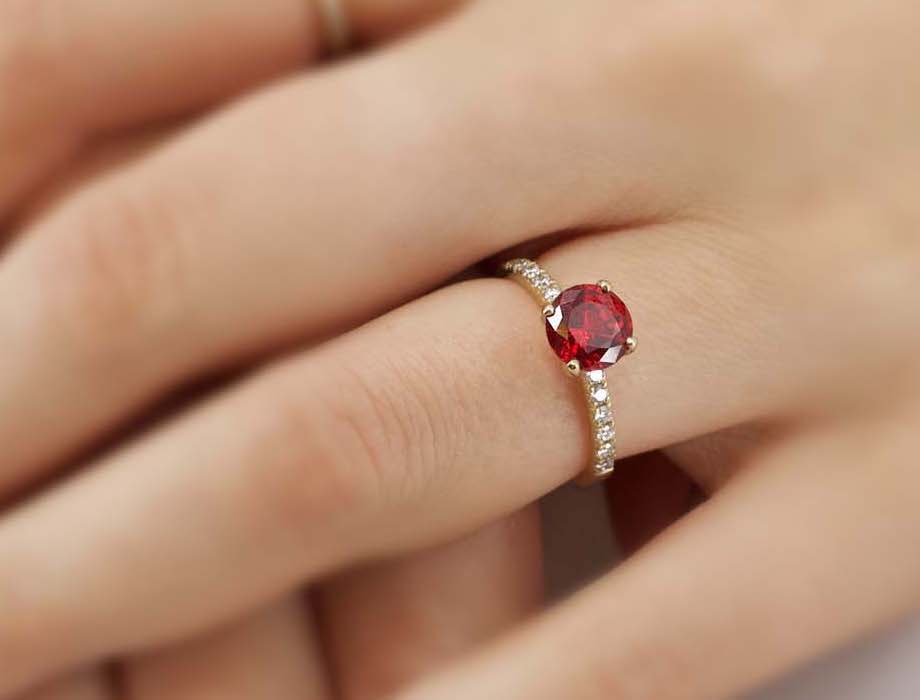 Brilliant Round Cut Moissanite Gemstone Style
Brilliant round cut moissanite stone is very adaptable in terms of style and matching precious metals. The above brilliant round cut ruby engagement ring, for example, has quite a classical style to it. In contrast, this Charles and Colvard Forever One platinum moissanite engagement ring has a very modern design, looping around the brilliant round cut stone.
Compare the brilliant round cut moissanite in our rose gold stud earrings with the yellow gold stud earrings – the gemstone is effortlessly flattered by both metals.
Over the past 100 years, many famous people have opted for the brilliant round cut. Some recent engagement rings you can take a look at for inspiration include Mila Kunis' 5 carat diamond and Olivia Wilde's brilliant round cut stone on a slender yellow gold band. A very unique ring!
Our brilliant round cut Moissanite gemstones are stocked in a huge range of sizes, they're a classic that will stand the test of varying trends and time and have recently featured in The Telegraph!
Browse through our collection of brilliant round cut moissanite loose gems and jewellery items on our website, or email us at hello@lilyarkwright.com for guidance on picking an moissanite engagement ring or lab diamond engagement ring that will dazzle your partner.
We pride ourselves on our ability to produce stunning ethical and sustainable fine jewellery at an amazing price point, supported by unrivalled customer service. We offer the highest quality moissanite engagement rings, lab grown diamond engagement rings and coloured gemstones. Make sure to also check our are collections of moissanite earrings and pendants as well, for a gorgeous bridal set.

Lily Arkwright are proud Assay Assured jewellery retailers and committed members of the National Association of Jewellers based on honesty, integrity and professionalism. All precious metal jewellery offered by Assay Assured jewellery retailers carries the legally-required independent hallmark verifying the precious metal content, a protection over and above legal requirements. Read our glowing customer reviews on Trust Pilot.
If you are interested in booking a consultation or simply would like to find out more information about ourselves or our collections, please call us on 0161 537 6773, alternatively you can email our jewellery consultancy team at hello@lilyarkwright.com.
Did you enjoy this article? What are your thoughts on round cut moissanite?
Let us know your thoughts and leave us a comment below. Also are there any future topics you'd like us to cover?
Wishing you all the best, The Lily Arkwright Team x