A Guide to Cushion Cut Moissanite Engagement Rings
---
The contemporary style similar to the modern princess cut, combined with the timeless curves of the graceful oval cut. A cushion cut moissanite engagement ring is a classic cut any woman would love to have adorn their ring finger.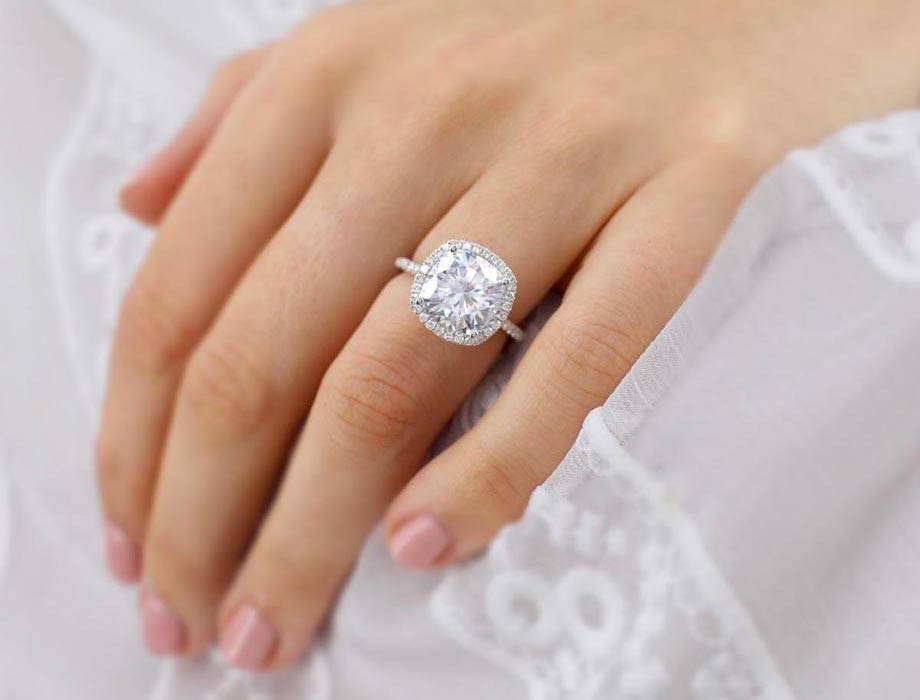 Since the 15th century, cushion cut gems have slowly evolved from sharp angles and rectangular shapes to the soft curved square gem we recognise today. It's a very popular cut that's particularly suited to moissanite engagement rings, like the Ophelia 2 carat engagement ring featuring a delightful cushion cut moissanite gem and 18k rose gold halo band.
Shape: square with rounded corners from above and below, cone like from the side.
Facets: 82
Style: contemporary or vintage, depending on the setting.
Cut Grading: cushion cut moissanite gems have larger facets compared to the classic round and oval cuts. This enables more white light to split into spectral colours, giving that glamourous rainbow effect when it catches the light.
By adding extra facets on the pavilion (underside) the cushion cut can also give a crushed ice effect, which is subtle yet elegant. This is much more visible in clear gemstones including lab grown moissanite and diamonds. Take a look at this loose cushion cut gem to get a feel for the style of this cut.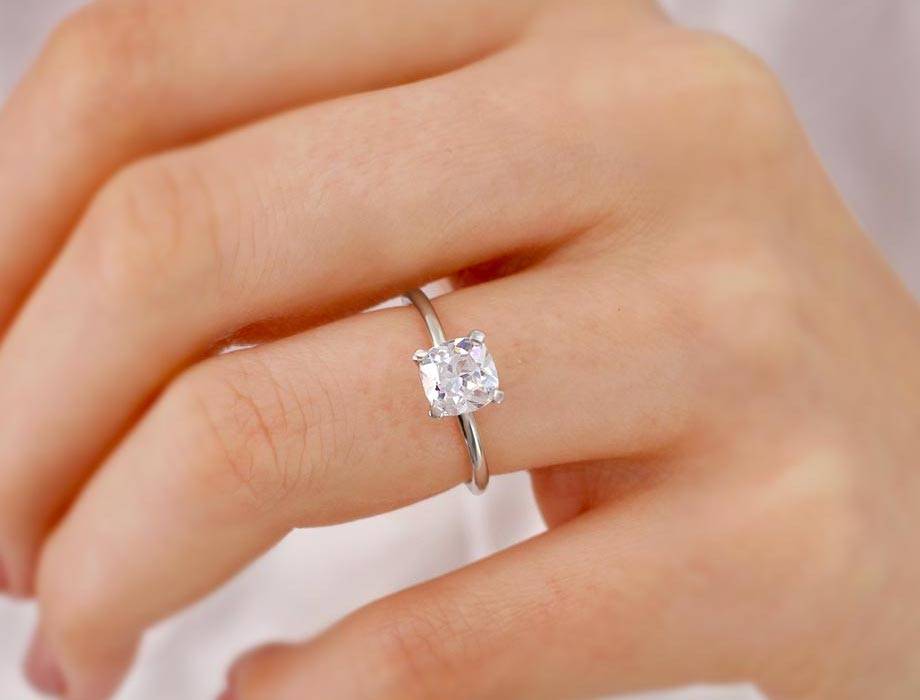 Cushion Cut Moissanite Gemstone Style

The cushion cut style has been favoured by many people over the last few centuries. Meghan Markle's engagement ring features a stunning rectangle cushion cut gem and two smaller diamonds on either side: stones selected by Prince Harry from his mother's personal collection.
Everyone at Lily Arkwright wishes the royal couple a lifetime of love and happiness. You can find a similar yellow gold moissanite engagement ring with cushion cut centre piece in the Charles and Colvard collection; the Caseada ring.
The cushion cut also looks very stylish in coloured gemstone rings, like the Chatham lab grown ruby in this elegant platinum halo ring. The single coloured gemstone surrounded by conflict-free diamonds has unique vintage style, much like Diana's oval cut sapphire ring.
If you're looking for modern inspiration, Kim Kardashian's engagement ring from Kanye West is a flawless 15-carat, rectangular cushion cut diamond, similar in style to the simple Florence moissanite engagement ring from Charles and Colvard. The platinum solitaire ring holds a large, emerald cut moissanite gemstone available in several sizes.
We pride ourselves on our ability to produce stunning ethical and sustainable fine jewellery at an amazing price point, supported by unrivalled customer service. We offer the highest quality moissanite engagement rings, lab grown diamond engagement rings and coloured gemstones. Make sure to also check our are collections of moissanite earrings and pendants as well, for a gorgeous bridal set.
Lily Arkwright are proud Assay Assured jewellery retailers and committed members of the National Association of Jewellers based on honesty, integrity and professionalism. All precious metal jewellery offered by Assay Assured jewellery retailers carries the legally-required independent hallmark verifying the precious metal content, a protection over and above legal requirements. Read our glowing customer reviews on Trust Pilot.
If you are interested in booking a consultation or simply would like to find out more information about ourselves or our collections, please call us on 0161 537 6773, alternatively you can email our jewellery consultancy team at hello@lilyarkwright.com.
Did you enjoy this article? What do you think of the cushion cut?
Let us know your thoughts and leave us a comment below. Also are there any future topics you'd like us to cover?
Wishing you all the best, The Lily Arkwright Team x