The Hidden Halo in Moissanite Engagement Rings

The Hidden Halo in Moissanite Engagement Rings

---
The hidden halo is a contemporary twist on the traditional halo design. The intricate nature of this style has made it a hit among celebrities and its popularity looks only set to rise. We offer a gorgeous selection of moissanite engagement rings as well as lab grown diamond engagement rings that can feature this stunning detail. Read on to learn all about the Lily Arkwright hidden halo collection.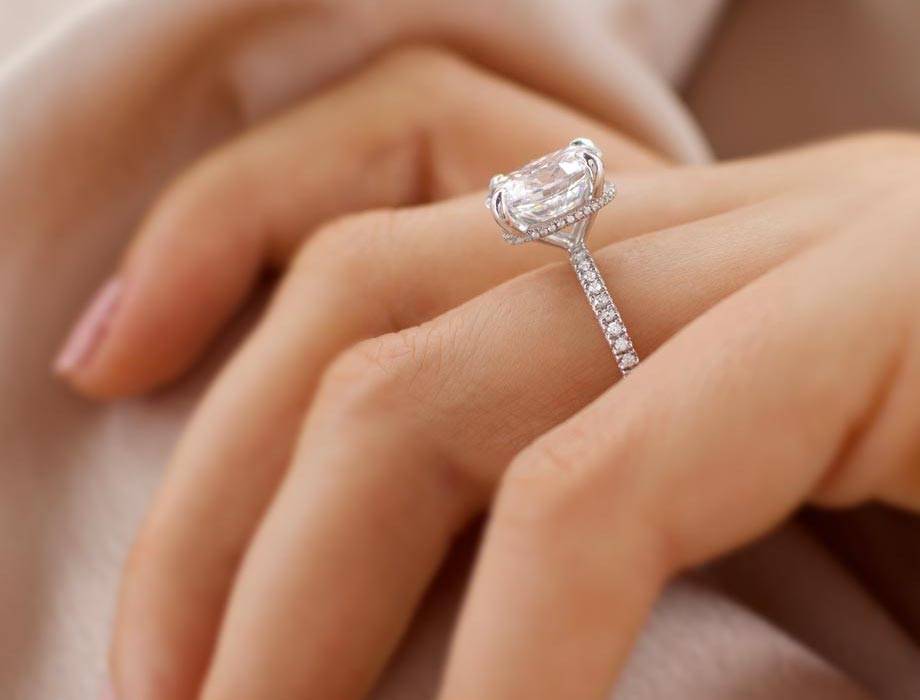 Everyone loves a surprise and with these ring designs you'll be sure to astound with their added sparkle!
One of our impressive hidden halos is the Paris, which has a plain rounded band and a four prong setting. Available in a huge variety of both cuts and metals, this is a versatile engagement ring. The Paris can be set with a moissanite stone from either Charles & Colvard's Forever One Range or with our own branded Lily Arkwright Moissanite.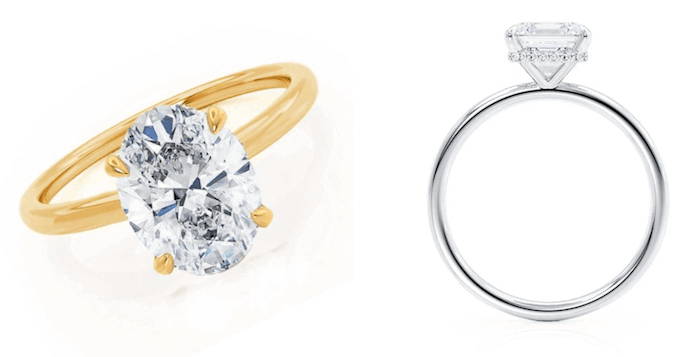 We also have a range of coloured gemstones from Chatham Labs, who were founded over 80 years ago and have spent years perfecting their processes and only sells the very best gemstones. They are so strict in fact, that ordinarily around 80% of the rough crystal is discarded, and only one in every 200 gemstones made meet their stringent standards for clarity and colour. Have a look at this Boho Weddings article featuring us as a company for more information.
The Lively ring also comes in the entire range of gemstone cuts and metal varieties, and features a shoulder set of conflict free diamonds along its shank as well as a four prong setting, and of course the hidden halo in its gallery. Also available in a hearts and arrows cut, this moissanite engagement ring is sure to be a dazzling showstopper.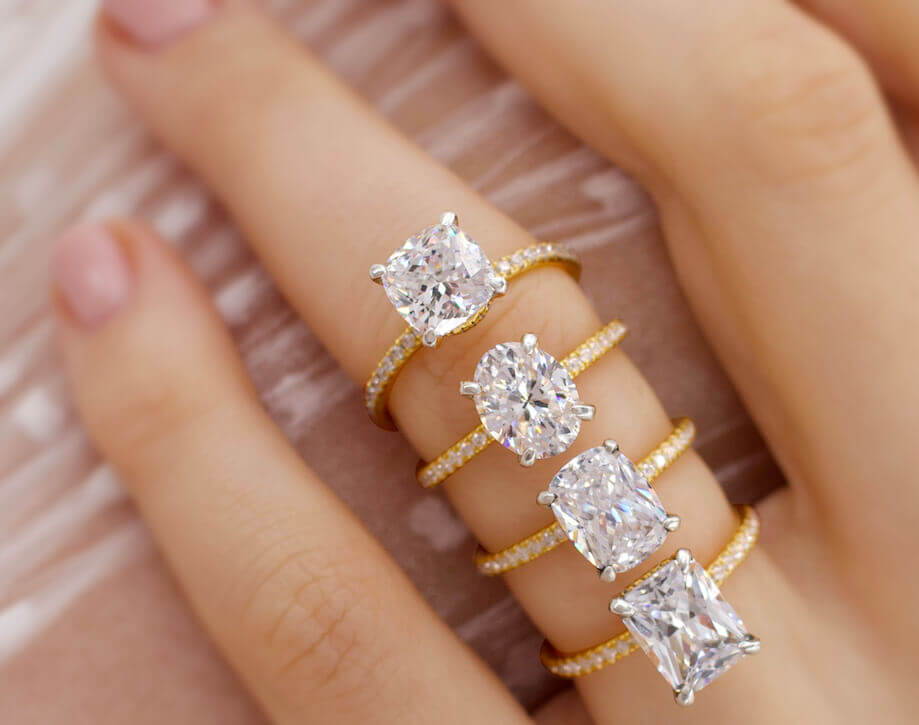 All Moissanite stones are accompanied by a certificate of authenticity and a limited lifetime warranty, and each stone is carefully inspected and graded by a fully qualified gemologist. We are proud Assay Assured retailers and members of the National Association of Jewelers, which means that everyone of our items has been quality checked by an independent assessor, ensuring great quality across our ranges. As well as this all of our jewellery is UK hallmarked.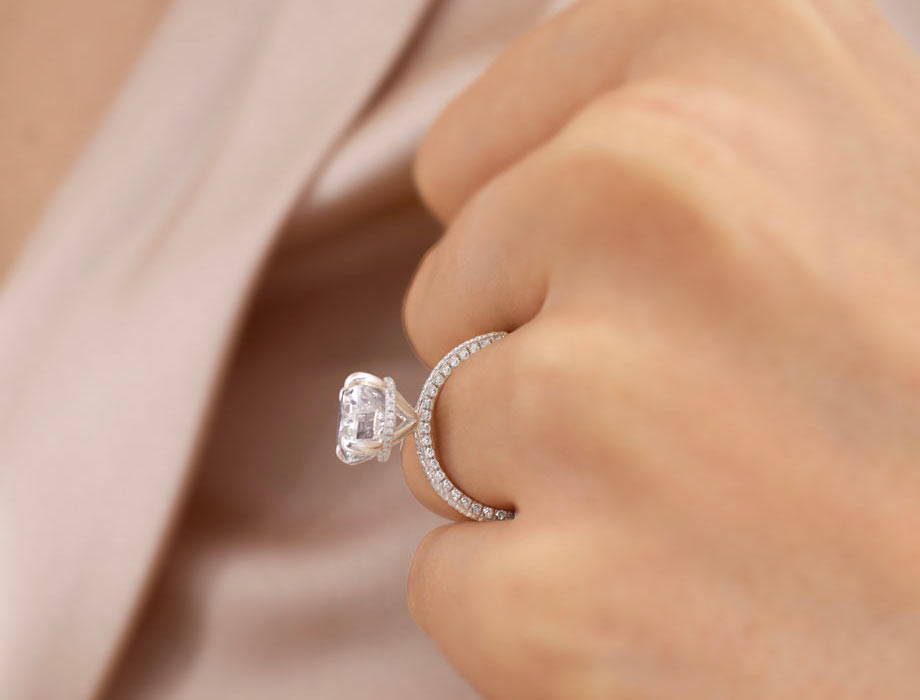 Finally our Coco ring is one of our most ornate and lavish engagement rings, featuring not only a hidden halo but additionally a triple pavé conflict-free diamond setting on its shoulders. The Coco is one of the most recent additions to our collection and in the image above can be seen set with an oval cut moissanite gemstone. We have free and insured global shipping for all of our jewellery, as well as a 12 month warranty and a 30 day hassle-free returns policy*.
Why are Hidden Halos so Popular?
One of the reasons a hidden halo is such a popular design is that it can make the centre stone appear larger, making the most of your chosen carat size. It does so by giving the central gemstone a platform of even more diamonds to sit on top of, allowing its shine to take centre stage.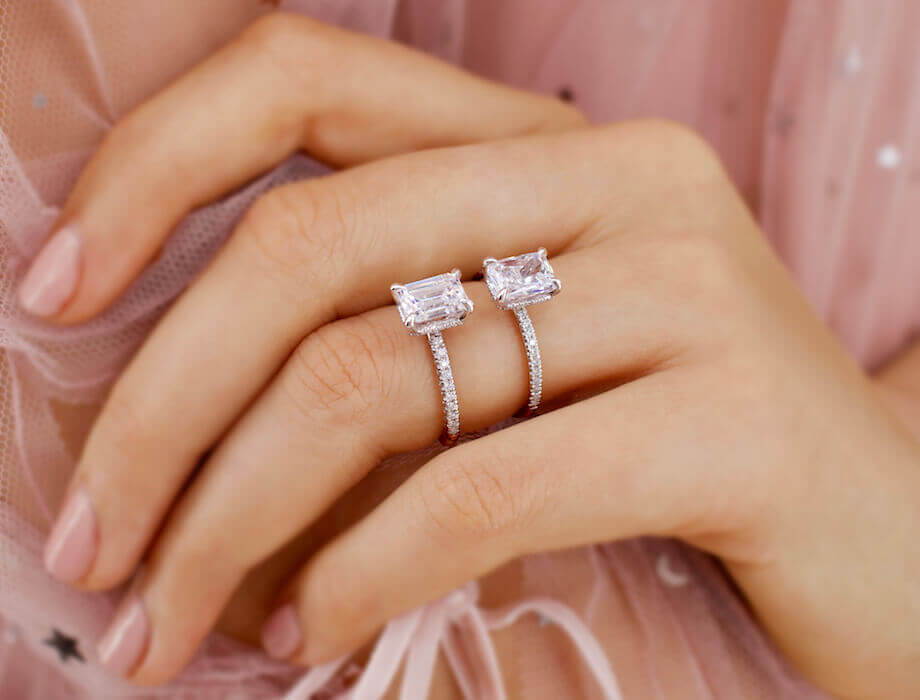 Although all of the above rings come in moissanite, we also offer lab diamonds for those who want the unique sparkle of a diamond without any of the negative side effects that mining can cause. The extensive range of lab grown diamond engagement rings we offer are chemically and optically exactly the same as the mined variety. You can view our lab grown diamond engagement ring collection here, all of which have been certified to international standards. There is the option to pay through Paypal or Klarna with all purchases made through us, with Klarna starting from a 0% interest rate.
How Secure is a Hidden Halo?
As these designs are of a more intricate nature than a classical solitaire, it is really important to make sure that your hidden halo is made by an expert jeweller. All of our hidden halo rings are of the utmost quality and made by our Goldsmiths here in the UK. As well as this we also have a complimentary free resizing service to make sure that your engagement ring is the perfect fit!
What is a Mixed Metal Ring?
Mixed metal halos or two tone rings are when the basket and setting of the ring is made up of a different metal type to the band.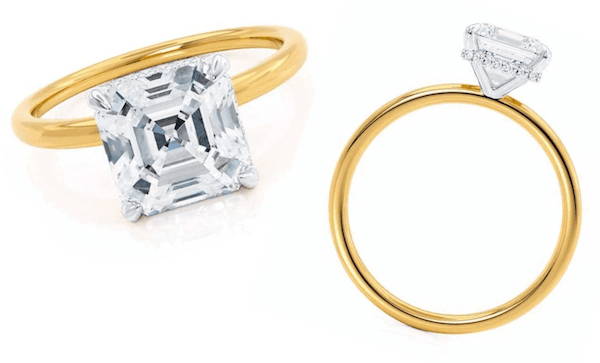 This makes sure that the centre stone is not compromised in colour by being placed next to yellow gold prongs, and simply looks lovely! It can add that little bit of extra uniqueness, and is a stunning way to display your chosen moissanite, diamond, emerald or ruby. All of our gemstones are both ethical and sustainable, and as they are all lab grown coming without the negative impacts of mining. No person, community, or environment is harmed when a ring is purchased from us. Have a look at this Telegraph article on the best places to buy and engagement ring online for more of our gorgeous ring options.
Our Bespoke Ring Design Service

Hidden halos are a very flexible addition to an engagement ring and with our bespoke design service can be made to suit you uniquely. Usually the hidden halo has a circlet of petite diamonds underneath the central stone, however this is not always the case. With a detailed gallery, small gemstones can be used to embellish and decorate the setting. For instance, one of our bespoke ring designs was a 18k rose gold Viola ring, featuring a 1.50ct oval cut moissanite, with a lotus leaf basket that had added diamonds. This gorgeous engagement ring is an example of the sort of bespoke and exceptional rings on offer with our ring design service.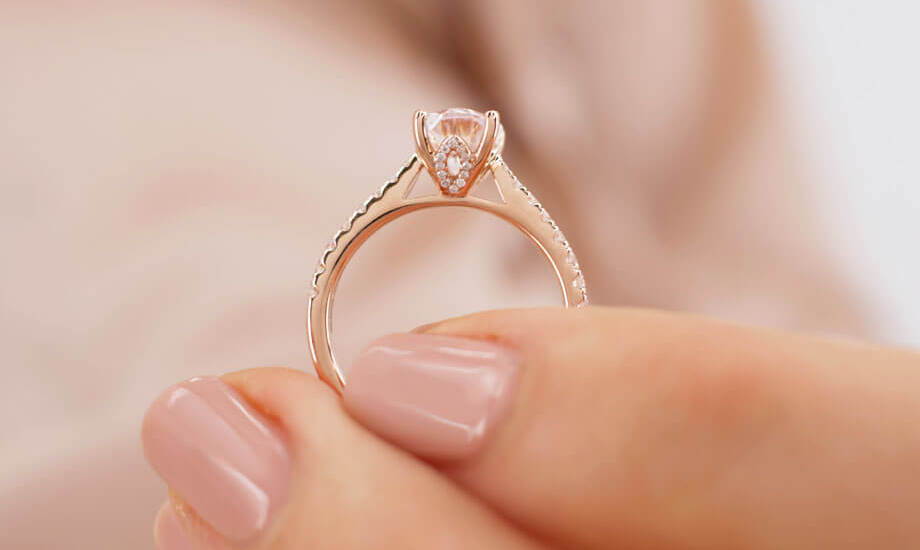 If you need any more guidance on hidden halos or have any queries regarding your moissanite engagement ring or other jewellery we offer please get in touch with us on our email hello@lilyarkwright.com or call us on 0161 537 6773. You can also book a one-on-one consultation at our UK showroom to see what our rings look like in real life, or have a virtual showroom appointment where one of JET trained jewellery consultants can show and talk you through our different options.
We hope you've enjoyed reading our post on the hidden halo in engagement rings! If you've found this article helpful, or if you have any questions, be sure to leave a comment in the section below.  
We pride ourselves on our ability to produce stunning ethical and sustainable fine jewellery at an amazing price point, supported by unrivalled customer service. We offer the highest quality moissanite engagement rings, lab grown diamond engagement rings and coloured gemstones. Make sure to also check out our collections of moissanite earrings and pendants as well, for a gorgeous bridal set.
Lily Arkwright are proud Assay Assured jewellery retailers and committed members of the National Association of Jewellers based on honesty, integrity and professionalism. All precious metal jewellery offered by Assay Assured jewellery retailers carries the legally-required independent hallmark verifying the precious metal content, a protection over and above legal requirements. Read our glowing customer reviews on Trust Pilot.
If you are interested in booking a consultation or simply would like to find out more information about ourselves or our collections, please call us on 0161 537 6773, alternatively you can email our jewellery consultancy team at hello@lilyarkwright.com.
*On standard collections that are not designated 'made to order'.
Did you enjoy this article? What do you think of hidden halo engagement rings?
Let us know your thoughts and leave us a comment below. Also are there any future topics you'd like us to cover?
Wishing you all the best, The Lily Arkwright Team x