Why Buy a Two Tone Moissanite Engagement Ring?

Why Buy a Two Tone Moissanite Engagement Ring?
 

---
Two tone moissanite engagement rings are increasingly popular this year, and are set to be one of 2021's biggest trends. If you're curious about what a two tone ring is and if it might be an option for you, we've outlined our collection down below, with everything there is to know about this gorgeous ring design.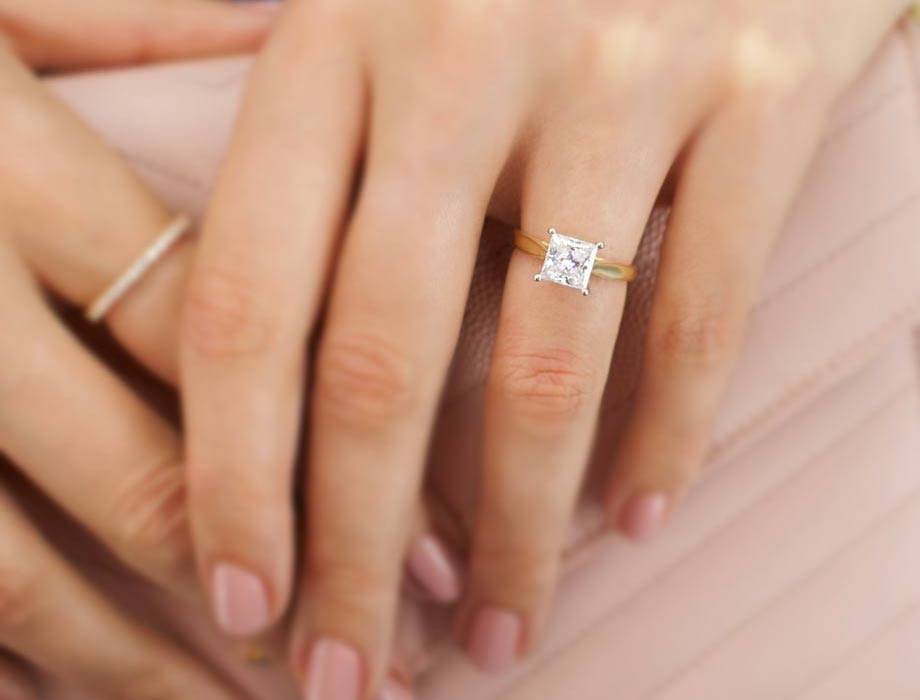 A two tone ring features two different metal types, usually with a cooler toned metal (such as platinum or white gold) making up the setting that encases the centre stone, and a warmer toned metal as the band.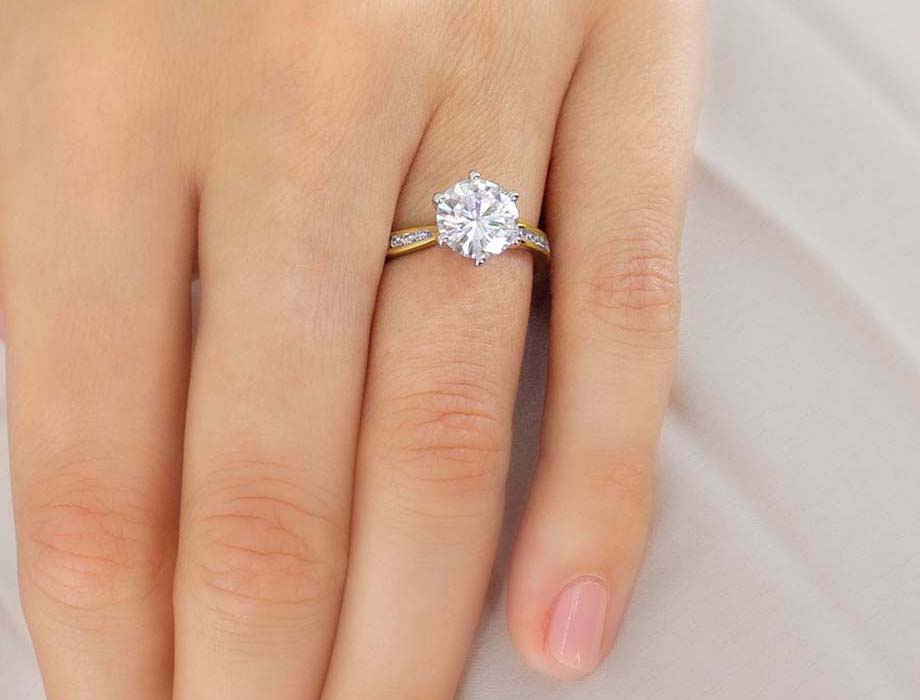 Why do couples pick a Two Tone Ring?
The reason for this being a popular choice among newly engaged couples is not only how wonderful it looks, but also because it does not compromise the colour of the gemstone. Traditionally, when pairing a 18k yellow gold wedding ring with a mined diamond, depending on the quality and price of the stone, yellow gold prongs can make the gemstone appear yellower than it really is.
This effect only tends to happen however, when the colourless stone is not entirely white to start with. All of the moissanite offered by Lily Arkwright is certified as colourless and classified as D-F in colour, meaning it is of exceptional quality. For instance in our Charles and Colvard range, their Forever One moissanite is available in both D-F and I-G, and our own branded Lily Arkwright Moissanite is always D-F in colour.
All the moissanite we have on offer is also within the IF/ VVS ranges, otherwise known as being internally flawless or very very slightly included. With practically no internal marks, our moissanite is an exceptional choice, as are the lab grown diamonds that we have on offer. All of our lab diamonds are certified to international standards and come with an industry standard IGI or GCAL report, attesting to their outstanding quality.
All orders made with us come with a 12 month warranty as well as having free and insured global shipping. Payment is available via our global partners, PayPal and Klarna and starts from 0% interest.  
A traditional choice for the setting and gallery holding the centre stone is platinum, which is a cool toned metal that works perfectly to accent the icy hues present in the moissanite or lab grown diamond stone. White gold is another option which highlights the cool colour depths of the central stone and comes in a choice of either 18k or 9k.
There is also the option to turn this concept on its head and opt for a yellow gold basket with a platinum or white gold band. This emphasises the warmth of the gemstone and is often referred to as a reverse two tone, and works amazingly well with coloured gemstones too.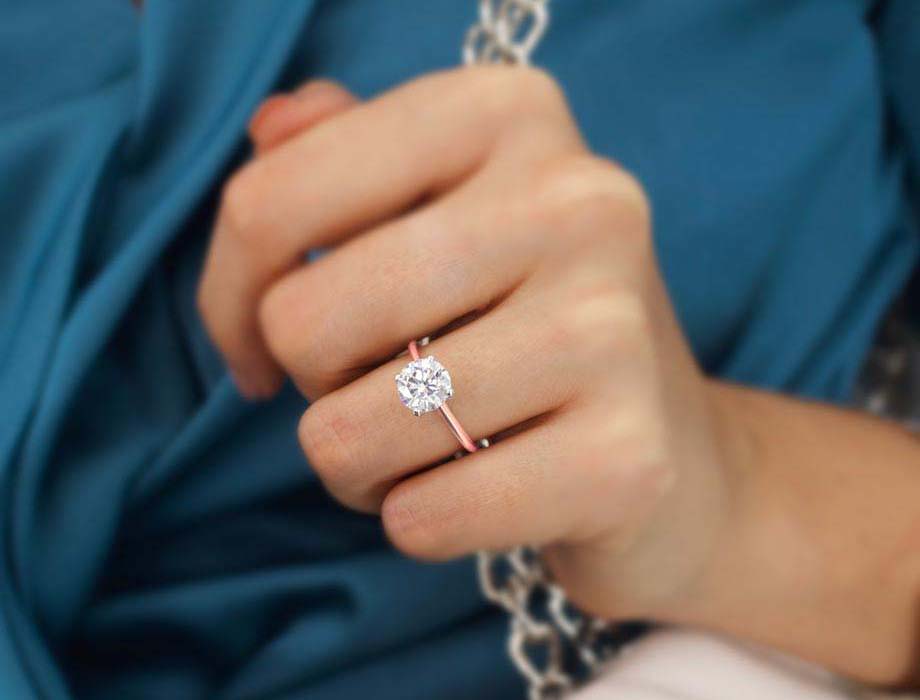 All our moissanite rings and lab diamond rings are testament to British Craftsmanship and are UK Hallmarked. Hallmarking has been a custom in the UK for centuries and involves making sure that the precious metal content of a piece of jewellery is legitimate. All jewellery that claims to be a precious metal must be hallmarked and is done so via the testing of a separate third party Assay Office. You can read more about Assaying in our blog post, or check out the UK government website.  
Named one of the best places to buy an engagement ring online by the Telegraph, we are also members of the National Association of Jewellers. Again attesting to our excellence, our membership shows that our engagement rings, moissanite earrings, or moissanite pendants and necklaces are of the highest standard.  
Two Toned Rings with Coloured Gemstones Centres
We have a new collection of stunning gemstone rings due for release as part of our summer 21 collection, featuring stunning coloured gemstones and available in two tone metal. This unique combination makes for some utterly stunning engagement rings.  
All of our coloured gemstones are grown by Chatham Labs. Founded over 80 years ago, Chatham grows emeralds, rubies, sapphires and alexandrite gemstones that are of the highest quality, with a colour and clarity only found in the very best of mined gemstones. In fact, because of their stringent standards only one in 200 gemstones meet their criteria, and are available in carat sizes and shapes that are exceedingly rare in mined varieties. A two toned ring set with one of their stunning gemstones is a gorgeous choice.
Lily Arkwright are also the only UK stockists of Chatham, supplying their exceptional quality gemstones in stunning designs that are the mark of British craftsmanship. You can check out the Chatham store locator here.
Moissanite and all of the rest of our lab grown coloured gemstones are an ethical and sustainable choice when compared to current mining practices. There are numerous issues around natural diamond mining whether that be low wages and bad working conditions, or the funding of conflicts and violent groups. Whilst this is being improved, moissanite is an attractive choice as an engagement ring because it is guaranteed to not have displaced or harmed people during its manufacturing. You can check out a post by Boho Weddings here that talks about Lily Arkwright being a sustainable and luxury jewellery brand.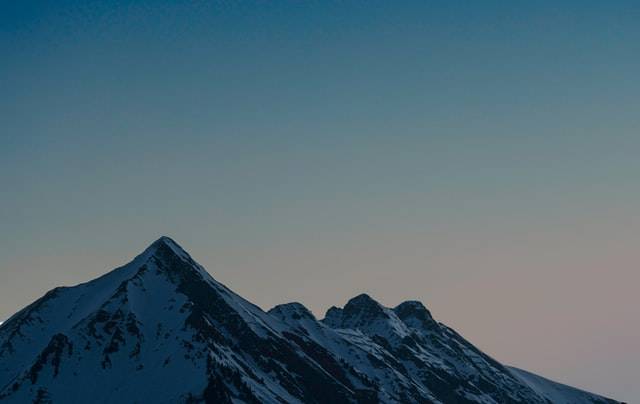 We also offer the world's best lab grown diamond engagement rings as another option, all of which are fully certified to international standards. Moissanite and diamonds are a more ecologically sound choices that do not have the same impact on the environment as mining has, making for a wonderful centrepiece in a two toned engagement ring.  
If finding your perfect ring is proving more difficult than you thought and you love the idea of a moissanite or lab grown diamond engagement ring made exclusively for you, make sure to check out our bespoke design service. We can make any dream ring a reality, and our fabulous team of JET trained Jewellery Consultants can guide you each step of the way. All of our rings come with a 30 day complimentary free resizing option, making sure that your choice is the perfect fit! The image underneath is a bespoke design, but is very similar to our Princess Diana engagement ring, that is available in moissanite and sapphire, as well as in two tone options.  
Although as a company we operate online, that doesn't mean that we don't have contact with our customers. We have a 5* TrustPilot rating because of our fabulous team of expert Jewellery Consultants, who are always on hand to help with any questions, queries or concerns. Assisting you in navigating through all options and offering advice; our consultancy team offers fantastic customer service helping you find the perfect ring.
We offer the highest quality moissanite engagement rings, lab grown diamond engagement rings and coloured gemstones. Make sure to also check out our collections of moissanite earrings and pendants as well, for a gorgeous bridal set.
Fingers crossed you've found this article helpful in the hunt for your engagement ring, and that you now understand more about two tone ring designs. Let us know in the comments below if you love these rings just as much as we do!
We pride ourselves on our ability to produce stunning ethical and sustainable fine jewellery at an amazing price point, supported by unrivalled customer service. We offer the highest quality moissanite, lab grown diamonds and gemstones.
Lily Arkwright are proud Assay Assured jewellery retailers and committed members of the National Association of Jewellers based on honesty, integrity and professionalism. All precious metal jewellery offered by Assay Assured jewellery retailers carries the legally-required independent hallmark verifying the precious metal content, a protection over and above legal requirements. Read our glowing customer reviews on Trust Pilot.
If you are interested in booking a consultation or simply would like to find out more information about ourselves or our collections, please call us on 0161 537 6773, alternatively you can email our jewellery consultancy team at hello@lilyarkwright.com.
Did you enjoy this article? What do you think of two tone engagement rings?
Let us know your thoughts and leave us a comment below. Also are there any future topics you'd like us to cover?
Wishing you all the best, The Lily Arkwright Team x