Why Shop For An Engagement Ring Online?

Why Shop For An Engagement Ring Online?

---
Choosing a moissanite engagement ring can be a daunting project, but here at Lily Arkwright we're here to help and make sure that picking the perfect ring is as easy as it can possibly be. Buying an engagement ring online is a great way for you to access and research an incredibly large range of options.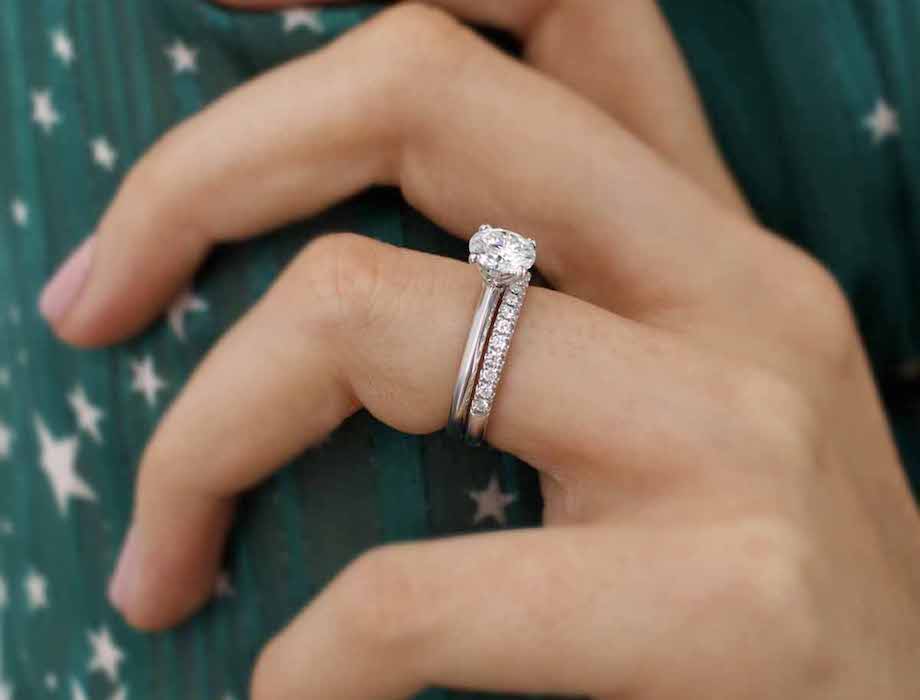 Buying online at Lily Arkwright is a popular and safe choice, and we are proud members of the UK's leading jewellery trade association, the National Association of Jewellers; a professional membership body made up of thousands of UK jewellery traders that have a strict compliance policy. Holding the NAJ's coat of arms offers peace of mind, reassurance and confidence to our customers that they will receive outstanding service from a trusted retailer of the highest quality, experience and expertise.
As well as this, we are Assay Assured retailers, and so can guarantee that we exceed all legal standards of assaying and hallmarking for our precious metal jewellery. All our pieces have been audited and tested, so you can trust that you will receive genuine branded products when buying from us, providing the highest quality jewellery that is true to description.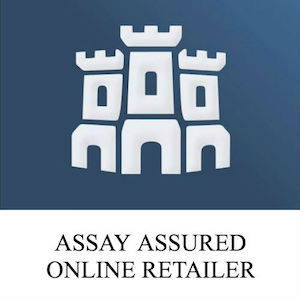 All Gemstones Offered By Lily Arkwright Are Fully Certified And Come With Certificates Of Authenticity

All moissanite gemstones offered, whether that be Charles & Colvard Forever One moissanite or our very own Lily Arkwright Moissanite, come with a limited lifetime warranty and a certificate of authenticity. The lab grown diamond engagement rings we provide are also all fully certified to international standards, and are the highest quality lab grown diamonds available on the market. As well as this, all our lab grown diamond engagement rings come with either a IGI, GCAL or Diamond Foundry certificate, and any other diamonds that feature in our rings are all conflict-free.
Our Chatham coloured gemstones from rubies to sapphires and emeralds, are all grown in the lab, and come with a Lifetime Warranty Card. Chatham have excellent quality stones that are of the same colour and clarity as only the very best mined gemstones. However, they will gladly repair or replace a stone at no charge if it should chip or break due to any defect in the workmanship or materials becoming apparent.
Lily Arkwright are also the only UK stockists of Chatham, supplying their exceptional quality gemstones in stunning designs that are the mark of British craftsmanship. You can check out the Chatham store locator here.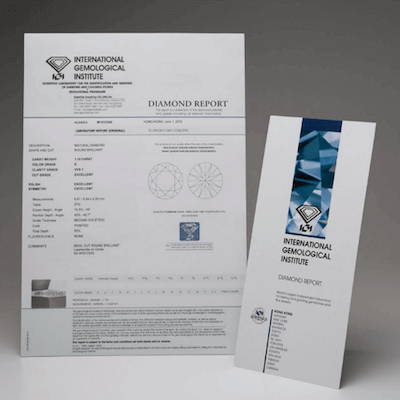 Is Purchasing From An Online Retailer More Affordable?
All of our rings are priced competitively, which means we can offer our customers beautiful moissanite or lab grown diamond engagement rings, of the very highest quality, at an amazing price point.
As we specialise in lab grown moissanite, diamonds and coloured gemstones, our jewels come at a smaller price as well as having a smaller impact on the environment than traditional mining. All our products have exactly the same chemical composition as those formed in the earth, and are in no way different. Fully certified and at a better cost to the planet as well as your purse, the benefits of a lab grown gemstone really do add up.
In fact, because we source our Lily Arkwright Moissanite ourselves, we can offer gemstones that are in no way inferior to Charles & Colvard and of their same incredible quality, but at an even lesser cost. You can have a look at our full range of Lily Arkwright Moissanite engagement rings here.
Using The 4 C's To Establish Which Moissanite Gemstone Would Be Perfect For You
The 4C's are a measurement system which looks at the cut, colour, clarity and carat of a gemstone, and has traditionally been used to examine naturally mined diamonds. However, this technique can also be used to look at both moissanite and lab grown diamonds. When shopping online it is as equally important to know about these measuring systems.
Choosing which cut and size of gemstone is one of the major decisions when it comes to picking an engagement ring. The cut refers to the number and arrangement of facets, with the most popular being the brilliant round cut, followed by the princess cut. The Brilliant round gives off the most sparkle and shine on the finger, whereas the princess cut is a square shape that features perfectly balanced geometric lines for a chic and effortless look. As well as having a range of cuts in both Charles & Colvard Forever One moissanite and Lily Arkwright Moissanite we also offer the premium Charles & Colvard Hearts & Arrows cut. This specific cut was discovered in the 1970's, and is super-ideal because it depicts eight arrows from the crown of the jewel and eight hearts from underneath. Amazingly sparkly, when this cut is used for moissanite its shape gives the most diamond-like glow.
When it comes to cut for coloured gemstones all of these same rules apply, with an ideally cut stone giving off the best sparkle and emphasising the rich colour tones. One very traditional cut is the emerald cut for an emerald stone, which with its stepped facets and cool lines is an elegant and refined choice. Have a look at our Florence ring below, for an example of a gorgeous emerald cut emerald ring.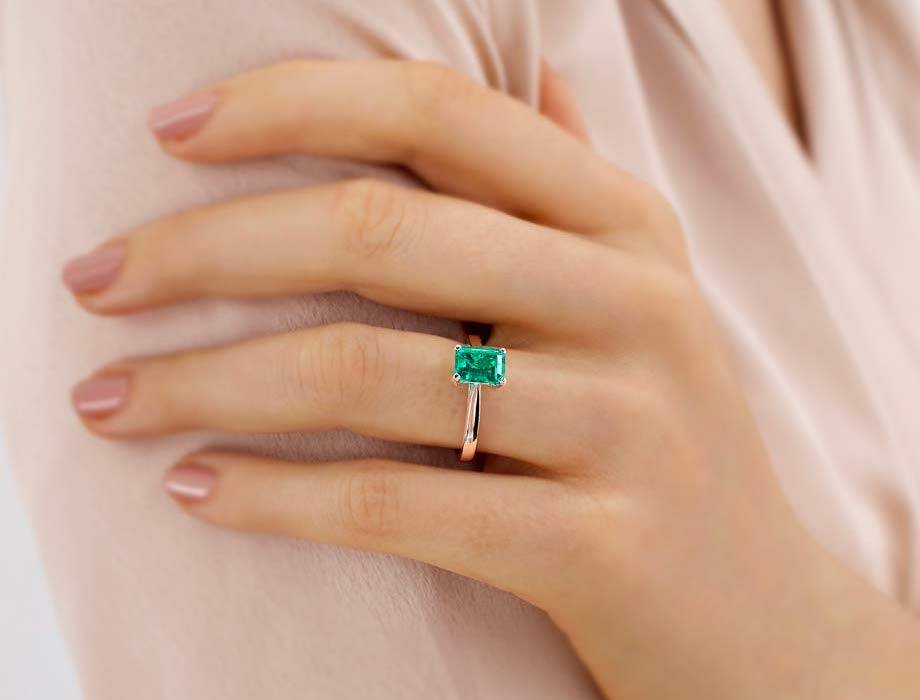 The system that grades colour for clear gemstones ranges from D-Z, with those certified as D-F described as colourless with only their brightnesses telling them apart. G-H are near colourless with no noticeable colour when viewed from above, and only very slight colour visible when turned upside down. All Lily Arkwright Moissanite is D-F, and Charles & Colvard Forever One moissanite comes in a choice of D-E-F or G-H-I.
The clarity of a gemstone refers to the number and size of inclusions that are present in the stone, a cheaper stone is one which has a large amount of these imperfections. The range over which clarity is measured begins at IF (internally flawless) and finishes at I (Included), where there will be a number of inclusions spread throughout the jewel. The majority of lab grown moissanite and diamonds are often graded VVS (very very slightly included) or VS (very slightly included), making for incredibly clear stones.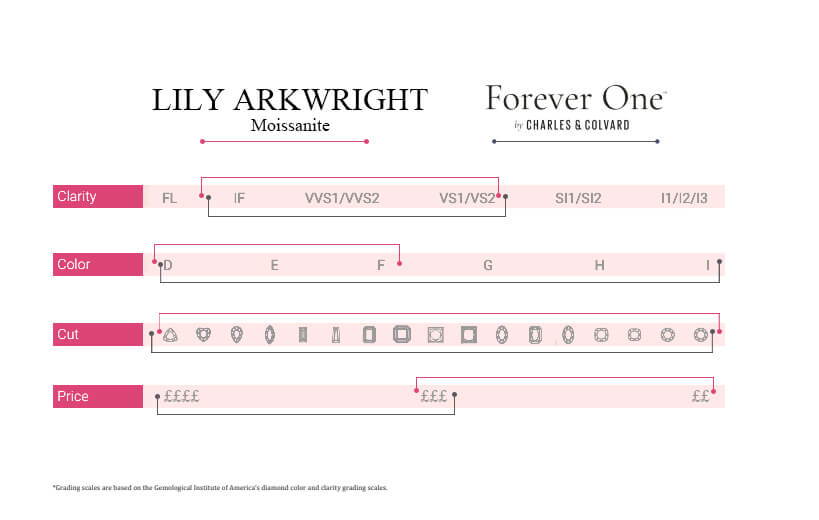 What Sort Of Setting Would Be The Right Choice?
One of the joys of shopping for wedding and engagement jewellery online is that we have such a large collection. Whether you wanted something effortlessly classic like the Grace solitaire, or something of a more fanciful nature like the Esme halo shoulder set, we will have your perfect ring! Have a look at our entire collection of moissanite engagement rings here. Our earrings and pendants are also a beautiful option, that can match any of our rings and make for gorgeous bridal sets.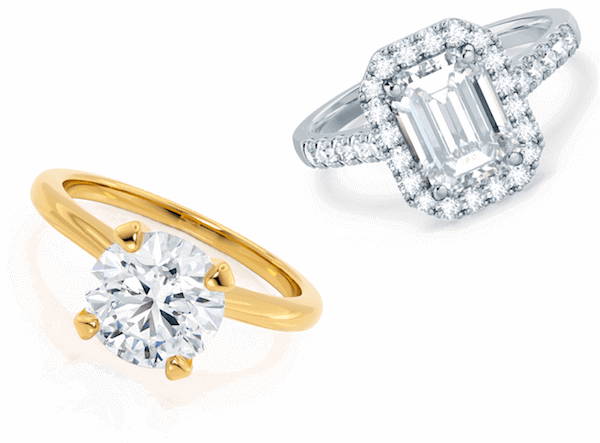 Photo Reference: Moissanite Yellow Gold Grace Solitaire and Moissanite Platinum Esme Shoulder Set
If you were looking for something completely unique we also have an excellent bespoke ring design service. After talking to our JET trained Jewellery Consultants, customers who chose to use this service will receive a mock up design, which is approved before being sent off to our expert UK Goldsmiths.
Our 5* Rating On TrustPilot Attests To Our Outstanding Customer Service

Although as a company we operate online, that doesn't mean that we don't have contact with our customers! We have a 5* TrustPilot rating because of our fabulous team of expert Jewellery Consultants, who are always on hand to help with any questions, queries or concerns. Assisting you in navigating through all options and offering advice; our consultancy team offers fantastic customer service helping you find the perfect ring.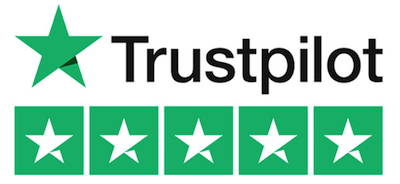 What If I Don't Like My Ring Once It Arrives?
We have a completely hassle-free 30 day returns policy* if your chosen ring turns out not to be the one. In addition to this we also have a complimentary free resizing service within 30 days of you receiving your order, so if you love your ring but it's not quite the perfect fit, send it back to us and we can sort it out for you!
Visit Us At Our UK Showroom
Just because you're buying a ring online doesn't mean that you can't see any of our jewellery in person. Book an appointment today to come into our UK showroom, so you can see our outstanding quality and a selection of our stunning rings in person, as being able to physically hold the jewellery can really help to cement your choice.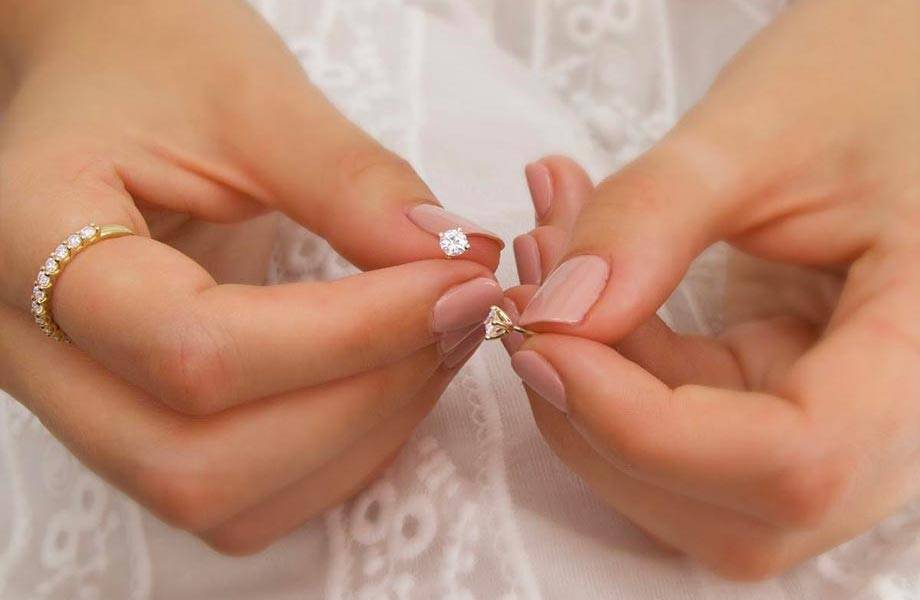 Virtual WhatsApp Appointments
If you can't make it into our physical showroom, you can also book an online virtual WhatsApp consultation, where our team can talk through options whilst showing you through a range of different rings. Book an appointment today for your consultation.
We hope that you have found this post helpful in your search for an engagement ring and that now you know all the ins and outs of buying online! Have a look among our amazing jewellery collections to find your perfect piece.
We pride ourselves on our ability to produce stunning ethical and sustainable fine jewellery at an amazing price point, supported by unrivalled customer service. We offer the highest quality moissanite, lab grown diamonds and gemstones.
Lily Arkwright are proud Assay Assured jewellery retailers and committed members of the National Association of Jewellers based on honesty, integrity and professionalism. All precious metal jewellery offered by Assay Assured jewellery retailers carries the legally-required independent hallmark verifying the precious metal content, a protection over and above legal requirements. Read our glowing customer reviews on Trust Pilot.
If you are interested in booking a consultation or simply would like to find out more information about ourselves or our collections, please call us on 0161 537 6773, alternatively you can email our jewellery consultancy team at hello@lilyarkwright.com.
*On standard collections that are not designated 'made to order'.
Did you enjoy this article? Will you be buying your engagement ring online?
Let us know your thoughts and leave us a comment below. Also are there any future topics you'd like us to cover?
Wishing you all the best, The Lily Arkwright Team x