A Guide to Men's Wedding Bands

A Guide to Men's Wedding Bands

---
We have a stunning range of men's wedding bands at Lily Arkwright and choosing the right style for you can be a difficult decision. We've compiled a list of everything there is to know, so read on for our breakdown and some of our top picks.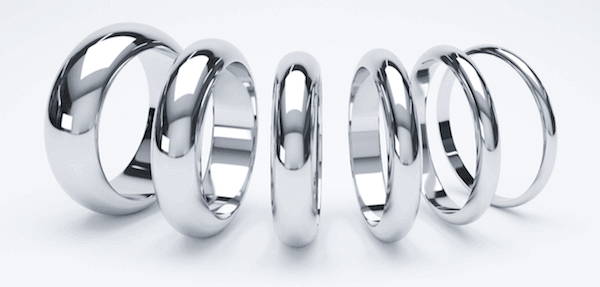 There are three main choices when it comes to picking your wedding band and they are the metal type, shape and finish. Let us walk you through what each one means and the different options we have available.
Regular Court Profile: With the rounded shape around the entirety of the ring, this is an incredibly comfortable choice, that is also sometimes referred to as 'comfort fit' . The regular court profile is one of our most popular styles because of its classic frame and timeless charm.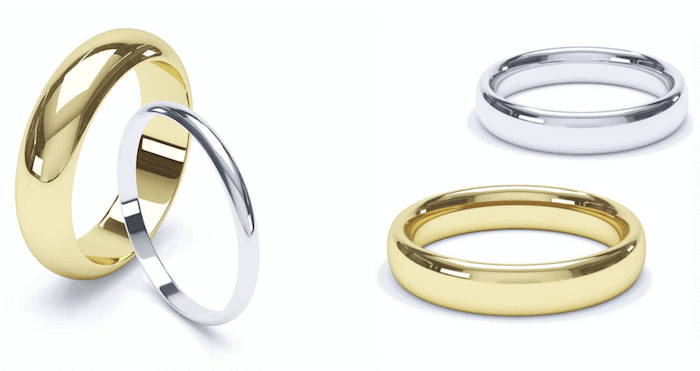 D Shaped Profile: This shape has a flat inner side and a curved outer band, the reason for its D shaped title. As one of the most popular wedding band shapes, this profile is a comfortable and secure fit. This is all due to its rounded form that is very unlikely to catch, making it ideal for everyday wear.
Flat Court Profile: The flat court is actually the opposite shape to the D shaped profile as it is flat on the outside and curved on its inner band. This means that it is incredibly comfortable to wear and offers a more contemporary look. The flat appearance of this profile is an understated yet modern twist on the traditional wedding band.
Bevelled Edge Profile: The bevelled edge profile takes the idea of a flat shape a step further, by having both the inside and outer edges of the band level. As another modern shape for a wedding band, this silhouette is a captivating frame.  
Platinum: This is an excellent choice for a wedding band because it makes for a super strong and durable piece, that is also hypoallergenic and very resistant to tarnishing.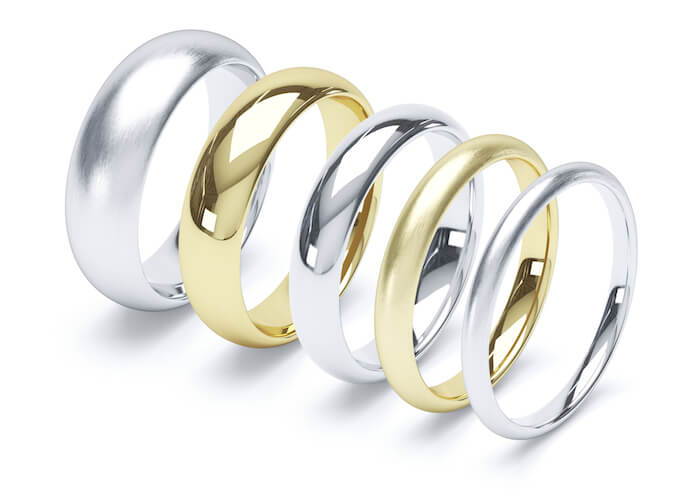 18k White Gold: Similar to platinum in colour, white gold is another gorgeous option for a wedding band. Its slightly smaller price point and neutral colour make this option our most popular metal type for a wedding band.  
18k Yellow Gold: A traditional colour that has recently come very much back into fashion, the yellow gold wedding band is a great choice. Our gold rings are alloyed with other metals, making them 18k rather than pure 24k because it makes them much more durable. Pure gold is quite malleable and does not work very well for an item of jewellery that is meant to be worn everyday. By having a 18k wedding band, we can ensure that you will have a ring that will last a lifetime.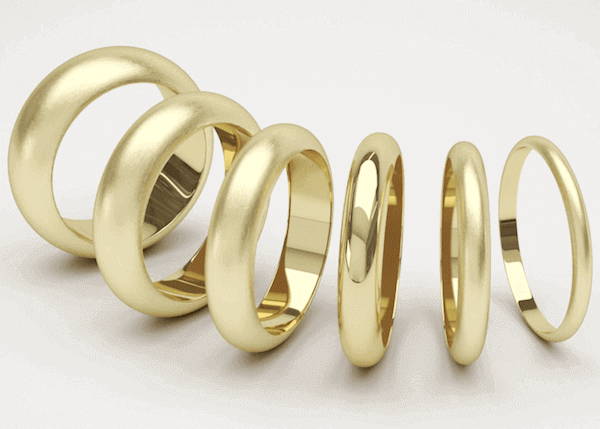 We offer two different finishes, the polished band and a satin finish. The polished look is definitely the most classic option, with a high shine. Our other option is the satin finish, which is an elegant choice but with a contemporary feel. The stain finish is perfect for those who want something just a little bit different without being over the top.  
Hallmarking/ Assay Assured Retailers

All of our jewellery is UK hallmarked and Assay Assured, meaning that it has been independently verified as having the requisite metal content. We are also members of the National Association of Jewellers, and so join hundreds of other excellent jewellers across the UK in meeting their stringent requirements. Check out this mrspandp blog post on us as a sustainable brand to read more about our ethical credentials.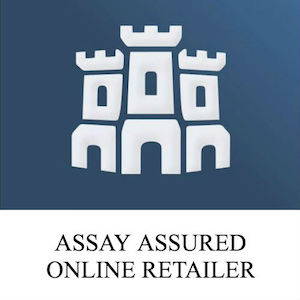 All of our jewellery comes with a 30 day returns policy*, as well as a 12 month warranty, in addition to free and insured global shipping. The British Craftsmanship of our pieces is thanks to our expert UK goldsmiths, book your visit to our showroom today if you'd like to see any of our jewellery in person.
We have a bespoke ring design service, for those who want something completely unique, as well as an engraving service. We also have a 0% interest option from our global partners PayPal and Klarna.  
If you'd like to ask a member of our Jewellery consultancy team any questions about the wedding bands we have on offer, don't hesitate to get in contact with us via our website, email or simply by giving us a call. Always happy to help, our 5* rating on TrustPilot is down to the excellent customer service of our JET trained staff. Have a look at this Hitched.co.uk article which features some of our stunning moissanite engagement rings.
Hopefully you've found this guide helpful on the search for a wedding band, and let us know your thoughts down in the comments!
We pride ourselves on our ability to produce stunning ethical and sustainable fine jewellery at an amazing price point, supported by unrivalled customer service. We offer the highest quality moissanite engagement rings, lab grown diamond engagement rings and coloured gemstones. Make sure to also check out our collections of moissanite earrings and pendants as well, for a gorgeous bridal set.

Lily Arkwright are proud Assay Assured jewellery retailers and committed members of the National Association of Jewellers based on honesty, integrity and professionalism. All precious metal jewellery offered by Assay Assured jewellery retailers carries the legally-required independent hallmark verifying the precious metal content, a protection over and above legal requirements. Read our glowing customer reviews on Trust Pilot.
If you are interested in booking a consultation or simply would like to find out more information about ourselves or our collections, please call us on 0161 537 6773, alternatively you can email our jewellery consultancy team at hello@lilyarkwright.com.
*On standard collections that are not designated 'made to order'.
Did you enjoy this article? Which wedding band profile do you like the best?
Let us know your thoughts and leave us a comment below. Also are there any future topics you'd like us to cover?
Wishing you all the best, The Lily Arkwright Team x