Lily Arkwright Engagement Rings - The Basics

Lily Arkwright Engagement Rings - The Basics

---
In today's blog post i'm going to delve into the dark art of engagement ring terminology, do you know your split shank from your crossover? Let's look at the basics.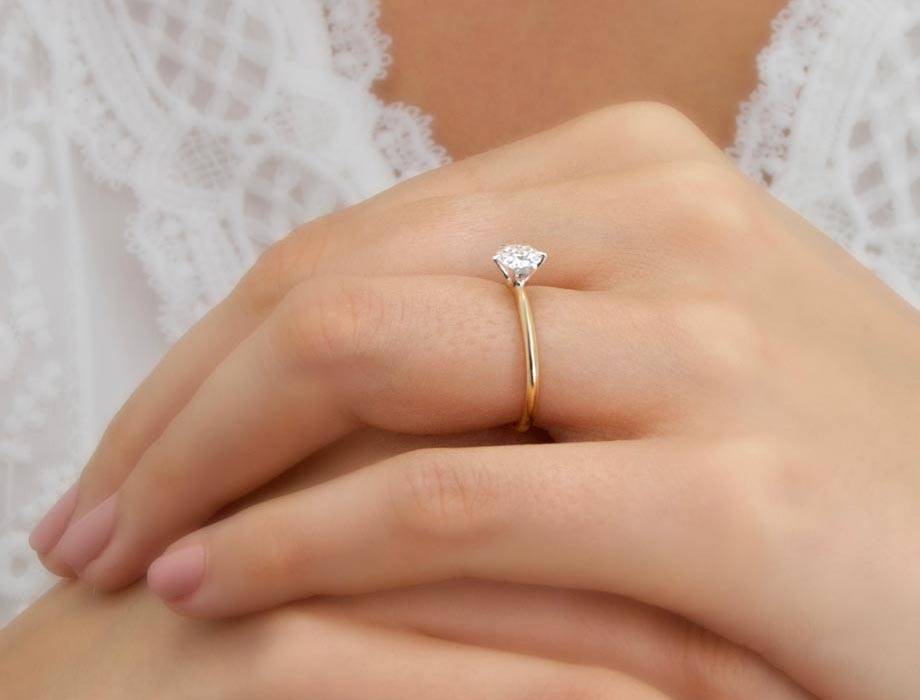 Choosing your favourite engagement ring can take months of planning, for some lucky people it can take a matter of hours.
In many cases purchasing an engagement ring can be a tricky process, for the proposer, you want to keep things a surprise and you've only informed a few trusted friends. You spend your time carefully asking probing questions without giving the game away, perhaps involving friends and family.
Is it a simple case of a timeless classic brilliant round solitaire engagement ring or do you have your eye on a three stone setting, perhaps a halo? Does your partner like side stone melees? It's understandable to feel overwhelmed at the vast array of moissanite and lab diamond engagement rings available.
Here at Lily Arkwright we're here to help, if you have any questions or queries don't hesitate to give us a call or drop us an email, we pride ourselves on our customer service. You can contact us at hello@lilyarkwright.com
Centre Stone & Side Stones
The centre stone is the masterpiece of any ring, the first thing that captures your attention, that magical sparkle, here at Lily Arkwright we stock a wide variety of stone shapes and sizes, including the worlds premium moissanite, Charles & Colvard, Forever One. Please see our Charles & Colvard Forever One shapes and size chart.
Side Stones can set off a ring beautifully, these generally run from the top of the shank midway down and are usually made up from small diamond or moissanite melees held in place by small prongs.
The Cicely four prong brilliant round cut shoulder set showcases this in sensational fashion.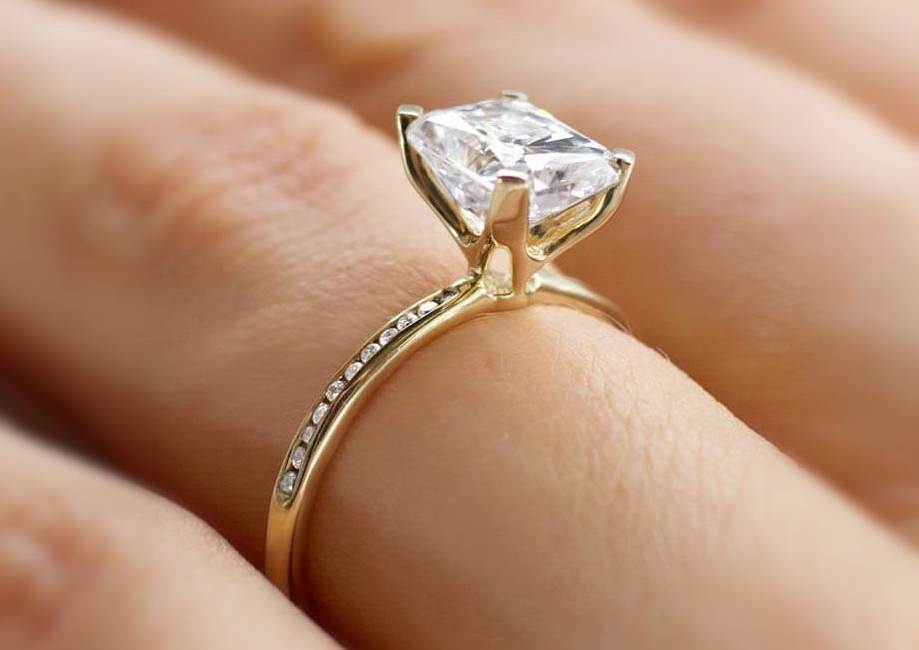 The easy one first, the shank. Often referred to as the band, the ring shank is the circular piece of metal which wraps around your finger, often set in white, yellow, rose gold or platinum.
When deciding which metal to choose you will want to think about your partners existing jewellery collection and how your proposed engagement ring will look alongside these.
Most shanks vary in width between 1.50mm - 2.50mm, in some cases the base of the shank my narrow compared to the sides. A well fitting shank performs an important function as it stops your ring from spinning on your finger and ensures its a good fit, order your free ring sizer from here.
Popular options such as the Amelia Split shank 4 prong round cut halo are truly stunning, where the shank splits on the shoulder creating an extravagant shank detail. 
Equally, the elegant Grace four prong round cut solitaire has a straight shank which showcases the beautiful centre stone in all its glory, as featured in The Telegraph.
Alternatively, the Celine three claw pear cut solitaire, set with a bypass shank is truly unique, each shank twisted combining in an amazing parallel detail.
Every gem, be it moissanite or a diamond must be secured in place and set in position to showcase its brilliant sparkle to the world. In most cases we use prongs for this purpose, a prong can often look similar to a claw which is an extension of the ring and wraps around the stone, ensuring it is secured firmly in place.
The Lisette three claw pear cut shoulder set showcases a stunning three claw prong setting, whilst the Rosalee princess square cut has a four prong setting. Alternatively the Serenity brilliant round cut solitaire has a beautiful six prong setting.
And that concludes our quick fire summary of lab diamond and moissanite engagement ring jargon, should you have any questions or queries, please don't hesitate to contact us at hello@lilyarkwright.com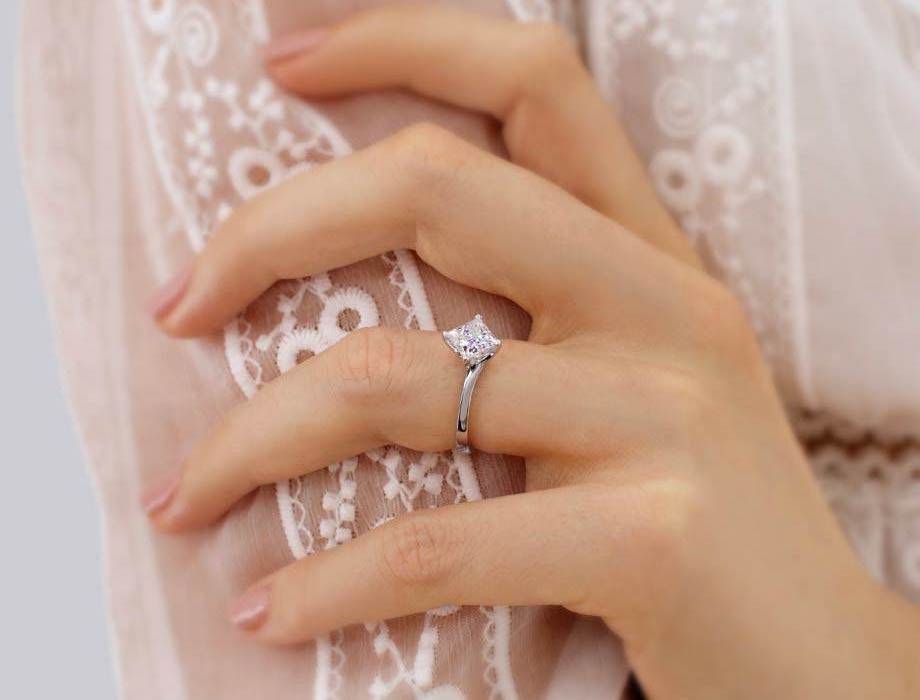 We pride ourselves on our ability to produce stunning ethical and sustainable fine jewellery at an amazing price point, supported by unrivalled customer service. We offer the highest quality moissanite engagement rings, lab grown diamond engagement rings and coloured gemstones. Make sure to also check our are collections of moissanite earrings and pendants as well, for a gorgeous bridal set.
Lily Arkwright are proud Assay Assured jewellery retailers and committed members of the National Association of Jewellers based on honesty, integrity and professionalism. All precious metal jewellery offered by Assay Assured jewellery retailers carries the legally-required independent hallmark verifying the precious metal content, a protection over and above legal requirements. Read our glowing customer reviews on Trust Pilot.
If you are interested in booking a consultation or simply would like to find out more information about ourselves or our collections, please call us on 0161 537 6773, alternatively you can email our jewellery consultancy team at hello@lilyarkwright.com.
Did you enjoy this article? Do you have a better understanding of ring terminology now?
Let us know your thoughts and leave us a comment below. Also are there any future topics you'd like us to cover?
Wishing you all the best, The Lily Arkwright Team x