Top Ten Petite Moissanite Engagement Rings

Top Ten Petite Moissanite Engagement Rings

---
One of our most popular collections of moissanite engagement rings is our petite styles. These delicate pieces are perfect for those who want something with plenty of sparkle but with a daintier and slightly more understated design. All our petite collection of moissanite engagement rings can be set with Lily Arkwright Moissanite or Charles & Colvard Forever One.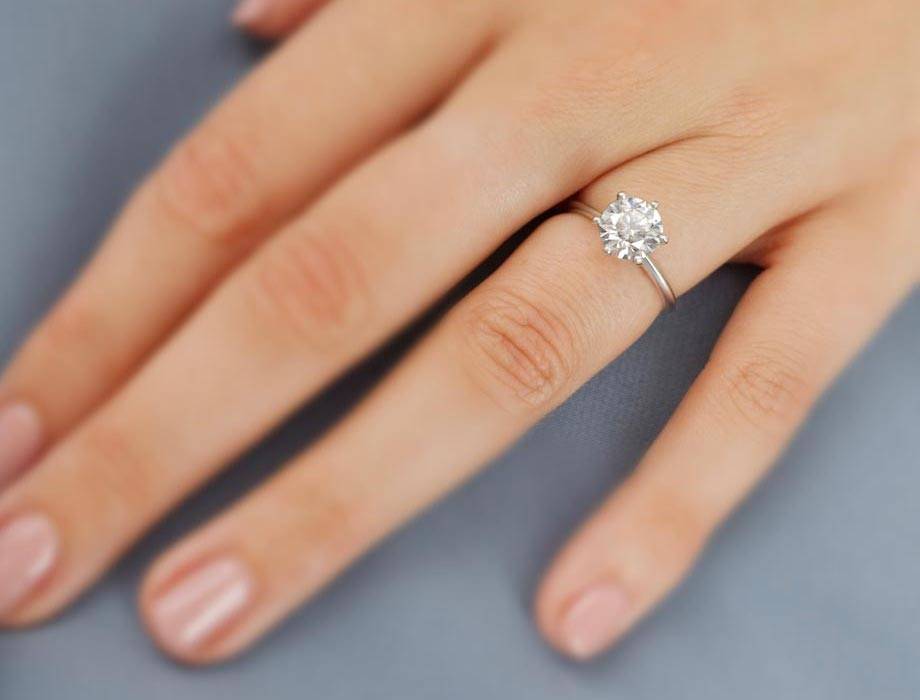 The first ring on our list of petites is the Lillie. Always one of the most favoured rings we offer, the Lillie is a stunning solitaire, and with a band width of just 1.70mm this gorgeous engagement ring makes it all about the centre gemstone. The Lillie also has a secure six prong tiffany-style mount and is a wed-fit style, meaning that it sits snugly next to most wedding bands for a comfortable and elegant fit. Our petite collection, including the Lillie, is also available as a lab grown diamond engagement ring, and as a Chatham coloured gemstone ring.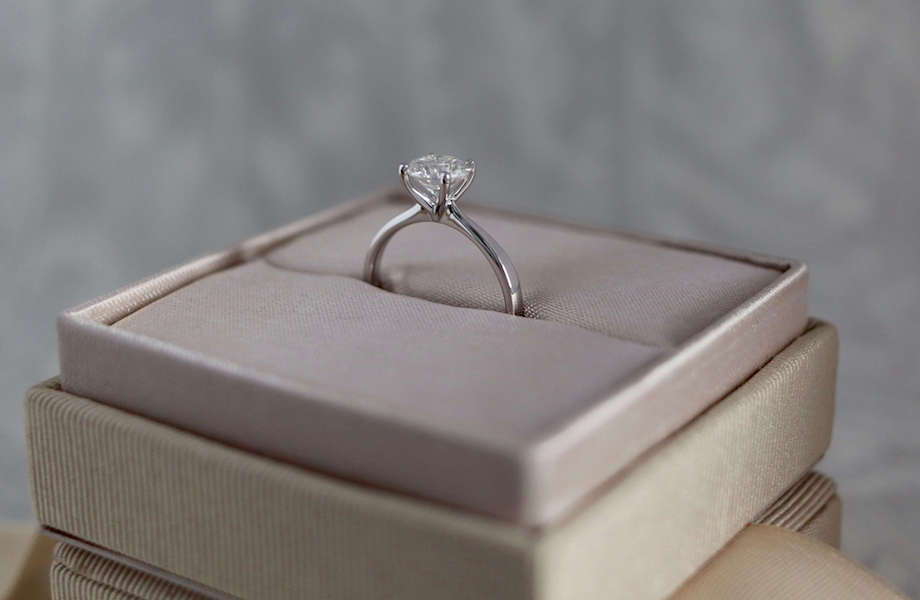 The Lottie is a petite engagement ring that features a gently tapering band to make the most of your chosen carat size, making it appear larger than it really is. This tulip solitaire has a four prong mount and can be set with your choice of Charles & Colvard Forever One moissanite, or a Lily Arkwright Moissanite brilliant round cut gemstone. The Lottie can also be set with a premium Charles & Colvard Hearts & Arrows Cut gemstone, which is often referred to as a super-ideal cut, revealing eight arrows from its crown and eight hearts when looked at from underneath. The Hearts and Arrows Cut has to be intricately faceted in order to achieve this, and is a marker of an incredibly well cut gemstone. Make sure to take a look at the Telegraphs best places to buy an engagement ring online to see us featured on their top reccommendations!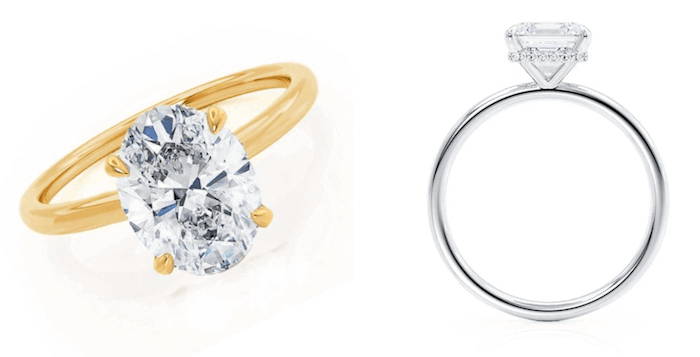 Another of our fabulous petite designs is the Paris which not only comes in our variety of metal types, but can also be set with an array of different stone cuts, from radiant to princess. This versatile ring has a rounded band that measures a delicate 1.65mm across and also features a stunning hidden halo on its gallery. This hidden detail adds an extra subtle sparkle that leaves a lasting impression when viewed from the side. All of our rings come with free and insured global shipping as well as having a 30 day hassle-free returns policy* and a 12 month warranty. In fact all of our moissanite, lab diamonds and coloured gemstones come with a limited lifetime warranty, assuring our customers that we provide only the highest quality gemstones.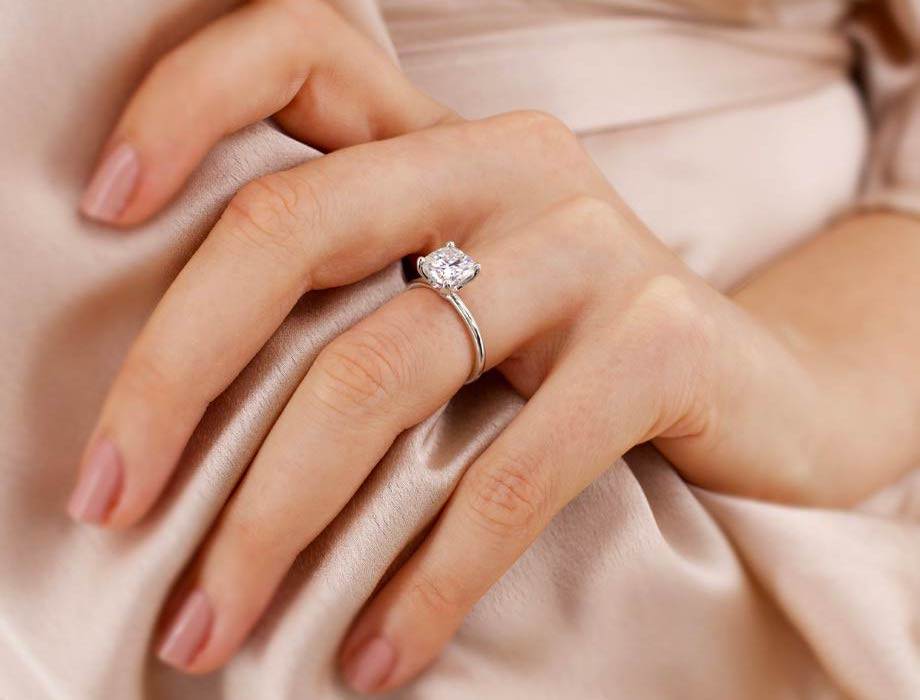 The Lulu ring is similar to the Paris with the same rounded band and available in the wide range of moissanite cuts, but without the hidden halo. This elegant petite ring has a four prong plain mount that can beautifully showcase even the largest of centre stones. Again coming in a variety of precious metals, it is worth noting that all our jewellery is UK hallmarked. Hallmarking is a centuries-old practice in the UK, and verifies the purity of the precious metal content. Jewellery cannot be described as gold, silver or platinum without an independent, third party assuring buyers of the quality of the piece they are purchasing. To read more about hallmarking and why we are such a trusted online retailer, have a read through our blog post on being Assay Assured here.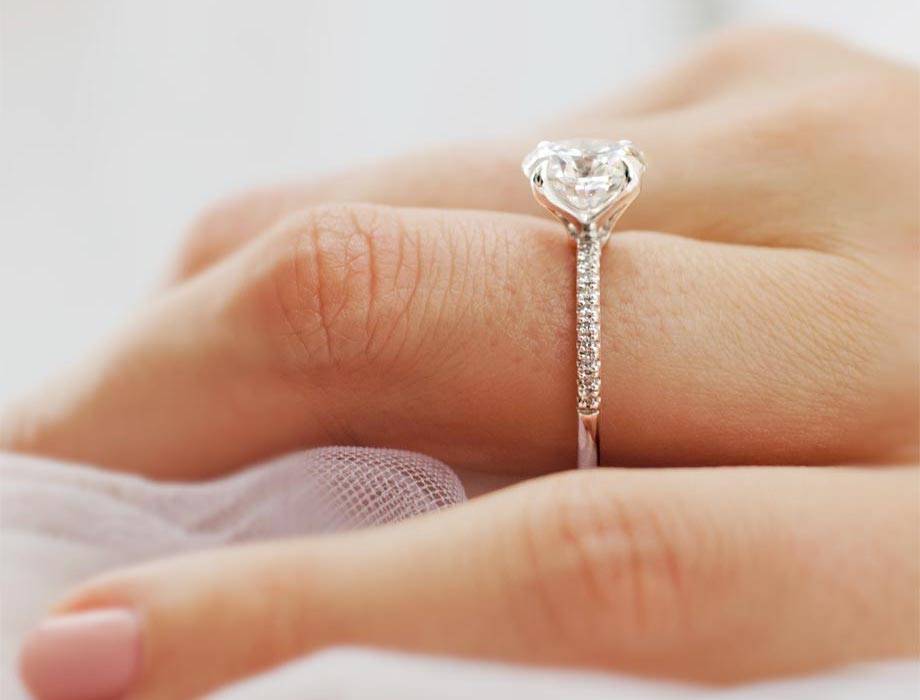 Another of our gorgeous rings is the Macy, which when paired with a lab grown diamond looks truly stunning. The oval cut version of this ring, as seen in the picture, makes for an ideal centrepiece stone with timeless style, and the four prong setting and micro pavé band really demonstrates how much this ring glitters. We offer the world's best lab diamond engagement rings, which are all fully certified to international standards, accompanied by an industry standard IGI or GCAL grading report. As members of the National Association of Jewellers we can guarantee that all of our jewellery meets and exceeds legal requirements having been independently tested, proving our outstanding quality to customers. Check out LDN Fashion's article for more on us as a company!
The Harlow and The Darley Rings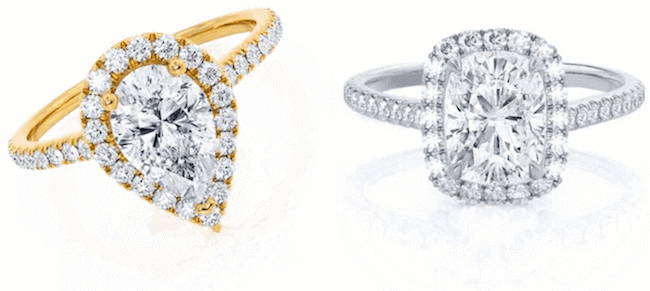 We have recently introduced two new rings into our halo collection that are both petite styles - the Harlow and the Darley. The Harlow is a gorgeous ring set with a pear cut moissanite gemstone enveloped in a petite micro pavé of conflict-free diamonds. This ring has a unique edge but still with masses of sparkle. The Darley is very similar, however it instead features an elongated cushion cut gemstone, whether that be a moissanite or lab diamond, the halo design and fine band make for a truly beautiful engagement ring.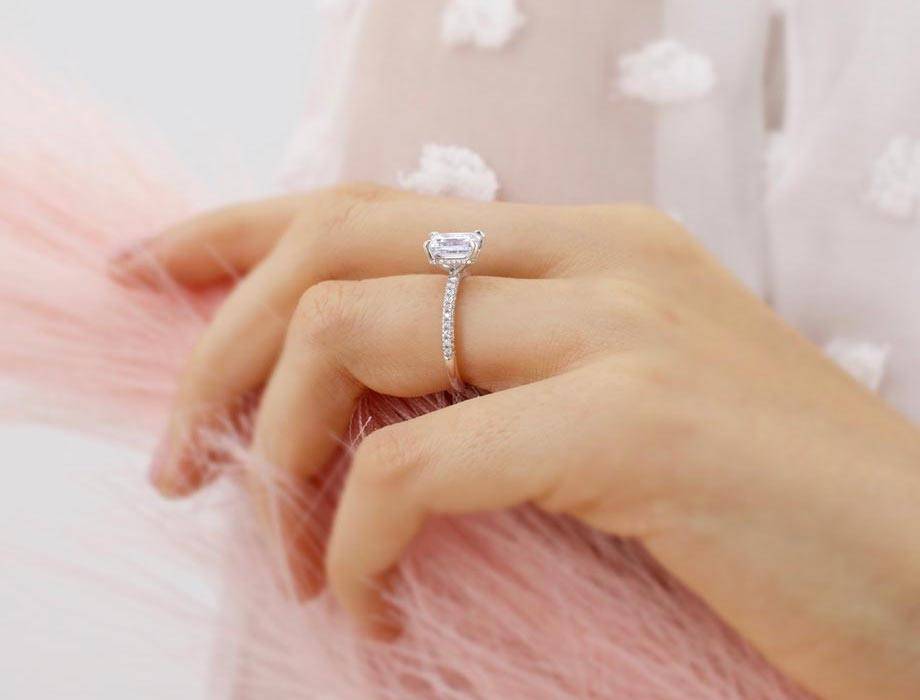 The Coco is available in all gemstones and cuts and has a dazzling hidden halo detail on its basket as well an incredible triple pavé along its band, with three rows of conflict-free diamonds. This extravagant ring is as opulent as it gets and yet with its band only measuring a tiny 1.85mm across it is daintily ornate.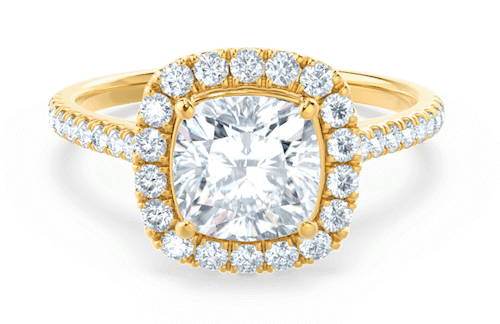 The Violette was also recently featured on our blog about vintage-inspired engagement rings, and its halo design is certainly influenced by the Victorian and Art Deco periods. With its cushion cut centre stone and band of just 1.60mm, this graceful engagement ring is sure to be a showstopper.
Our Lavender engagement ring is another of our halo designs, but features the most popular of all stone cuts and the cut shaped to create the most sparkle - the brilliant round. Enveloped in conflict-free diamonds that follow on down the band, this ring has a secure four prong mount and an intricately detailed basket.
If you need any extra guidance on what would suit you the best, for instance on gemstone type or size, you can always pay a visit to our UK showroom for an in-person consultation. Alternatively you can book a virtual showroom WhatsApp appointment with one of our JET trained jewellery consultants.
Moissanite, lab grown diamond and coloured gemstones such as rubies, sapphire and emeralds all make for amazing engagement rings. Whichever gemstone you choose, Lily Arkwright has a bespoke ring design service for those who want something truly unique. As well as the wide range of options available on our website, we are able to work with you personally and make your very own moissanite engagement ring or lab diamond engagement ring, translating your ideas and sketches into a bespoke piece.
Hopefully this breakdown of some of our most popular petite moissanite ring designs has been helpful in your search for the perfect engagement ring! Leave a comment below if you have any questions about the range of jewellery we offer here at Lily Arkwright.
We pride ourselves on our ability to produce stunning ethical and sustainable fine jewellery at an amazing price point, supported by unrivalled customer service. We offer the highest quality moissanite engagement rings, lab grown diamond engagement rings and coloured gemstones. Make sure to also check out our collections of moissanite earrings and pendants as well, for a gorgeous bridal set.
Lily Arkwright are proud Assay Assured jewellery retailers and committed members of the National Association of Jewellers based on honesty, integrity and professionalism. All precious metal jewellery offered by Assay Assured jewellery retailers carries the legally-required independent hallmark verifying the precious metal content, a protection over and above legal requirements. Read our glowing customer reviews on Trust Pilot.
If you are interested in booking a consultation or simply would like to find out more information about ourselves or our collections, please call us on 0161 537 6773, alternatively you can email our jewellery consultancy team at hello@lilyarkwright.com.
*On standard collections that are not designated 'made to order'.
Did you enjoy this article? Which is your favourite petite ring?
Let us know your thoughts and leave us a comment below. Also are there any future topics you'd like us to cover?
Wishing you all the best, The Lily Arkwright Team x