Why Pick A Ruby Engagement Ring?

Why Pick a Ruby Engagement Ring? A Guide to the July Birthstone

---
Ruby is one of the most popular coloured gemstones and works beautifully when set into an engagement ring. Although traditionally associated with July, this birthstone looks amazing no matter what month you were born in!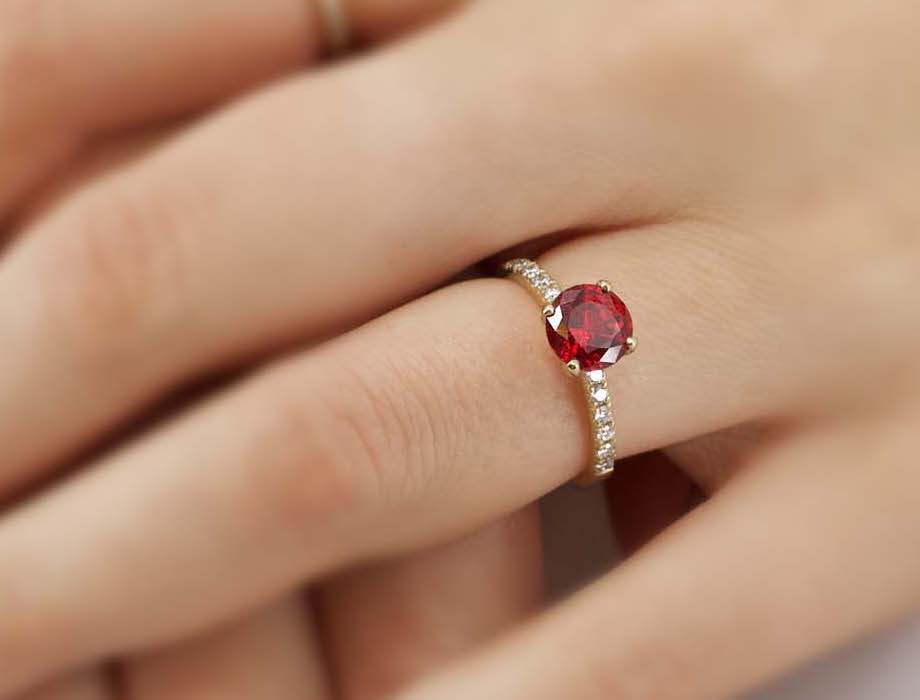 Photo Reference: Giselle 6.5mm Round Cut Chatham Ruby Yellow Gold Ring
The concept of a birthstone has been around for centuries. Originally believed to hold religious significance, the birthstone is now a popular way of representing a birthday in a beautiful piece of jewellery. Linked to the month of July, rubies can be used to symbolise anniversaries and children's birthdays as well as your significant other's date of birth.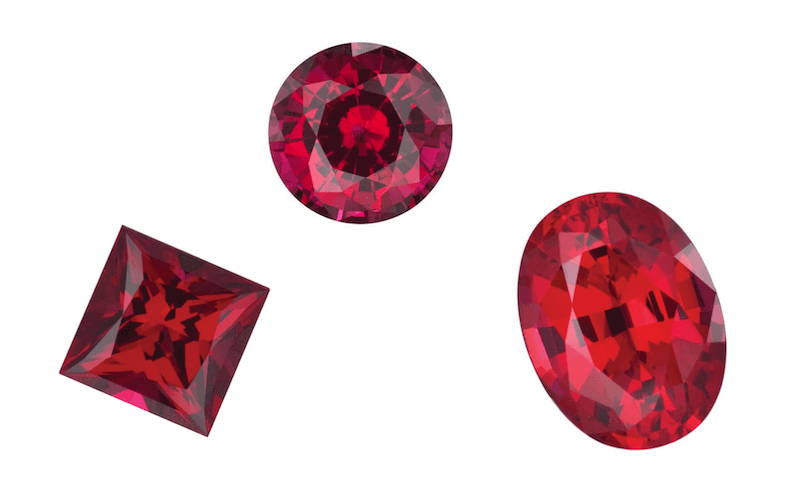 Said to represent passion, love, and success, the fabulous shade of a ruby has been admired and used in jewellery for millennia. Also known as corundum, surprisingly rubies are actually the same mineral as sapphires. With their colours being the only point of difference, it is the element chromium which gives ruby its red tone. In fact there is quite a lot of debate about the point a pink sapphire turns into a ruby, and there is often a minimum colour saturation needed. The most sought after colour of ruby is known as a pigeon blood, (a name which refers to the centre of a pigeon's eye) known to be both the brightest and most valuable shade.
Throughout history it was ruby that was often deemed to be the most valuable gemstone, with diamond only becoming the most popular within the last century. Called ratnaraj in Sanskrit or the 'king of gems', rubies are so desired because of their stunning appearance. Coming from the latin word for red 'ruber', it used to be that many red gemstones were mistakenly classified as rubies. For instance one of the most famous rubies in the world, the Black Prince's Ruby, which sits front and centre on The Royal Family's Crown Jewels is actually a spinel. Having said this, the most expensive actual ruby to exist is a fine Burmese ruby, which is of the coveted pigeon blood colour. Called the Sunrise Ruby, this gemstone weighs over 25 carats and was sold in 2015 for over an astonishing $30 million dollars!
We're pleased to be able to say that here at Lily Arkwright we provide lab grown rubies which are of the same fantastic colour and clarity as only the very best of mined gems. All of our rings also come with free and insured global shipping, as well as a 30 day hassle free returns policy*.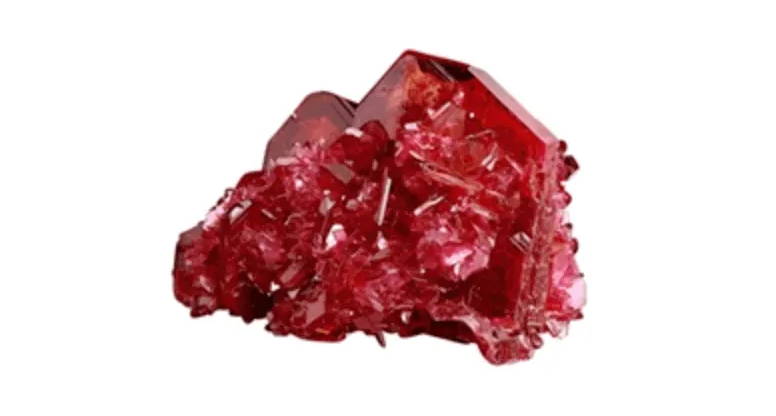 There is an alternative option to traditional mining available on the market today. Chatham lab is a company that specialise in lab grown gemstones and their methods mean a more sustainable and ethical choice is possible. Founded over 80 years ago, Chatham Labs are world renowned for their high quality and amazing cuts. One of the major benefits of a lab grown ruby is that it allows for sizes and shapes that are incredibly rare in mined gemstones, and it delivers a gorgeous stone for a fraction of the price compared to its mined counterpart.
Ruby that is grown in the lab is in no way different from those found in the earth, as the process to produce the gemstones is the same, just on a different scale. Chatham grown rubies take around a year to form and are created expertly by a number of processes that result in the finest stones. Because the chromium rich conditions needed for their development are so exacting, the rubies produced by Chatham have an exceptional clarity and have the gorgeous pigeon blood colour. The environment for ruby is so precise, Chatham once had to dispose of a year's worth of growth because there had been a trace amount of another element present.
First started by Carroll Chatham in 1938, the company has spent years perfecting their processes and only sells the very best gemstones. They are so strict in fact, that ordinarily around 80% of the rough crystal is discarded, and only one in every 200 gemstones made meet their stringent standards for clarity and colour.
All our Chatham gemstones come with a certificate of authenticity, and a limited lifetime warranty, and all our jewellery has been UK hallmarked. Making sure the metal content and condition of our rings is exceptional, all our pieces are examined by a separate third party to ensure the utmost quality.
If you'd love to learn more about our sustainable jewellery that lasts a lifetime have a look at Boho Weddings in depth article on our company.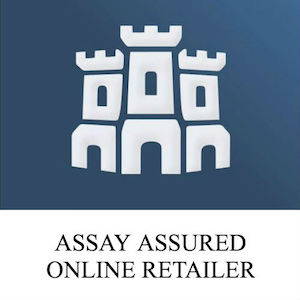 Bespoke Ring Design Service
Although we have a wide selection of ruby engagement rings, all of which are examples of our expert British Craftsmanship, we also offer a bespoke ring design service if you're after something entirely unique. Our custom ruby rings are created by talking with our clients and discussing images and ideas. A mock up is then developed and eventually the design is sent off to our expert UK Goldsmiths to forge the bespoke piece.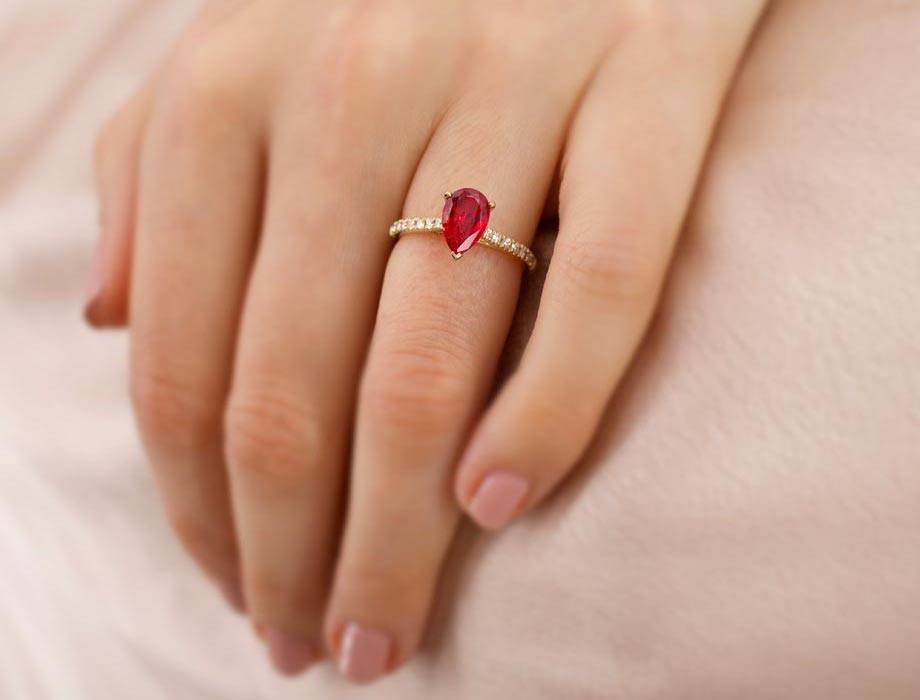 Photo Reference: Bespoke Giselle Chatham 8x6mm Pear Cut Ruby Yellow Gold Ring
In the picture above, we have an example of a bespoke piece that was created on the behalf of a customer, featuring a custom pear cut ruby on a Giselle ring design. This delightful ring has a pavé of diamonds set into its shoulders and a secure three prong mount, all cast in a gorgeous yellow gold band and mount for a truly luxurious feel, completely unlike anything else.
Celebrity Ruby Engagement Rings
There are a number of celebrities who have decided that the opulent class of a ruby would be perfect for their engagement ring. From Katy Perry to Eva Longoria this jewel never fails to impress.
Katy Perry's lavish engagement ring features a huge oval cut ruby with a halo of smaller diamonds all surrounded by milgrain detailing to make for an especially stunning look.
Eva Longoria's is another ruby ring nestled within a halo of smaller diamonds. This dazzling ring is the height of luxury.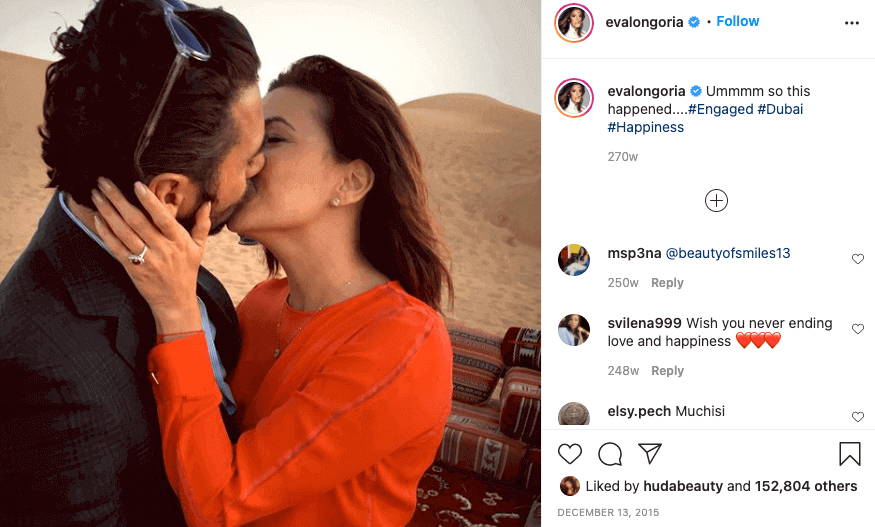 @evalongoria on Instagram
Examples of Ruby Rings Offered by Lily Arkwright
Our ruby Giselle is a amazing option for an engagement ring, set with a pavé of conflict free diamonds along its shoulders, and held securely in a four prong mount, this option is sure to impress.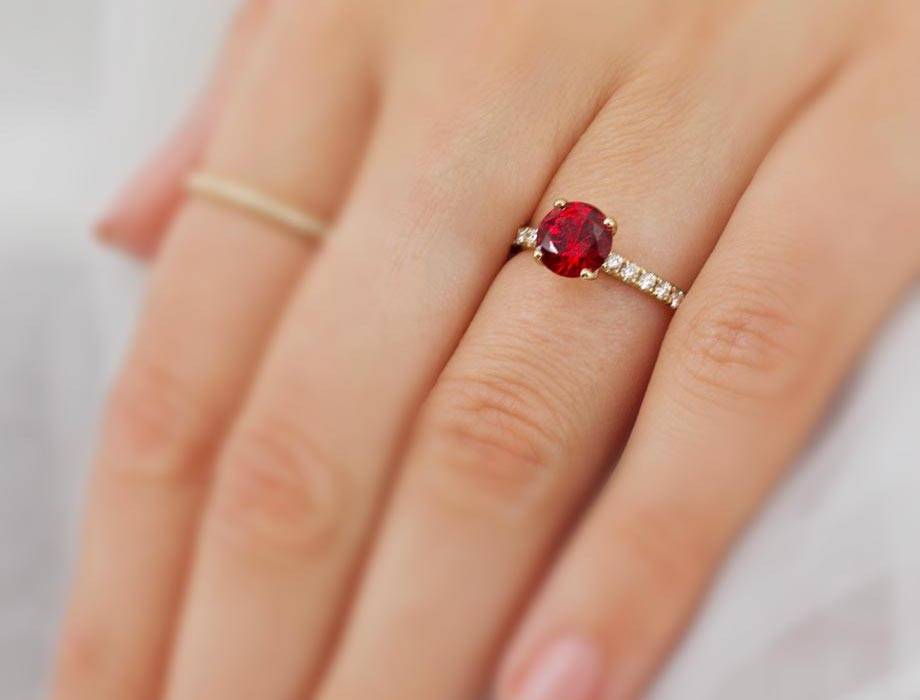 Photo Reference: Giselle 6.5mm Round Cut Chatham Ruby Yellow Gold Ring
Another of our amazing ruby rings is The Serenity. Held in place by a six prong mount, this solitaire set with a ruby would be stunning. Making the most of the centre stone, this ring design has a tapered band to make it look set further away from the finger than it really is and to give the appearance of a larger carat size.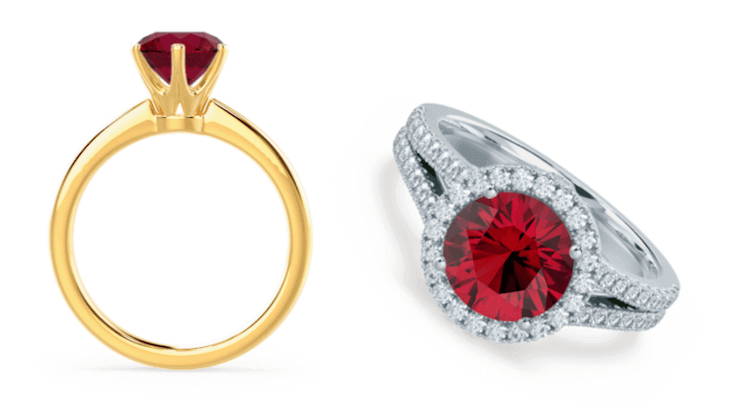 The Amelia is a ruby ring with wow factor. The round cut ruby is nestled within a halo of diamonds balanced perfectly on top of a split shank, which is set with a pavé of even more diamonds. If you're after a vintage style ring with heirloom quality then make sure to check this option out.
All of our rings are Assay Assured and we are part of the National Association of Jewellers, which means that we are subject to their stringent guidelines. This ensures that all our jewellery is of the highest quality, and proves us to be an outstanding British jewellery brand.
The Traditional Yellow Gold
Ruby is usually paired with yellow gold as the combination of colours is particularly complimentary. The gold really does set off ruby, and can serve to make the gem appear an even brighter and deeper colour. Having said this, pairing ruby with platinum or white gold is a more uncommon and contemporary look, perfect for those who want a individual and modern feel.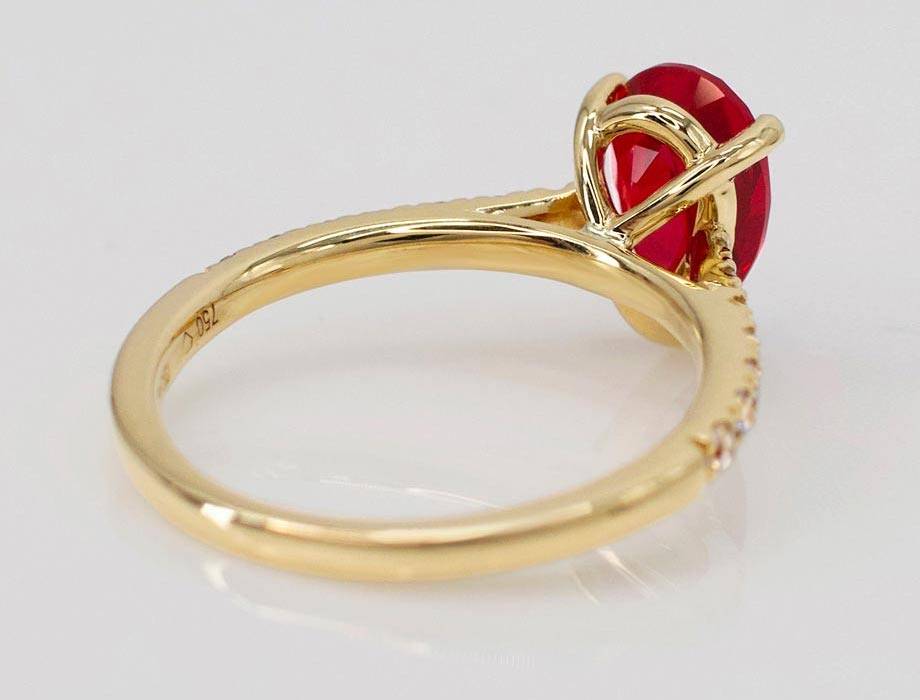 Photo Reference: Bespoke Giselle Chatham 8x6mm Pear Cut Ruby Yellow Gold Ring
Any purchases are subject to a free and complimentary resizing, making sure that your ring is the perfect fit. In addition to this, payments can be made through PayPal and Klarna which starts at a 0% interest rate.
Why Choose a Ruby Engagement Ring?
A more unique option compared to the traditional mined diamond engagement ring, a ruby ring is a colourful and exclusive alternative, perfect for a partner who loves to be a little bit different.
Ruby can hold significance for those born in July, but if you have another special date associated with this month such as an anniversary, or child's birthday, then this personal meaning could make it an option for you. Or if you just absolutely love the colour and symbolism of this stone then it makes for one of the most beautiful engagement ring choices.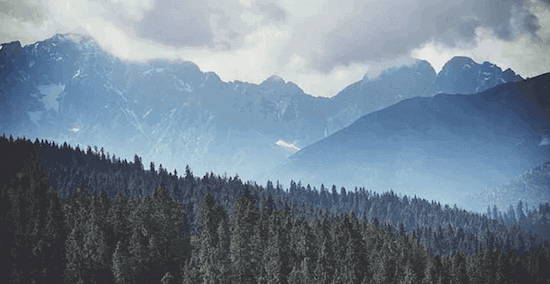 As an ethical and sustainable option our lab grown ruby engagement rings set with Chatham gemstones are a wonderful option. Not only are our rubies extraordinarily clear and colourful, they come at a much smaller price point to their mined counterpart and of course at a better cost to the planet.
Lily Arkwright are also the only UK stockists of Chatham, supplying their exceptional quality gemstones in stunning designs that are the mark of British craftsmanship. You can check out the Chatham store locator here.
If you have any questions about our ruby rings on offer, you can always get in touch with our JET trained Jewellery Consultants either via email hello@lilyarkwright.com or give us a call on 0161 537 6773.
For those who would like to see any of our ruby, moissanite or lab grown diamond engagement rings in person we have a UK showroom where you can book an appointment. Alternatively, we also provide WhatsApp appointments for a virtual showing of our products.
Hopefully you have found our guide to the July birthday helpful and have enjoyed reading all about the beautiful ruby gemstone! Wishing you all the luck on your search for the perfect engagement ring.
We pride ourselves on our ability to produce stunning ethical and sustainable fine jewellery at an amazing price point, supported by unrivalled customer service. We offer the highest quality moissanite, lab grown diamonds and gemstones.
Lily Arkwright are proud Assay Assured jewellery retailers and committed members of the National Association of Jewellers based on honesty, integrity and professionalism. All precious metal jewellery offered by Assay Assured jewellery retailers carries the legally-required independent hallmark verifying the precious metal content, a protection over and above legal requirements. Read our glowing customer reviews on Trust Pilot.
If you are interested in booking a consultation or simply would like to find out more information about ourselves or our collections, please call us on 0161 537 6773, alternatively you can email our jewellery consultancy team at hello@lilyarkwright.com.
*On standard collections that are not designated 'made to order'
Did you enjoy this article? What do you think of ruby engagement rings?
Let us know your thoughts and leave us a comment below. Also are there any future topics you'd like us to cover?
Wishing you all the best, The Lily Arkwright Team x