A Guide to Oval Cut Moissanite Gemstones
Created: December 01, 2017

A Guide to Oval Cut Moissanite Engagement Rings

---
While similar to the brilliant round cut, oval cut diamonds and moissanite certainly hold their own allure.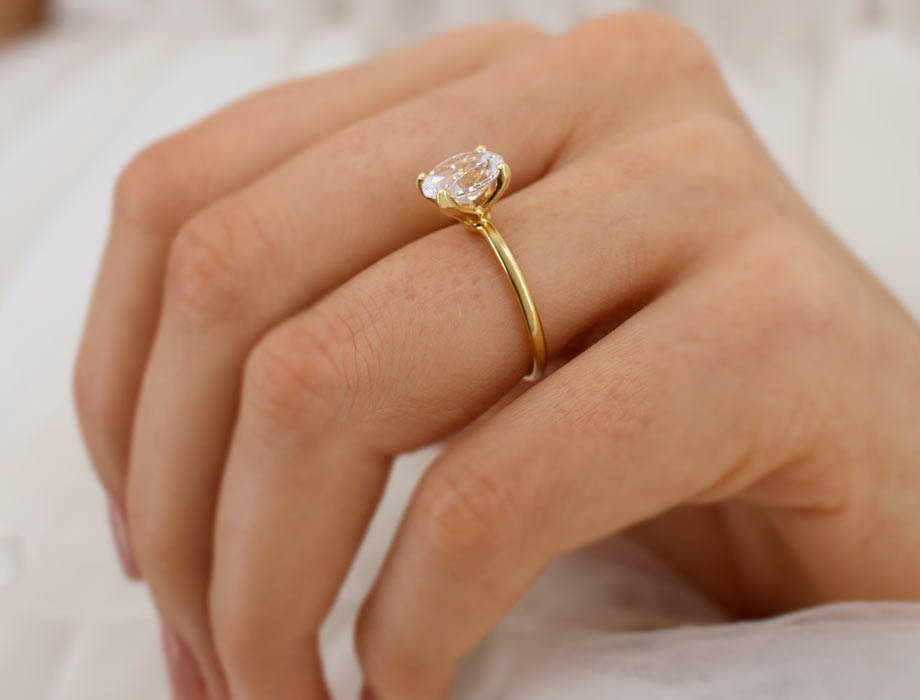 About the Oval Cut
For over a century, the oval cut stone was refined until the 1960s, when the modern oval cut was perfected by master Russian jeweller, Lazare Kaplan.
Shape: oval from above and below, cone shaped from the side
Facets: 58
Style: modern yet timeless
Cut grading: when correctly cut, oval gemstones can reflect light to make the stone appear larger than it really is. Whether it's mounted portrait or landscape, oval cut stones make ideal centrepieces for engagement rings.
Elongated vs Bowtie: when oval cut gemstones are more circular than oblong, you often end up with a bowtie effect where light bounces around the centre. With longer, less circular oval cut gemstones, the facets often appear much longer than they really are.
Here at Lily Arkwright, we have a fantastic selection of oval cut loose moissanite gems, moissanite earrings and moissanite engagement rings. Compare the dimensions to see how the size and shape of different oval cut stones create different visual effects.
If you'd like to see some of our gorgeous pieces of jewellery in action, have a look at the B.Loved blog for a gorgeous photoshoot we were part of!
Oval Cut Moissanite Gemstone Style
Oval cut moissanite gemstone is certainly popular with celebrities! Have a look at these 2 contrasting engagement rings to get an idea of what oval cut ring is ideal for you.
Blake Lively's 12 carat diamond ring features a stunning oval cut gem on a simple rose gold band. It's a beautiful example of how an oval cut engagement ring can be very romantic with a classical vibe, yet utterly unique and modern in style.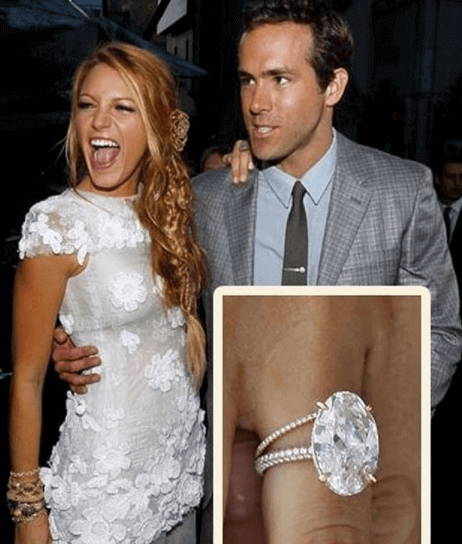 Photo Reference: @olympicjewelry on instagram
For a similar style ring, take a look at our Viola 1.50ct moissanite ring. This stunning moissanite engagement ring from Charles and Colvard is part of the Forever One range, featuring 18k rose gold and up to 18 glimmering, conflict-free diamonds embedded in the band.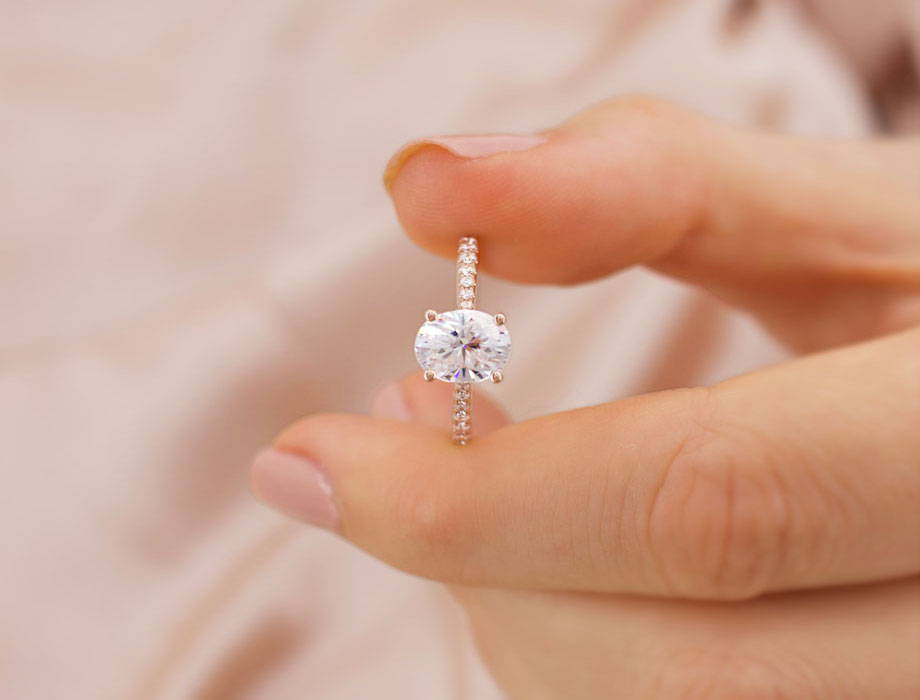 An oval cut engagement ring can also be vintage and chic – like Kirsten Dunst's engagement ring. Set on a simple, yellow gold band, her oval cut engagement ring has a subtle elegance. As you can see in the "Isabella" 3 carat moissanite engagement ring (also from Charles and Colvard's Forever One range), yellow gold works particularly well with simple, timeless designs.
Regardless of your budget, we can assist you with finding a delightful oval cut engagement ring for your fiancée. For more information regarding oval cut moissanite engagement rings, or to place your order, contact us at hello@lilyarkwright.com.
We pride ourselves on our ability to produce stunning ethical and sustainable fine jewellery at an amazing price point, supported by unrivalled customer service. We offer the highest quality moissanite engagement rings, lab grown diamond engagement rings and coloured gemstones. Make sure to also check our are collections of moissanite earrings and pendants as well, for a gorgeous bridal set.
Lily Arkwright are proud Assay Assured jewellery retailers and committed members of the National Association of Jewellers based on honesty, integrity and professionalism. All precious metal jewellery offered by Assay Assured jewellery retailers carries the legally-required independent hallmark verifying the precious metal content, a protection over and above legal requirements. Read our glowing customer reviews on Trust Pilot.
If you are interested in booking a consultation or simply would like to find out more information about ourselves or our collections, please call us on 0161 537 6773, alternatively you can email our jewellery consultancy team at hello@lilyarkwright.com.
Did you enjoy this article? What's you're thoughts on oval cut moissanite?
Let us know your thoughts and leave us a comment below. Also are there any future topics you'd like us to cover?
Wishing you all the best, The Lily Arkwright Team x