Chatham Lab Created Rubies, Emeralds and Sapphires
Created: February 01, 2017
Chatham Lab Created Rubies, Emeralds and Sapphires – Coming Soon
 

---
Chatham grow gemstones from laboratory crystals to create the earth's finest jewellery pieces. They are renowned for their lab created rubies with rich red shades, emeralds with glowing green facets and intense blue sapphires, among others.
The amazing benefits of lab created rubies and other gemstones include:
Bright colours free from imperfections.

Gems identical to naturally occurring stones at a better price.

Eco-friendly, ethically lab grown gemstones don't require energy draining digging or dangerous mining.
Chatham has been growing gemstones for 75 years. After decades of refining techniques, they are now producing the world's best precious gemstones and have donated to many prestigious museums worldwide. You can read more about their long, celebrated history here.
Are Lab Created Gemstones Different to Naturally Occurring Gemstones?
The lab created sapphires, emeralds, rubies and other gemstones grown at Chatham (including marvellous opals and diamonds) are 100% identical to naturally occurring gemstones. The lab process is a replica of what happens underground to form natural gemstones.
The pressurising process and chemical composition is exactly the same. Lab created emeralds, for example, are made from the same mineral as naturally occurring emeralds: beryl. A hint of chromium is what gives that luxurious green depth, but of course in natural environments the amount of chromium available will vary drastically. For lab created emeralds, Chatham control how much chromium is used to an incredibly exact degree, creating unbeatable green shades in just 12 months.
Using precise pressures and lab conditions, Chatham can create precious gemstones that are chemically and physically identical to those that are produced naturally by the earth in an ethical, sustainable way.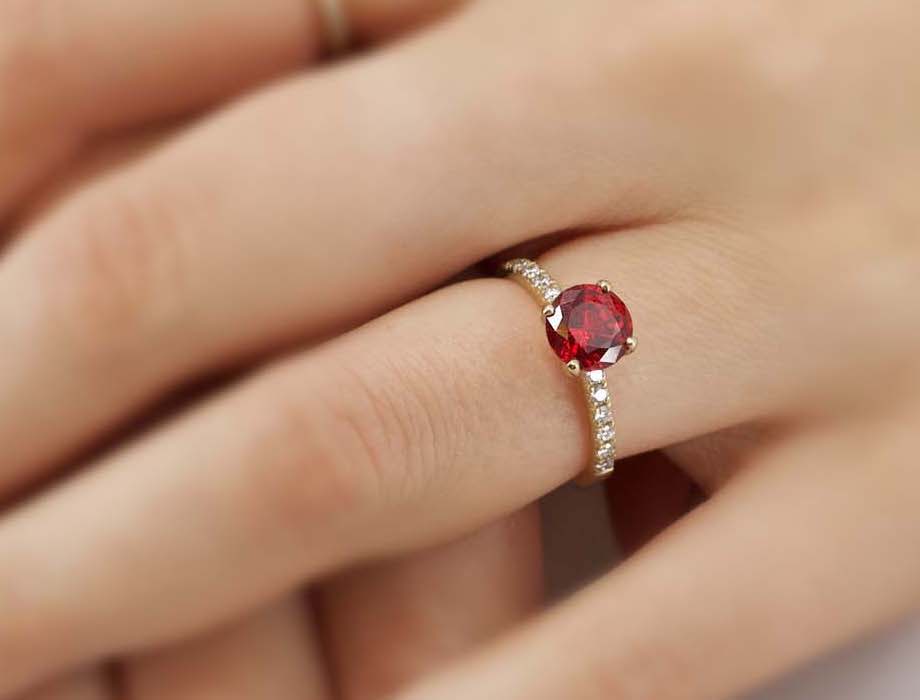 Lab Created Rubies, Emeralds and Sapphires at Lily Arkwright
Our current collection of jewellery is to be expanded with delightful engagement rings, earring studs, pendants and more featuring Chatham lab grown gemstones.
Infamous cuts including the oval and elongated pear will be gracing our online store for you to browse and admire. Lab created sapphires are becoming increasingly popular for engagement rings and vibrant lab created rubies never fail to impress.
For more information regarding Chatham gemstones and other upcoming partnerships, contact us at hello@lilyarkwright.com
We pride ourselves on our ability to produce stunning ethical and sustainable fine jewellery at an amazing price point, supported by unrivalled customer service. We offer the highest quality moissanite engagement rings, lab grown diamond engagement rings and coloured gemstones. Make sure to also check our are collections of moissanite earrings and pendants as well, for a gorgeous bridal set.
Lily Arkwright are proud Assay Assured jewellery retailers and committed members of the National Association of Jewellers based on honesty, integrity and professionalism. All precious metal jewellery offered by Assay Assured jewellery retailers carries the legally-required independent hallmark verifying the precious metal content, a protection over and above legal requirements. Read our glowing customer reviews on Trust Pilot.
If you are interested in booking a consultation or simply would like to find out more information about ourselves or our collections, please call us on 0161 537 6773, alternatively you can email our jewellery consultancy team at hello@lilyarkwright.com.
Did you enjoy this article? Which of Chatham's collection would be your favourite?
Let us know your thoughts and leave us a comment below. Also are there any future topics you'd like us to cover?
Wishing you all the best, The Lily Arkwright Team x