Princess Diana's Engagement Ring in new Film 'Spencer'

Princess Diana's engagement ring in new film 'Spencer'

---
Have you heard about Kristen Steward's new film? Spencer is set to feature the A-lister in a royal drama about Princess Diana, and we were delighted to see the recent press image showing off her engagement ring replica!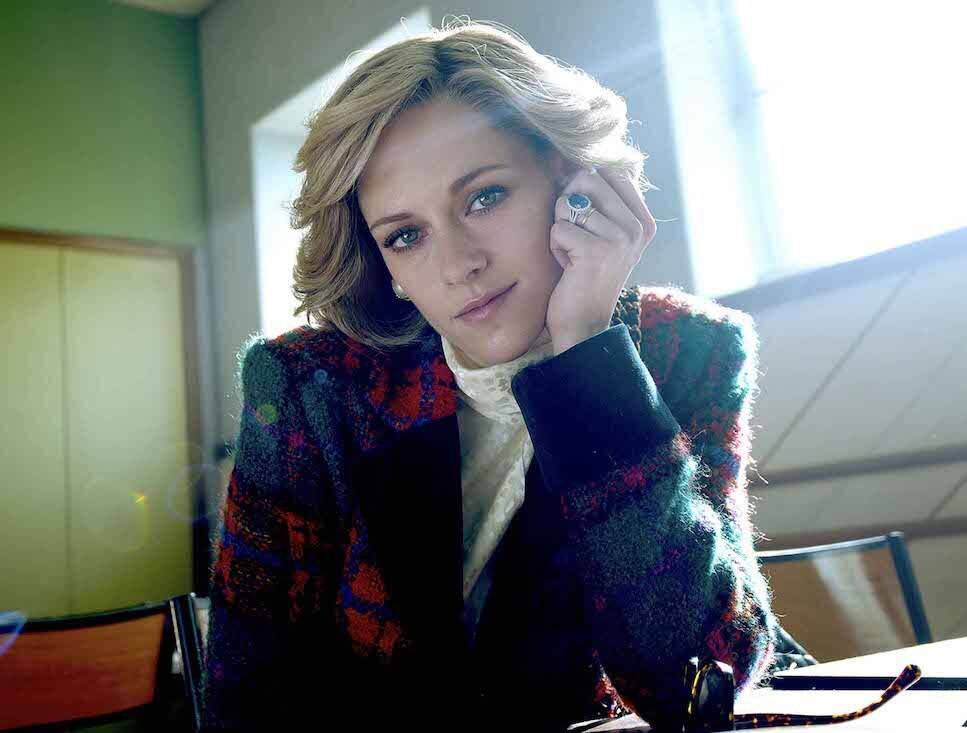 Photo Reference: Kristen Steward as Princess Diana Credit: SHOEBOX FILMS
A new image of Hollywood actress Kristen Steward as the Princess of Wales has been released, showing the star in some of Diana's iconic fashion. The new film, Spencer, is due to be released this autumn and will cover a Christmas weekend at the Royal's Sandringham estate around 1992. The picture shows Steward as the spitting image of Diana staring intently into the camera, with her famous sapphire engagement ring adorning her ring finger.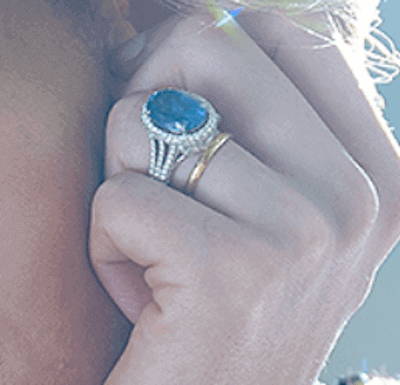 Photo Reference: Princess Diana Engagement Ring Replica. Credit: SHOEBOX FILMS
An earlier picture released by the studio in January, showed Steward dressed in an elegant red coat and amped up the hype around the new film, which comes after Emma Corrin's celebrated depiction of Diana in Netflix's The Crown last year. Spencer is directed by Pablo Larrain, who is also known for his biopic Jackie starring Natalie Portman.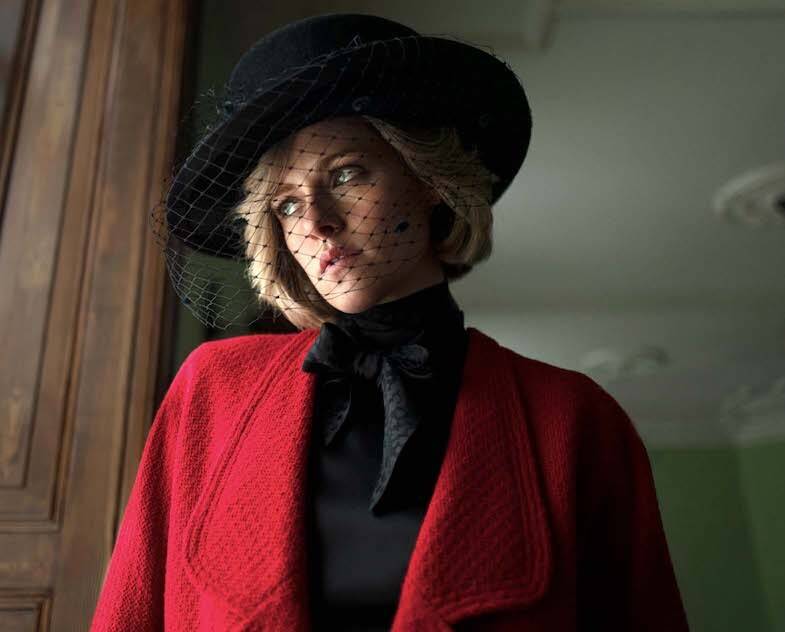 Photo Reference: Kristen Steward as Princess Diana Credit: SHOEBOX FILMS
The narrative is rumoured to follow Princess Diana's decision to end her marriage to the Prince of Wales after their tumultuous relationship, but it is Diana's infamous engagement ring that really steals the show in these press images. Set in 18k white gold and featuring a huge oval cut Ceylon sapphire with a halo of 14 diamonds, the princess's ring really is something to behold. The jewellery used in Spencer differs slightly, in that the sapphire seems to be a lighter shade of blue than the original and has a split shank design; but the enormous gemstone centre and diamond halo are still present. Diana's stunning ring was created for her by the crown jeweller of the time, Gerrard, who have developed many famous pieces for the royal family over the years. The inspiration was apparently one of Queen Victoria's favourite jewellery pieces, a cluster brooch that also featured a sapphire centre with diamonds set around it, that is still worn regularly by Queen Elizabeth II today. Known as the Prince Albert Brooch, the piece was gifted to Victoria in the days leading up to her wedding.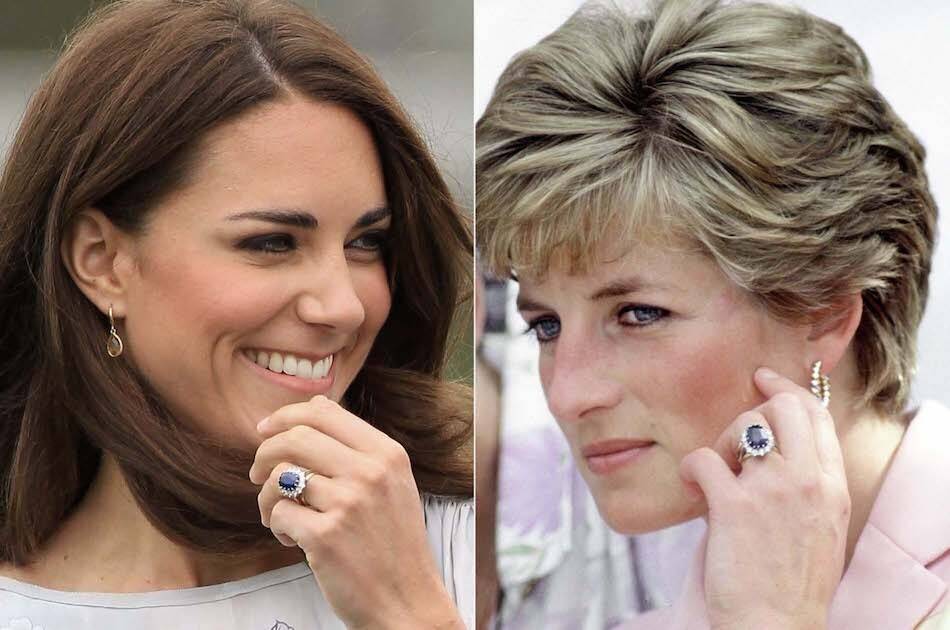 Photo Reference: Kate Middleton and Princess Diana Credit: CHRIS JACKSON/GETTY IMAGES; TIM GRAHAM/GETTY IMAGES
Diana's choice of the ring was seen as unusual at the time because it was available for anyone to buy in Gerrard's collection and was not custom-made, as is traditionally the case for jewellery worn by the royal family. However, it's gorgeous design and extravagant appearance have been associated with the princess ever since. When Prince William proposed to Kate Middleton in 2010, he chose to pop the question with his mother's ring, saying that it was a "way of making sure my mother didn't miss out on today and the excitement" (qtd. in HuffPost).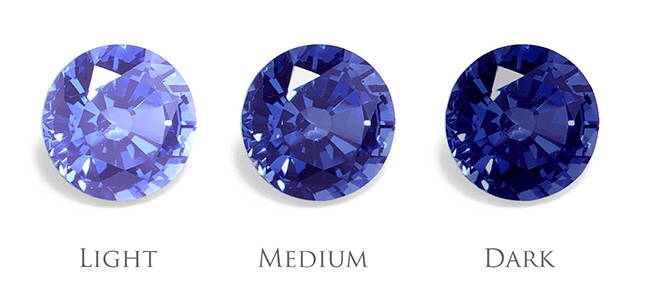 Sapphire is a truly spectacular stone for an engagement ring and is popular for its significance as 'something blue' to be worn on a wedding day (which is reportedly why Prince Albert chose that specific brooch for Queen Victoria). As a stone associated with honesty, faithfulness and fidelity, sapphire makes for a wonderful option when proposing. Coming in a variety of different colours as well as its most distinguished blue, sapphire's versatile nature make it one of the most popular gemstones.
Princess Diana's sapphire was mined in Sri-Lanka and is a whopping 12 carats, but there is an alternative option to traditional mining available on the market today. Chatham lab is a company that specialise in lab grown gemstones and their methods mean a more sustainable and ethical choice is possible. Founded over 80 years ago, Chatham Labs are world renowned for their high quality and amazing cuts. Even though it is one of the most difficult stones to grow because of its delicate formation and production process; two of the major benefits of a lab grown sapphire are that it allows for sizes and shapes that are incredibly rare in mined gemstones, and it delivers a gorgeous stone for a fraction of the price compared to its mined counterpart.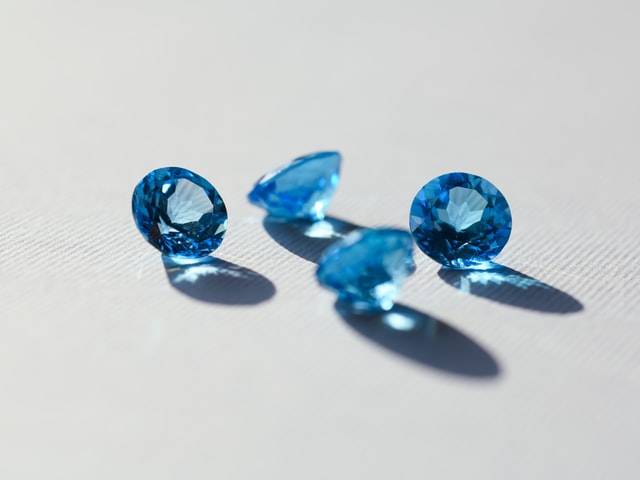 Loose Sapphire Stones   Credit: Jacek Dylag on Unsplash
Chatham also grows emeralds, rubies, and diamonds, doing so by recreating the conditions that would be present in the earth for crystals to naturally form. First started by Carroll Chatham in 1938, the company has spent years perfecting their processes and only sells the very best gemstones. They are so strict in fact, that ordinarily around 80% of the rough crystal is discarded, and only one in every 200 gemstones made meet their stringent standards for clarity and colour.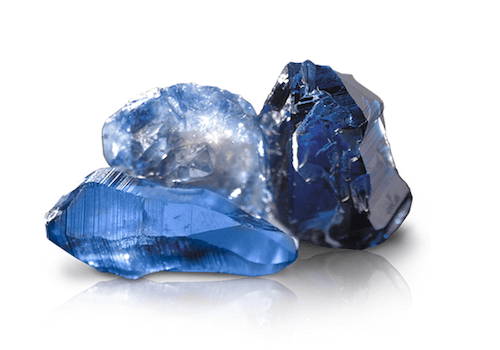 The plain band of Diana's engagement ring is made of 18k white gold, letting the halo of diamonds and centre stone speak for themselves. A luxurious metal choice, white gold is highly reflective and makes for a durable ring suitable for everyday wear. Halo designs are popular because they can act to protect the centre stone and make it look bigger than it already is, something utilised in both Diana's real ring and the substitute, adding extra sparkle and shine. Although it is not an exact replica of the original, the split shank design seen on Kristen Steward is stunning, featuring even more diamonds that run down its six shoulders.
As well as starring Kristen Steward, Jack Farthing (of Poldark fame) is set to play Prince Charles with Timothy Spall and Sally Hawkins cast as yet unknown characters. Principal photography took place earlier this year in Germany, before moving to the UK last month where final filming is taking place.
Whilst we're excited to see more of the A-lister starring as Princess Di, we will definitely be looking out for more shots of that amazing engagement ring!
We pride ourselves on our ability to produce stunning ethical and sustainable fine jewellery at an amazing price point, supported by unrivalled customer service. We offer the highest quality moissanite engagement rings, lab grown diamond engagement rings and gemstones.
Lily Arkwright are proud Assay Assured jewellery retailers and committed members of the National Association of Jewellers based on honesty, integrity and professionalism. All precious metal jewellery offered by Assay Assured jewellery retailers carries the legally-required independent hallmark verifying the precious metal content, a protection over and above legal requirements. Read our glowing customer reviews on Trust Pilot.
If you are interested in booking a consultation or simply would like to find out more information about ourselves or our collections, please call us on 0161 537 6773, alternatively you can email our jewellery consultancy team at hello@lilyarkwright.com.
Did you enjoy this article? Are you excited to see the new film?
Let us know your thoughts and leave us a comment below. Also are there any future topics you'd like us to cover?
Wishing you all the best, The Lily Arkwright Team x