Lily Arkwright - Assay Assured
Created: December 01, 2016

What is Assay Assured Moissanite & UK Hallmarked Jewellery?

---
All our moissanite engagement rings, earrings and pendants are UK hallmarked and carry our Assay Assured trust mark certification here in the UK. But what does that really mean?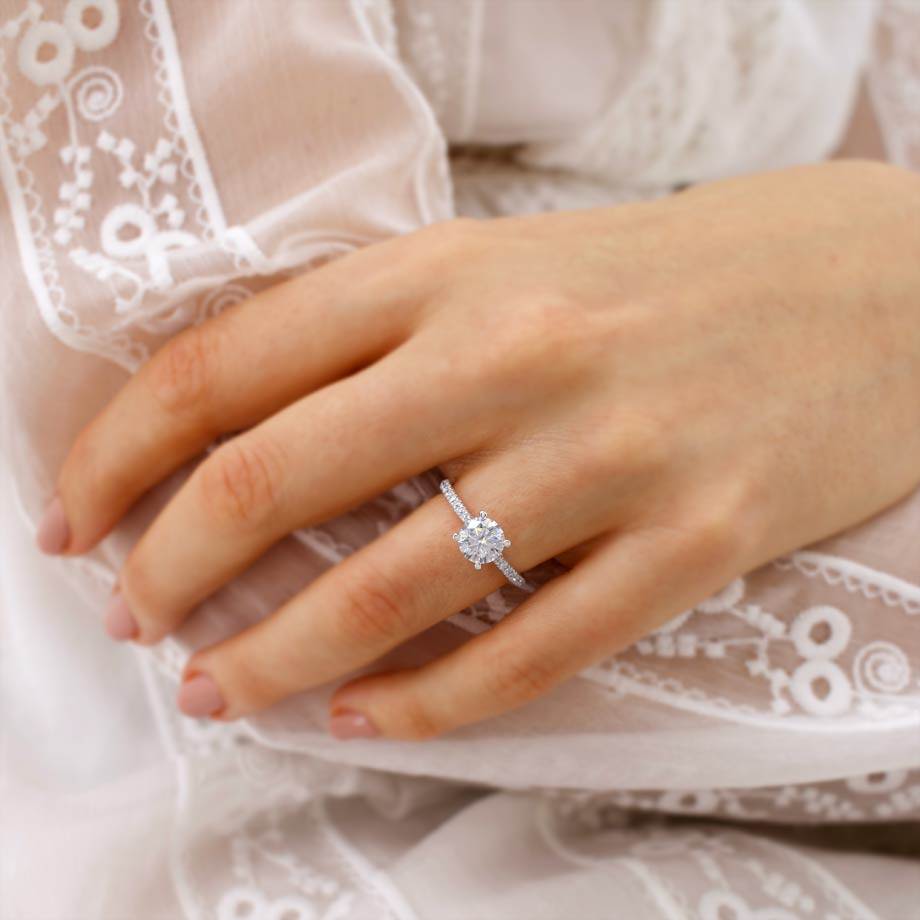 Assay Assured is an organisation that monitors online jewellery retailers. They provide the Assay Assured trustmark to online jewellery stores that pass their rigorous assurance checks and frequent auditing. When you find an online jewellery store that's Assay Assured, it means they've passed the following tests:
Company audits and verification checks to prove their authenticity.

Quality checks to test their jewellery items and the core materials.

Random auditing checks on products that can happen at any time.
In the unlikely event any issue should arise regarding the quality of our products or services, you, the customer can raise this direct to Assay Assured and they will act as an independent arbitrator providing the ultimate piece of mind.
Once a retailer is Assay Assured they're awarded a certificate and a hallmark image to certify their website and products. You can see our trustmark on our homepage or click here.
Our premium Charles & Colvard Forever One moissanite engagement rings & Chatham Lab created precious coloured gemstones are the centre of attention here at Lily Arkwright.
Lily Arkwright are proud to hold Assay Assured membership, additionally all our jewellery is UK hallmarked in line with British regulations, first introduced in the year 1327. Each hallmark confirms your jewellery has been independently tested, guarantees that it conforms to all legal standards of purity (fineness) and consists of a series of marks. Read more about UK Hallmarking here.
Our Charles and Colvard Forever One range features jewellery crafted from white gold, yellow gold, rose gold and platinum. All metals are sampled and tested by either the Birmingham or Sheffield UK Assay offices.
Combined with the unbeatable shine from genuine moissanite gems, our hallmarked and trustmarked moissanite engagement rings are a great alternative to diamonds. Get the look you want and save money on affordable luxurious jewellery.
Contact us at hello@lilyarkwright.com with any questions you have about our lab created moissanite or Assay Assured connections – we love receiving emails!
We pride ourselves on our ability to produce stunning ethical and sustainable fine jewellery at an amazing price point, supported by unrivalled customer service. We offer the highest quality moissanite engagement rings, lab grown diamond engagement rings and coloured gemstones. Make sure to also check our are collections of moissanite earrings and pendants as well, for a gorgeous bridal set.
Lily Arkwright are proud Assay Assured jewellery retailers and committed members of the National Association of Jewellers based on honesty, integrity and professionalism. All precious metal jewellery offered by Assay Assured jewellery retailers carries the legally-required independent hallmark verifying the precious metal content, a protection over and above legal requirements. Read our glowing customer reviews on Trust Pilot.
If you are interested in booking a consultation or simply would like to find out more information about ourselves or our collections, please call us on 0161 537 6773, alternatively you can email our jewellery consultancy team at hello@lilyarkwright.com.
Did you enjoy this article?
Let us know your thoughts and leave us a comment below. Also are there any future topics you'd like us to cover?
Wishing you all the best, The Lily Arkwright Team x