A moissanite or Diamond engagement ring?
Created: October 01, 2016

A Moissanite or Diamond engagement ring?

---
Amazing clarity, beautiful colour and a wide selection of cuts and carat sizes, moissanite is fast gaining popularity as one of the best alternatives to conventional diamonds, it really is possible to have the luxurious engagement ring of your choice at an affordable price point.

Here are just a few reasons for buying a moissanite engagement ring...



Moissanite engagement rings offer huge cost savings when compared to an equivalent diamond engagement ring, it really is possible to choose the ring of your dreams at an affordable price point. We're proud to offer our customers 1, 2 & 3 carat rings (and above!), set in a range of either white, rose or yellow 18k gold or platinum in a premium D-F colour at a fraction of the cost of an equivalent diamond.
Lily Arkwright are proud to supply Charles and Colvard Forever One moissanite stones, C&C are the world's premium moissanite producer and all stones are manufactured under strict lab conditions in the United States. All our moissanite stones are sustainable produced and minimise the negative environmental impacts that takes place through traditional mining practices whilst enhancing employee, community and product safety. Check out this Telegraph article which talks about the best places to order a sustainably-sourced engagement ring online.  
It takes up to three months for a skilled specialist to meticulously create a single gem, post production each stone undergoes a stringent testing process for of quality, cut and purity before being shipped to our workshop. Charles and Colvard employ a certified institute of America gemmologist to inspect each finished gem using a 10x jewellers loupe to ensure no inclusions affect the optical performance of each gem, any inclusions are not visible to the naked eye and do not affect the clarity of each stone.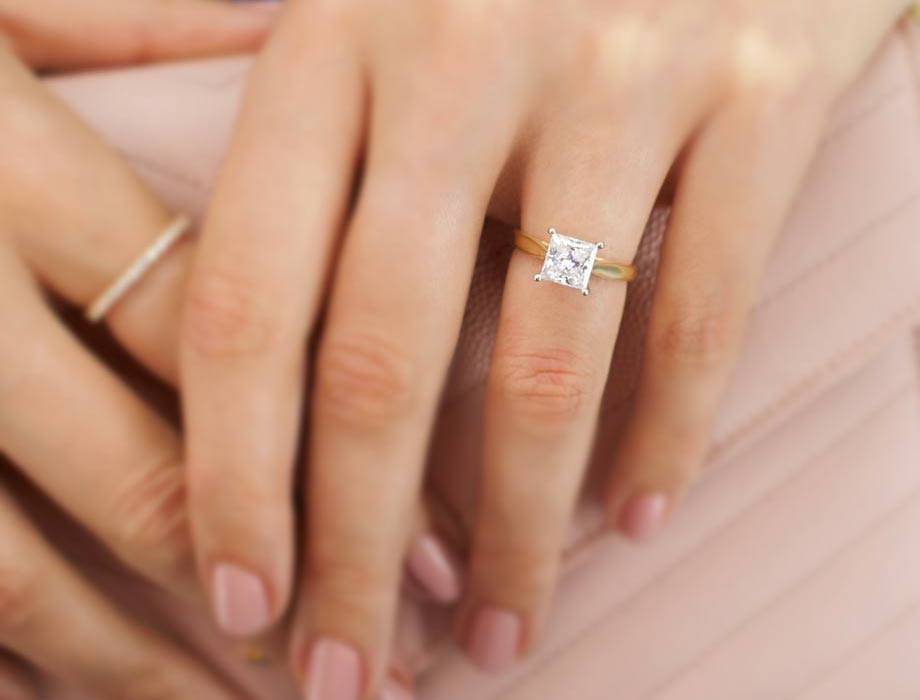 We love the planet and here at Lily Arkwright we strive to ensure all the products we sell are ethically sourced and that no person, animal, town or village has been harmed during the production of our products. By choosing a moissanite engagement ring you can ensure not only do you get much more for you money, but you know that your ring is sourced in adherence to our strict ethical principles.
We love engagement rings and whether you opt for a moissanite or a lab diamond engagement ring you can rest assured we'll be here to help throughout the whole process. We believe everyone should have the option to purchase the ring they desire at an affordable price point, sustainably and ethically sourced.
Lily Arkwright stock a wide variety of Charles & Colvard Forever One moissanite stones in various cuts, all of which are the equivalent to a colourless diamond rating D to F, similar to naturally occurring diamonds each gemstone is precisely faceted to exact angles and proportions to maximise its brilliance. We stock moissanite stones over 5 ct and are able to produce custom designs. All our rings are UK hallmarked.
We pride ourselves on our ability to produce stunning ethical and sustainable fine jewellery at an amazing price point, supported by unrivalled customer service. We offer the highest quality moissanite engagement rings, lab grown diamond engagement rings and coloured gemstones. Make sure to also check our are collections of moissanite earrings and pendants as well, for a gorgeous bridal set.
Lily Arkwright are proud Assay Assured jewellery retailers and committed members of the National Association of Jewellers based on honesty, integrity and professionalism. All precious metal jewellery offered by Assay Assured jewellery retailers carries the legally-required independent hallmark verifying the precious metal content, a protection over and above legal requirements. Read our glowing customer reviews on Trust Pilot.
If you are interested in booking a consultation or simply would like to find out more information about ourselves or our collections, please call us on 0161 537 6773, alternatively you can email our jewellery consultancy team at hello@lilyarkwright.com.
Did you enjoy this article? Would you love a moissanite engagement ring?
Let us know your thoughts and leave us a comment below. Also are there any future topics you'd like us to cover?
Wishing you all the best, The Lily Arkwright Team x