Assay Assured & Members of The National Association of Jewellers

Trust Us, We're Assay Assured and a Member of the National Association of Jewellers.

---
Buying an engagement ring, or any other piece of fine jewellery, online may seem like a huge risk, however, it doesn't have to be. Through our membership with The National Jewellers Association and holding the Assay Assured trust mark, we have eliminated the risk for online shoppers searching for their dream moissanite or lab diamond engagement ring, so you can have confidence and trust in us to deliver ethically sourced, high quality fine jewellery, with honesty and integrity, and feel safe when buying your engagement ring online.


We are a member of the UK's leading jewellery trade association, The National Association of Jewellers. Formed in 2015 through a partnership between the British Jewellers Association and the National Association of Goldsmiths, this professional membership body holds over 2000 members, all of whom are companies operating within the jewellery industry.
As a member of the National Association of Jewellers we have been assessed by the associations compliance team to ensure we fit their guidelines. To mark our commitment to our customers, we abide by a strict code of conduct based on honesty, integrity and professionalism. Our customers can be rest assured that all our jewellery is described fully and accurately, we abstain from misleading practice, act ethically and sustainably, and respond to any complaints we may receive in a fair and timely manner.
Holding the National Association of Jewellers coat of arms offers peace of mind, reassurance and confidence to our customers that they will receive outstanding service from a trusted retailer of the highest quality, experience and expertise. Here at Lily Arkwright we are passionate about providing our customers with the highest level of customer service, going above and beyond to ensure we maintain high ethical standards.
To learn more about our membership with The National Association of Jewellers click here.
As an Assay Assured retailer we can guarantee that we exceed all legal standards of assaying and hallmarking our precious metal jewellery, to provide our customers with the confidence that all our pieces have been audited and tested to provide the highest quality jewellery, true to description, so you can trust that you will receive genuine branded products when buying from us.
Assay Assured have been testing and hallmarking precious metals for over 550 years. The Assay Assured trust mark is the only trust mark specifically for online jewellery retailers, enabling consumers to reduce their risks of encountering counterfeit and fake jewellery when buying online and allowing high quality online jewellers, such as ourselves, to promote our good practice.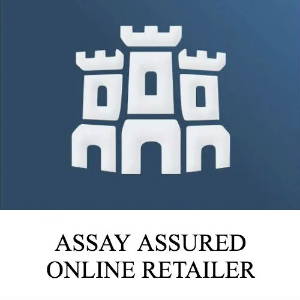 Assaying is the independent testing of the fineness, also known as purity, of precious metals used for jewellery. When creating fine jewellery precious metals are rarely used in their purest form and instead are alloyed with other metals to create a stronger, workable, yet just as beautiful material suitable for use on fine jewellery. As it's impossible to determine the precious metal content with the naked eye, even experts can't determine metal standards without specialist equipment, assaying is necessary to prove precious metal content in fine jewellery. This involves weighing the metal alloy and recording the precious metal content in parts per thousand. For example, as standard at Lily Arkwright we stock 18 karat gold which equals 750 parts per thousand.
"We have been testing and hallmarking precious metals for over 550 years. Reduce your risk when buying jewellery online and look for the Assay Assured Jewellery Retailer's trustmark."
The Edinburgh Assay Office
As an Assay Assured retailer all of our jewellery is hallmarked to verify the purity of the precious metal content. Each hallmark includes the sponsor mark, representing who made the piece, the fineness mark, showing precious metal content and the assay office mark, indicating where and when it was made.
The UK is one of the only countries to have statutory hallmarking, which states that by law jewellery cannot be described as being gold, silver or platinum without hallmarking. Independent, third-party Assay Offices are responsible for testing and hallmarking every piece of precious metal jewellery as required by the Hallmarking Act, which, dating back to the 1300's, is one of the oldest forms of consumer protection. We are registered with the Sheffield Assay Office, a centre of expert opinion with more than 245 years of experience, providing our customers with the reassurance that each and every Lily Arkwright design has been carefully tested to ensure the highest quality available and compliant with UK regulations, as supported by our status as an Assay Assured Jewellery Retailer.
We pride ourselves on our ability to produce stunning ethical and sustainable fine jewellery at an amazing price point, supported by unrivalled customer service. We offer the highest quality moissanite engagement rings, lab grown diamond engagement rings and coloured gemstones.
Lily Arkwright are proud Assay Assured jewellery retailers and committed members of the National Association of Jewellers based on honesty, integrity and professionalism. All precious metal jewellery offered by Assay Assured jewellery retailers carries the legally-required independent hallmark verifying the precious metal content, a protection over and above legal requirements. Read our glowing customer reviews on Trust Pilot.
If you are interested in booking a consultation or simply would like to find out more information about ourselves or our collections, please call us on 0161 537 6773, alternatively you can email our jewellery consultancy team at hello@lilyarkwright.com.
Did you enjoy this article? Did you already know about the strict UK legislation for Hallmarking?
Let us know your thoughts and leave us a comment below. Also are there any future topics you'd like us to cover?
Wishing you all the best, The Lily Arkwright Team x