2019 Moissanite & Lab Diamond Engagement Ring Trends

2019 Engagement Ring Trends

---
2018 was the year of art-deco inspiration, with couples moving away from classical choices towards contemporary vintage designs for a differentiated style. This year, uniqueness is expected to continue as brides-to-be want their ring to shine amongst the crowd. Think bespoke designs, new ways of wearing and uncommon cuts and metals, we've summarised this years most popular engagement ring trends to help you choose the perfect ring for your 2019 engagement.


The yellow gold trend extremely popular in the 1960-80's has been revived for 2019 with the likes of Meghan Markle proving the beauty of this warm metal with her exquisite engagement ring. Add softness, romance and a splash of old school glamour with this vintage inspired metal. Complementary of most settings, cuts and colours of stones, this classic and chic trend is not to be ignored this year.  
The sensational Isabella appears even more striking when showcased on a yellow gold band. The contrast of the oval centre stone against the yellow gold provides a vintage and romantic feel to the Isabella ring, making it one of the most popular choices for yellow gold rings amongst our customers.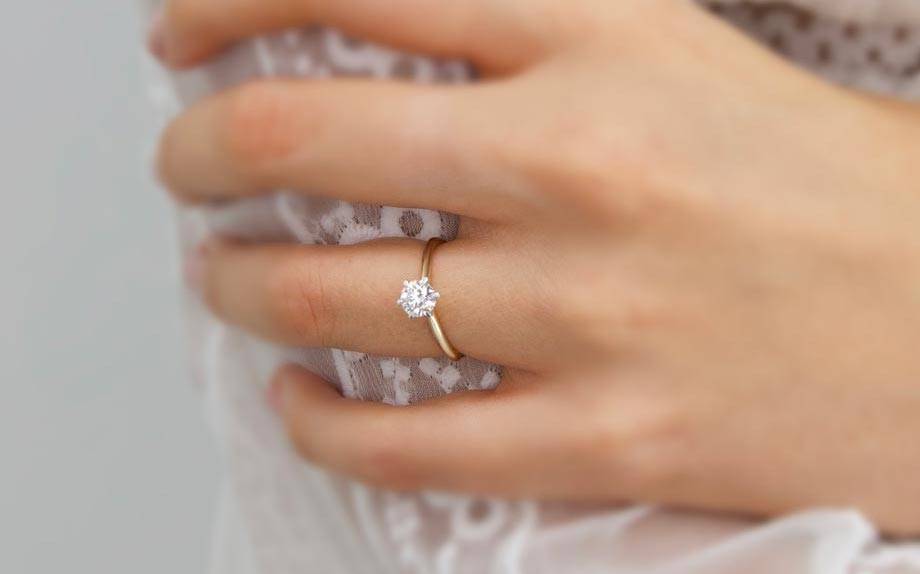 The incredibly influential Duchess of Sussex sparked another of 2019's top engagement ring trends - three stone rings. Three stone rings feature a centre gemstone accentuated by two smaller gemstones, as featured on the Hitched website. An exceptionally romantic choice, the symbolism behind this ring represents a couples past, present and future. Take the opportunity for you and your partner to reflect upon the the relationship you have shared and will continue to share for a story of significance behind your ring.
There is no better way to celebrate the past, present and future of your relationship than with the magnificent Lorella. Beautifully crafted in a 12 prong tapered mount and featuring 3 brilliant round Forever One moissanite stones in a choice of sizes, this ring is the ultimate symbol of everlasting love.
This year sees the concept 'less is more' as a thing of a past with larger stones taking centre stage for an unmissable lab diamond engagement ring or moissanite engagement ring. Elongated cuts, such as ovals and emeralds, create the illusion of a larger stone compared to its equivalent carats in square or round cuts. The lengthened stoned elongates the hand, creating an extremely flattering and attractive appearance to the hand.
Likened to Hailey Baldwin's incredible oval engagement ring, the elegant and feminine Viola 4 prong solitaire features a stunning oval cut Charles & Colvard Forever One moissanite set to maximise capture of light to reflect the true brilliance and fire of the centre stone. The oval centre stone is perfectly complemented with a dazzingling pavé setting for an extra grace and sparkle.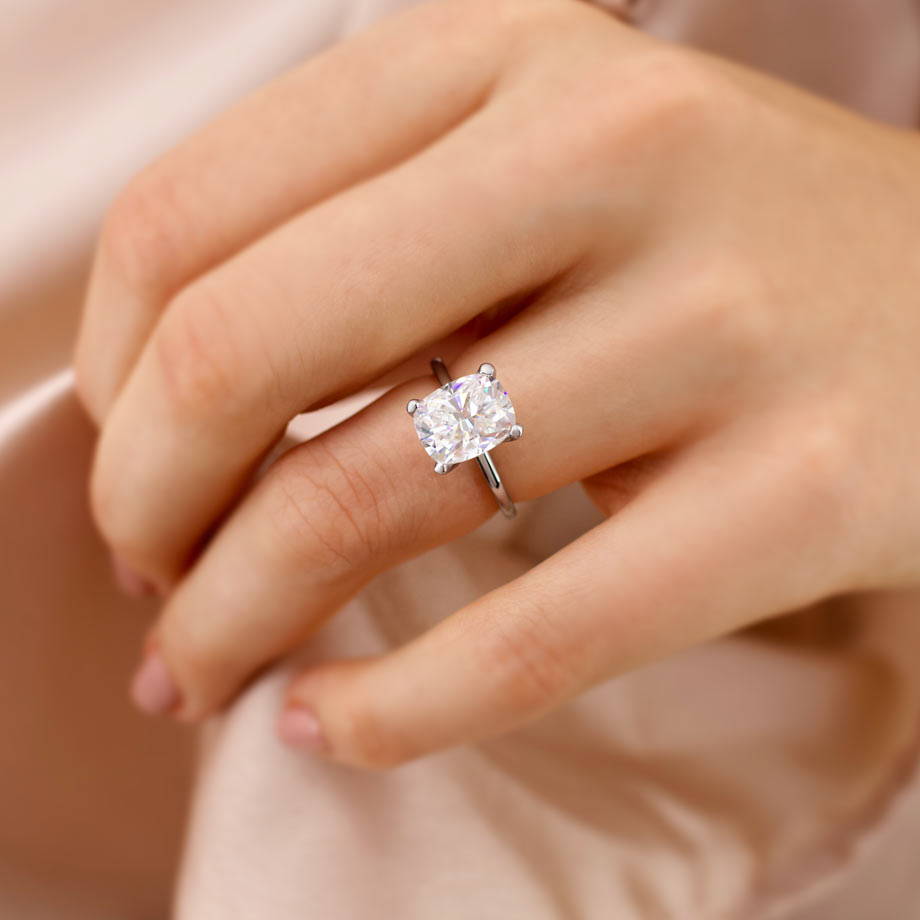 Creating a one of a kind ring, tailored especially to you or your partner's personal desires, will never go out of fashion. Originality is key to mastering the trend and expressing your individual style to design a ring that you will treasure forever.
With our bespoke design service, take the opportunity to design a ring that expresses yours or your loved ones individuality. Our expert team will guide you through the design process from start to finish to help you create your dream moissanite engagement ring or lab diamond engagement ring. Whether that involves pop of colour, a change in setting/positioning or a subtle unique detail, almost anything is possible.
Interested in any of 2019's trends? Here at Lily Arkwright we're always on hand to help, please feel free to drop us a line with any queries on 0161 537 6773, alternatively you can email our support team at hello@lilyarkwright.com.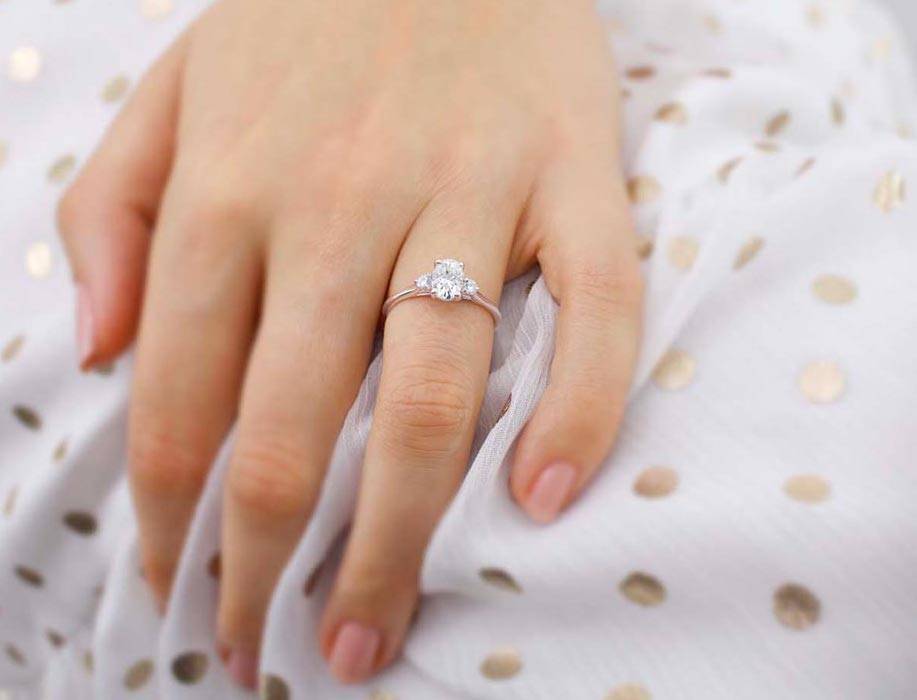 Photo Reference: Bespoke 1.36ct Oval and Round Moissanite Ring
We pride ourselves on our ability to produce stunning ethical and sustainable fine jewellery at an amazing price point, supported by unrivalled customer service. We offer the highest quality moissanite engagement rings, lab grown diamond engagement rings and coloured gemstones. Make sure to also check our are collections of moissanite earrings and pendants as well, for a gorgeous bridal set.
Lily Arkwright are proud Assay Assured jewellery retailers and committed members of the National Association of Jewellers based on honesty, integrity and professionalism. All precious metal jewellery offered by Assay Assured jewellery retailers carries the legally-required independent hallmark verifying the precious metal content, a protection over and above legal requirements. Read our glowing customer reviews on Trust Pilot.
If you are interested in booking a consultation or simply would like to find out more information about ourselves or our collections, please call us on 0161 537 6773, alternatively you can email our jewellery consultancy team at hello@lilyarkwright.com.
Did you enjoy this article? What's your favourite style and design for the year ahead?
Let us know your thoughts and leave us a comment below. Also are there any future topics you'd like us to cover?
Wishing you all the best, The Lily Arkwright Team x