Classic Rings: Minimalist Designs

Classic Rings: Minimalist Designs

---
Sometimes the solitaire is best, and in this article we'll go over some of the tried and tested designs that are always in style. Minimalist rings are an obvious classic, but they can also have a contemporary twist, read on for some of our recommendations of moissanite engagement rings.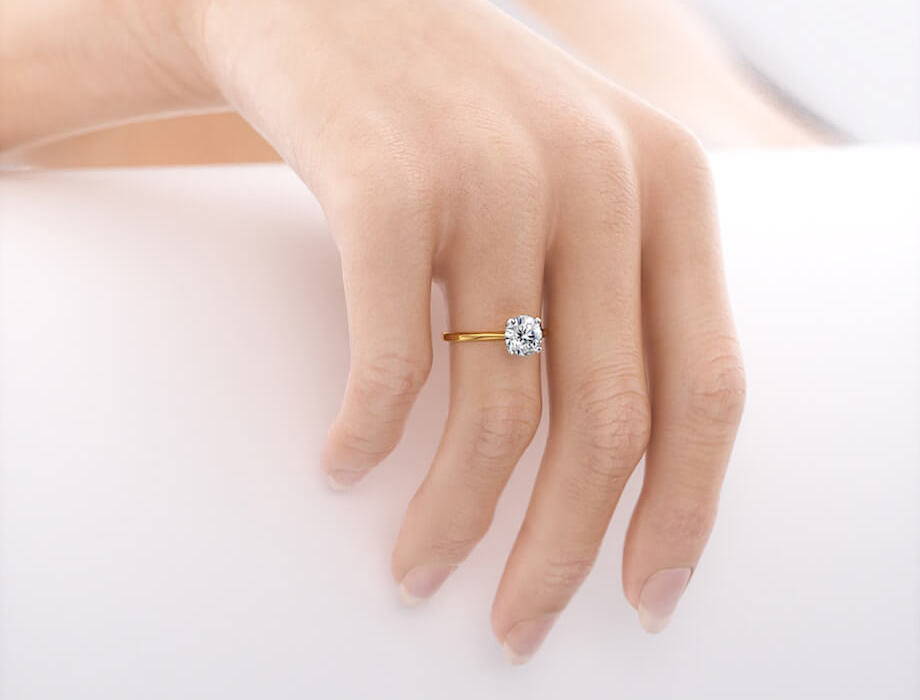 Popular for a reason, the Grace is seen as the little black dress of engagement rings. With a four prong mount petite basket that securely attaches the single centre stone, this ring is our ultimate classic.
Featuring a knife edge profile that is also wed-fit, this ring can be set with any brilliant round cut gemstone and comes in the full range of metal choices. Ordinarily varying from 0.23ct to 3.5ct, the show stopping centre stone can be increased in size all the way up to 6ct. Whether mounted with a cool blue sapphire or a premium Hearts and Arrows cut moissanite from Charles & Colvard, this ring really speaks for itself in terms of sheer elegance and refined luxury.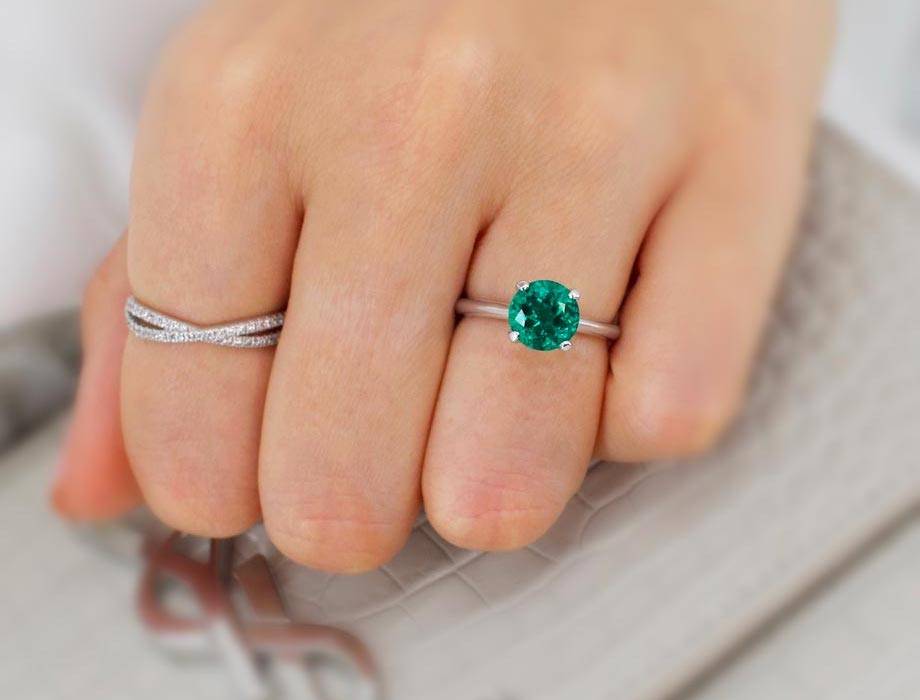 Similar to the Grace but with a six prong mount instead of four, the Serenity is an exceptional ring. With exquisite basket detailing, and available in your choice of metal, the band tapers inwards as it reaches the central gemstone making the carat size appear larger. To be set with any of our lab grown jewels such as ruby, emerald or diamond (all of which are fully certified to international standards), the Serenity is available in sizes from 4.00mm - 10.50mm.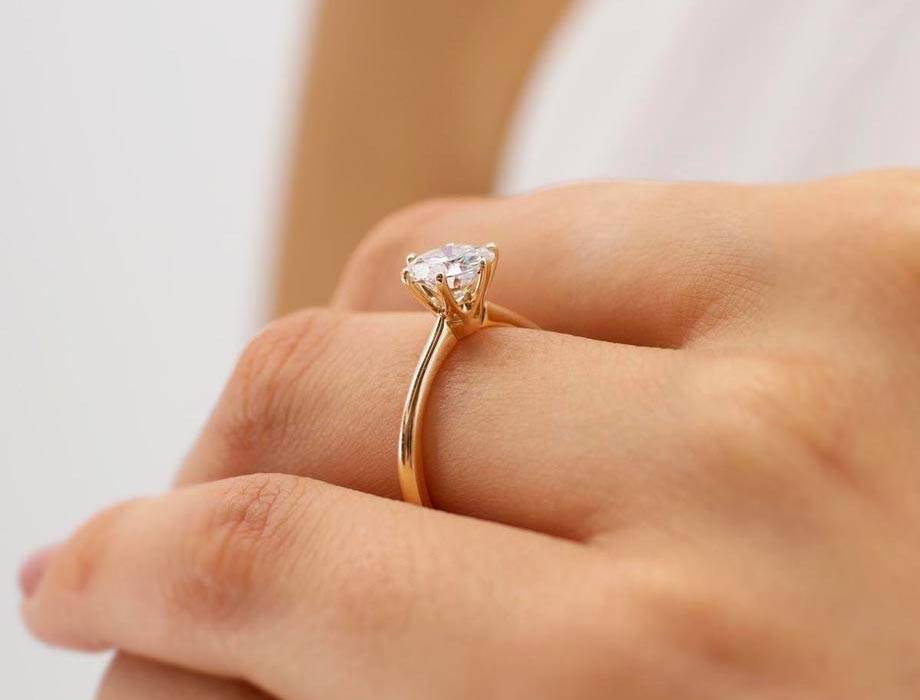 The Serenity moissanite engagement ring along with the rest of our jewellery, comes with free and insured global shipping as well as a 30 day hassle free returns policy*.
A more contemporary design, the Annora has a twisted mount that creates an asymmetrical yet balanced look. Although modern in its style, this solitaire still has a simple and understated feel, with its clean form. With four rounded prongs that spiral to secure the centre stone, the mount leaves as much room as possible to allow light through and create the maximum amount of sparkle, making the Annora a breathtaking choice.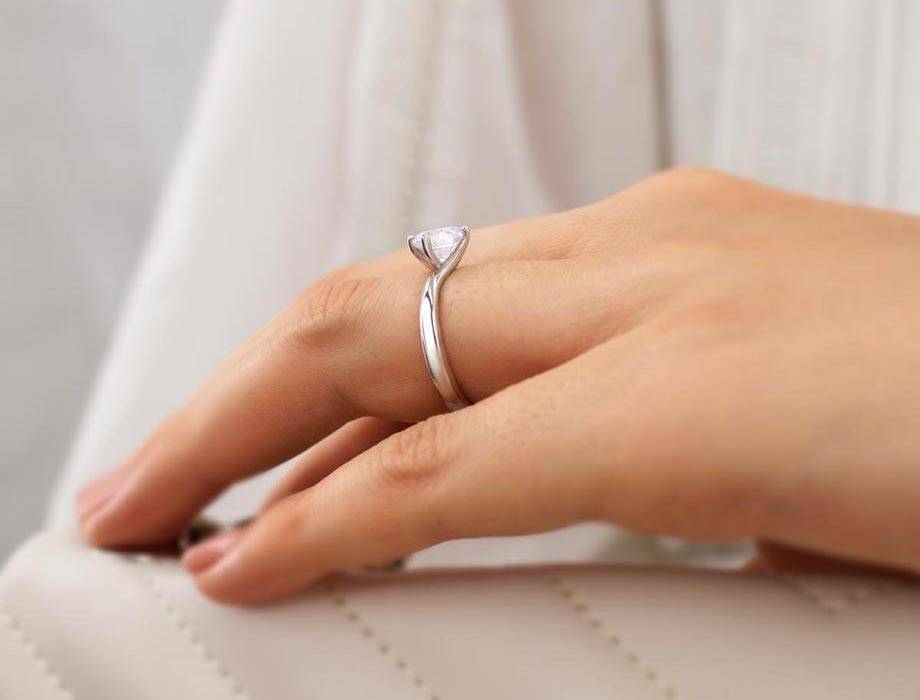 There is a limited lifetime warranty on moissanite gemstones from Charles & Colvard, Lily Arkwright, and coloured gemstones from Chatham labs. In addition to this jewellery across all our ranges comes with a 12 month warranty.  
One of our most popular rings, the Giselle is a stunning shoulder set with a pavé of conflict-free diamonds along its band. Identical to the Grace apart from this row of smaller gemstones that all lead up to the central stone, the Giselle is an opulent alternative to the rest of the solitaires featured on this list. Its elegant and classic style make it one of our most beloved designs.
Lily Arkwright is a proud member of the National Association of Jewellers, an independent body that operates under a strict compliance policy and represents hundreds of excellent quality jewellers across the country. Read more about our membership here.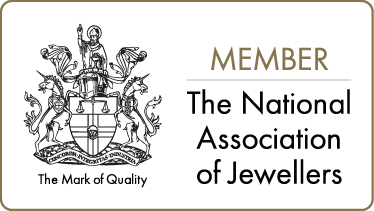 The Paris is a wonderful option for a partner who would like a ring that is both pared back and classic, but has just a little added sparkle. The four pointed prongs that firmly fastens any stone shape of your choosing, make it a versatile choice; and with its hidden halo that circles the pavilion of the centre stone, this solitaire is a stunner. Check out this Hitched article on moissanite engagement rings to see some of our other options available!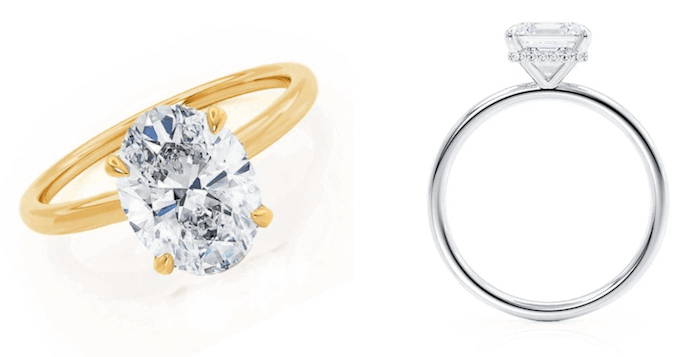 What is the Difference between a Tapered and Knife-Edge Band?
Both of these band styles are used to help make the most out of the chosen carat size, and this question is noteworthy when looking at the classic solitaires listed here. A tapered band gently decreases in diameter as it moves toward the centre stone, making the stone look larger in comparison with the shrinking band. On the other hand, on a knife edge band the overall width of the metal appears to remain the same, but slowly reaches up to a softened point. By having this peaked edge near the centre stone, a knife edge band creates the illusion that not only is the gemstone bigger than it really is, but that it is set further away from the finger. Take the Grace for instance, with its knife edge profile the centre stone looks high set, but in reality it is a medium to low set ring.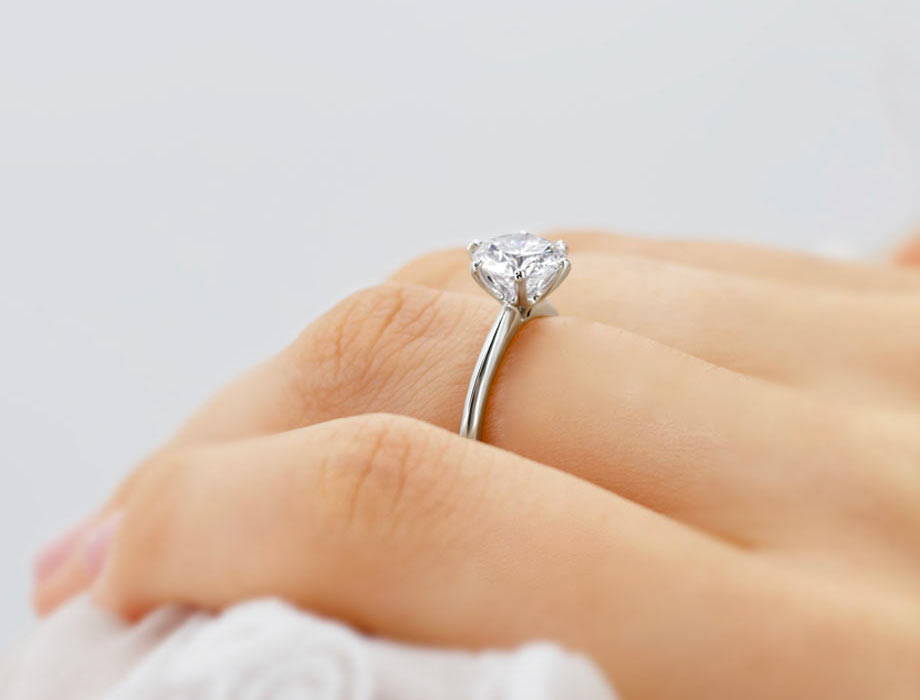 If finding your perfect ring is proving more difficult than you thought and you love the idea of a moissanite or lab grown diamond engagement ring made exclusively for you, make sure to check out our bespoke design service. We can make any dream ring a reality, and our fabulous team of JET trained Jewellery Consultants can guide you each step of the way.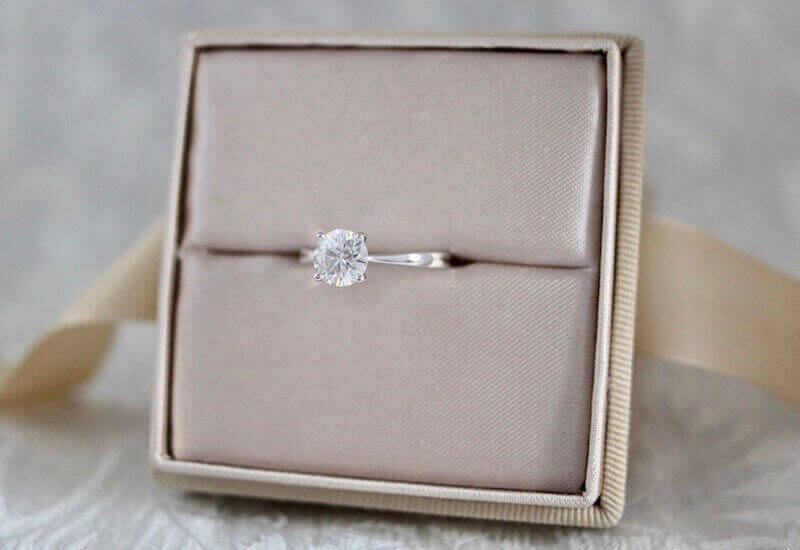 A wed-fit band is when the ring has been designed with the idea in mind that it will be sat alongside another wedding band or eternity ring. Sitting snugly against any other jewellery that may be worn next to it, a wed-fit band is ideal for a moissanite engagement ring.
All the jewellery that we offer at Lily Arkwright is both ethically and sustainably sourced. As our gemstones are grown in the lab, we can bypass the environmental impact of traditional mining, and the harmful nature of some mining practices that negatively affect local communities. All the moissanite, diamond, and coloured gemstones that we have on offer are competitively priced, at a better cost to your wallet as well as the earth.  
The cut of your gemstone is one of the major decisions when choosing a ring and it's all about the centre stone when it comes to a solitaire. The brilliant round cut is by far and away the most popular and it isn't difficult to see why! Devised over one hundred years ago by Belgian diamond cutter Marcel Tolkowsky, this cut's facets produce the most sparkle and fire from a gemstone.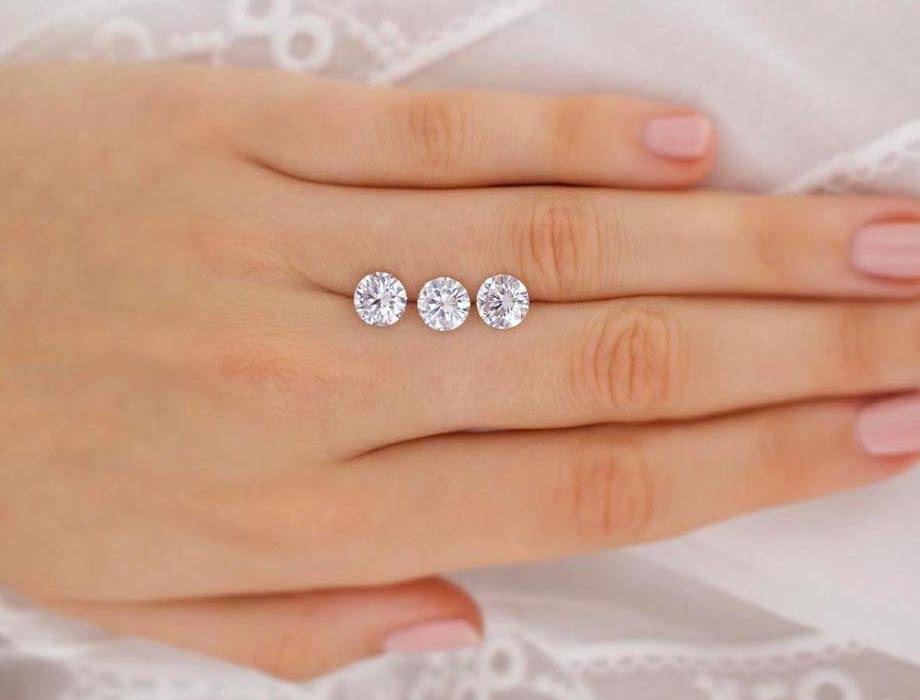 Only recently has another cut come close to being able to optically produce a similar amount of shine. Known as a super-ideal cut, the Hearts and Arrows cut from Charles & Colvard is so precisely faceted that when looked at from the crown of the gemstone eight arrows appear and when looked at from underneath eight hearts can be seen. This gorgeous premium cut is offered by us in lab grown moissanite, check out our Hearts and Arrows collection here.
The second most popular cut is the princess, another classic design used for lab grown diamond engagement rings. The princess is sometimes referred to as a square cut, and its overall shape appears almost as an inverted pyramid from the side. Have a look at our gorgeous Arabella ring, which features a princess cut moissanite.
Our Range of Classic Metal Choices
The vast majority of our rings come in a range of classic metal choices. We offer three types of 18k or 9k gold in white, yellow and rose, as well as platinum.
Yellow gold works wonderfully for a vintage inspired look, whereas rose gold is perfect for those wanting something a little different. White gold and platinum look wonderful with any ring as classic options. All of our precious metals are UK hallmarked and Assay Assured, meaning that all our jewellery is inspected by a third party. Hallmarking has been a practice in the UK for hundreds of years and assures our customers of our outstanding British Craftsmanship.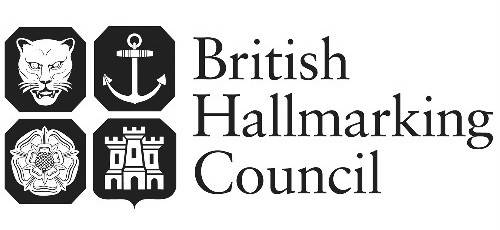 Don't just take our word for it, book a trip to our Manchester showroom today so you can see our stunning collection in person. If you can't make it in, we also offer virtual WhatsApp appointments, where a member of our team can show you a selection of our jewellery in real time.
We hope that you have found this article helpful in outlining some of our classic solitaire designs, wishing you all the best in your hunt for an engagement ring!
We pride ourselves on our ability to produce stunning ethical and sustainable fine jewellery at an amazing price point, supported by unrivalled customer service. We offer the highest quality moissanite, lab grown diamonds and gemstones.
Lily Arkwright are proud Assay Assured jewellery retailers and committed members of the National Association of Jewellers based on honesty, integrity and professionalism. All precious metal jewellery offered by Assay Assured jewellery retailers carries the legally-required independent hallmark verifying the precious metal content, a protection over and above legal requirements. Read our glowing customer reviews on Trust Pilot.
If you are interested in booking a consultation or simply would like to find out more information about ourselves or our collections, please call us on 0161 537 6773, alternatively you can email our jewellery consultancy team at hello@lilyarkwright.com.
*On standard collections that are not designated 'made to order'.
Did you enjoy this article? Do you favour classic solitaires?
Let us know your thoughts and leave us a comment below. Also are there any future topics you'd like us to cover?
Wishing you all the best, The Lily Arkwright Team x