What Is The Mohs Scale Of Hardness?

What is the Mohs Scale of Hardness?

---
Will your jewellery piece be worn everyday or occasionally? Are you a homemaker, do you have a manual job, or does anything you do involve chemicals or abrasives? You may wonder why a jeweller would ask any of these questions when looking at moissanite engagement rings, and the answer is very much to do with the hardness, durability and stability of a stone.

But what does this all have to do with picking the perfect gemstone? Here at Lily Arkwright, our JET trained Jewellery Consultants can help you understand the importance of these questions.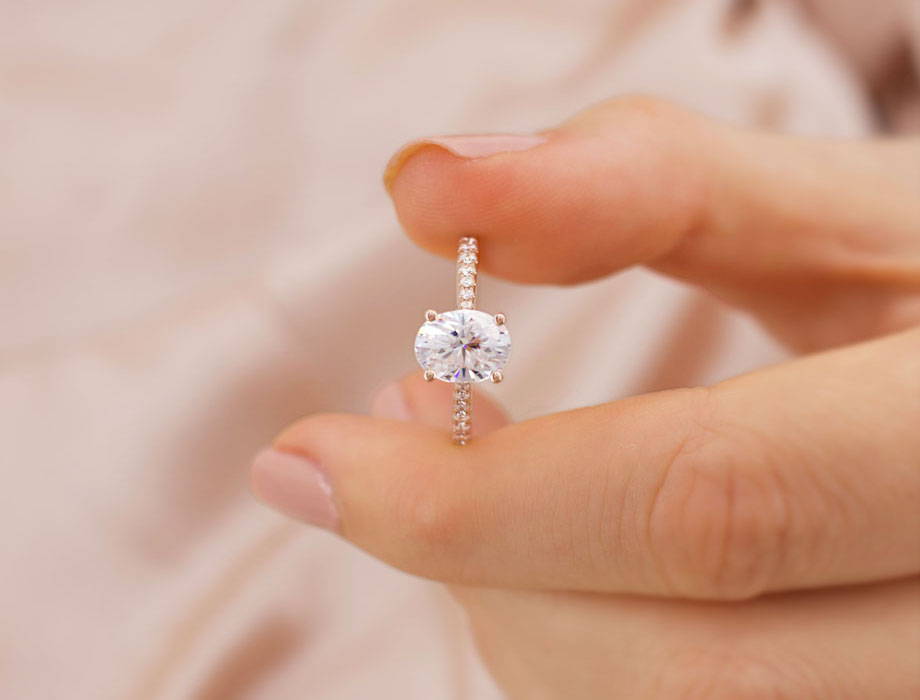 The Mohs scale of hardness is a relative scale of scratchability. In 1822, a German geologist and mineralogist, Friedrich Mohs, created a scale of mineral hardness graded from the softest (1) to the hardest (10). The scale was created using the simple technique of one mineral's ability to visibly scratch another. For example, a stone rated eight can be scratched or damaged by a stone rated at a nine, but not one rated at a seven.
Talc is the softest mineral and diamond is the hardest. Whilst the scale places a mineral on each number from one to ten, the difference in hardness between minerals is not linear. As the diagram below shows, diamond is substantially harder than corundum even though there is only one number difference between their gradings.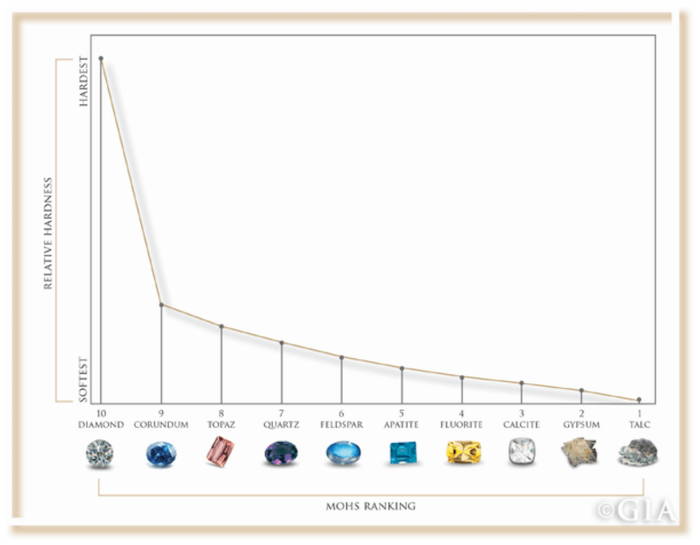 Diamond is the hardest mineral on the planet rated at a ten, with moissanite coming next with a ranking of 9.25, but where do sapphires and rubies fit in the Mohs scale? Rubies and sapphire are great stones to have set in your engagement ring with a hardness ranking of 9. For a special engagement ring, we would recommend choosing precious stones of a hardness of 8.0 or higher. Intermediate stones between six and eight are softer, with more delicate stones being classed as six and under. Stones that are below this threshold should be handled and cleaned with more care, and not exposed to chemicals or solvents. This isn't to say other gemstones aren't suited for engagement rings, you may just need to take a little more care with these.
Here at Lily Arkwright we offer diamond, moissanite, and lab grown coloured gemstones, all of which are very durable and incredibly well suited for rings. Make sure to check out The Telegraph's article on where to buy an engagement ring online to see a selection of some of our moissanite engagement rings.
Emeralds are also a beautiful choice. Natural mined Emeralds often have a number of inclusions which can make them brittle and susceptible to chipping. This is due to the way they are formed in the earth and their natural growth process, a naturally clear emerald is practically unheard of. However, we are proud partners with Chatham Laboratories, a company founded over 75 years ago, who today are the world's leading source of high-quality lab-grown gems. With access to Chatham's amazing emeralds and with a Mohs rating of 7.5-8 these stones make for amazing and richly coloured engagement rings.  
In fact, Chatham lab grown emeralds exhibit little to no internal flaws (inclusions), showing stunning clarity and reaching carat sizes that are available in only the very best mined stones, they are a wonderful option for your chosen engagement ring.
Lily Arkwright are also the only UK stockists of Chatham, supplying their exceptional quality gemstones in stunning designs that are the mark of British craftsmanship. You can check out the Chatham store locator here.
The hardness of a precious stone defines how well a gemstone resists scratches and abrasions, which is very important for wearability, especially regarding rings and jewellery and their resistance to everyday wear and tear.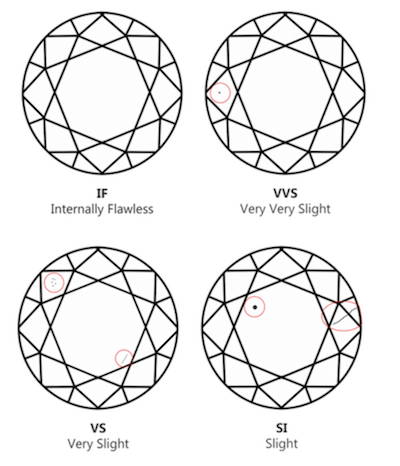 Photo Reference: Clarity Diagram
Toughness relates to a stone's resistance to breaking and chipping, making gemstones with better clarity far tougher. For instance all of our moissanite is regarded as internally flawless and at a minimum very slightly included.      
Stability refers to a stone's resistance to chemicals, heat, light, and humidity. Opals may crack in low humidity, while prolonged light exposure can discolor citrine, amethyst, and topaz as well as pearls and other organic gems.
The Best Stones for your Engagement Ring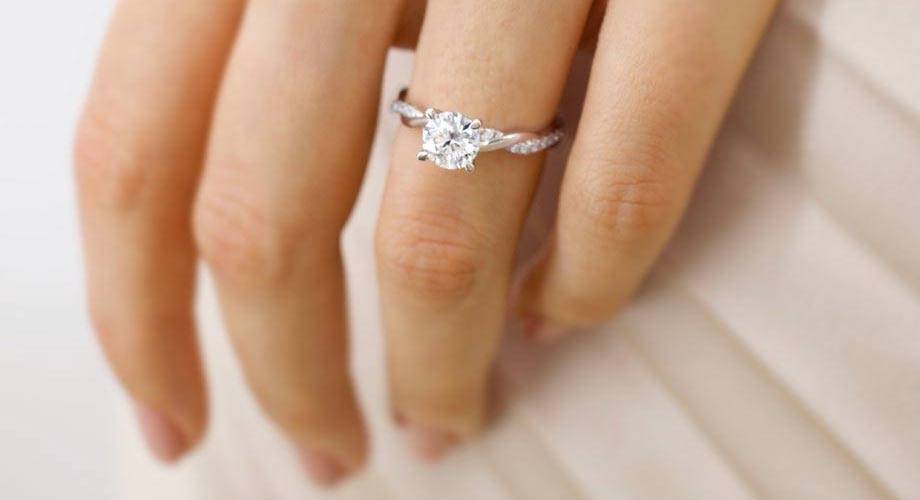 Lab grown Diamonds - Mohs scale rating 10
Here at Lily Arkwright we specialise in Lab grown diamond engagement rings. Lab grown diamonds are exactly the same as their mined counterpart, sharing the same chemical composition, optical properties and hardness, but having ethical and sustainable benefits too. You can read more about our Lab grown diamonds by visiting our blog. Make sure to get in contact with us if you have any questions via our website, email - hello@lilyarkwright.com. or telephone us on 0161 537 6773.
Whether you love a solitaire, halo, shoulder set or perhaps even a trilogy ring, any of our designs can be set with our stunning lab grown diamonds, which are all the mark of true British Craftsmanship.
Every lab diamond Lily Arkwright set is fully certified and accompanied by an industry standard GIA, IGI or GCAL grading report, including the cut, colour, clarity and carat weight specifications.  
Moissanite - Mohs scale rating 9.25
Moissanite is one of the leading alternatives to conventional mined diamonds, and is an incredibly durable stone with its own unique radiance. It really is possible to have a luxurious engagement ring of your choice at an affordable price point.
We have a selection of options when choosing a moissanite engagement ring. You can learn more by checking out our featured blog on the difference between Lily Arkwright, Premium Charles & Colvard Forever One or Charles & Colvard Hearts & Arrows, if you need any help choosing between our different moissanites.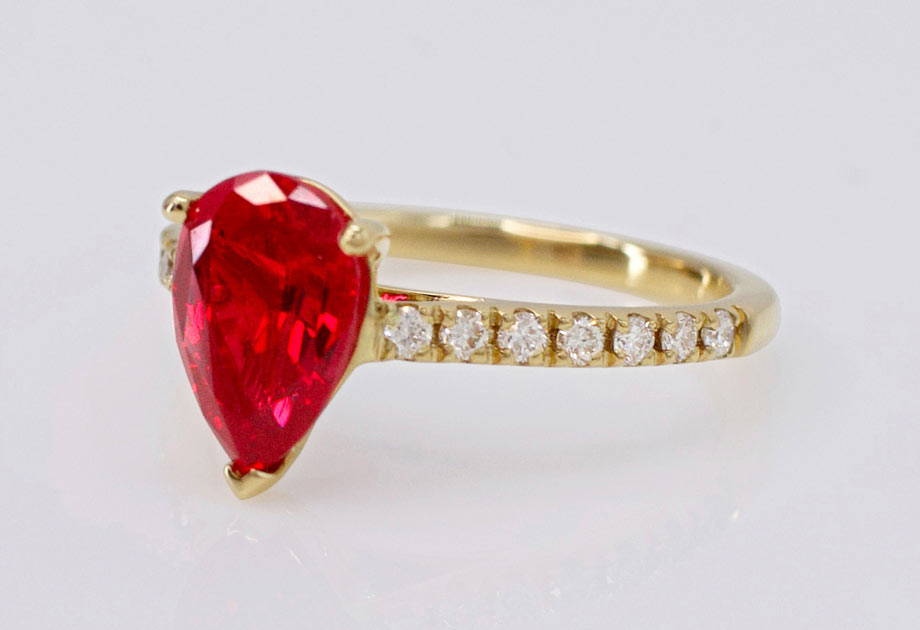 Gemstones:
Sapphire- Mohs scale 9

Ruby- Mohs scale 9

Emerald- Mohs scale 7.5-8
For those who like a bit more colour in their life, stunning rubies, emeralds and sapphire lab grown stones create beautiful rings. Our partnership with Chatham means we can produce these gemstones at affordable prices. One of the major benefits of our Lab grown gemstones means that we are able to provide a variety of shapes that are almost impossible to find in mined gemstones. Chatham's production process ensures all gemstones are ethically produced and all gemstones are rich in colour and cut providing that very special sparkle.

If you are unsure about which stone or design to choose or just wish to view our beautiful products in person why not book an appointment with one of our trained Jewellery Consultants in our UK Showroom.
Should you be unable to travel to us we also offer virtual video appointments making it possible for you to see our products wherever you are. To give you further peace of mind we offer a 30 day complimentary ring resize, 30 day exchange returns policy* and free and insured Global Shipping. If you really can't find that perfect design why not reach out to our Bespoke Team where we offer a complete ring design service.
We pride ourselves on our ability to produce stunning ethical and sustainable fine jewellery at an amazing price point, supported by unrivalled customer service. We offer the highest quality moissanite, lab grown diamonds and gemstones.
Lily Arkwright are proud Assay Assured jewellery retailers and committed members of the National Association of Jewellers based on honesty, integrity and professionalism. All precious metal jewellery offered by Assay Assured jewellery retailers carries the legally-required independent hallmark verifying the precious metal content, a protection over and above legal requirements. Read our glowing customer reviews on Trust Pilot.
If you are interested in booking a consultation or simply would like to find out more information about ourselves or our collections, please call us on 0161 537 6773, alternatively you can email our jewellery consultancy team at hello@lilyarkwright.com.
*On standard collections that are not designated 'made to order'.
Did you enjoy this article? Do you better understand the Mohs Scale of Hardness?
Let us know your thoughts and leave us a comment below. Also are there any future topics you'd like us to cover?
Wishing you all the best, The Lily Arkwright Team x