Elizabeth Taylor's Engagement Ring Collection

Elizabeth Taylor's Engagement Ring Collection
 

---
Elizabeth Taylor was a fiance nine times, and so her collection of engagement rings would definitely have been awe inspiring! The classical Hollywood star was renowned for her jewellery and once held one of the most expensive collections in the world. Even though her love affair and marriages to Richard Burton were infamous, surprisingly he never gave her an engagement ring. In this article we'll go over some of the engagement rings Elizabeth actually received, and look at some of our own Lily Arkwright collection for similar styles.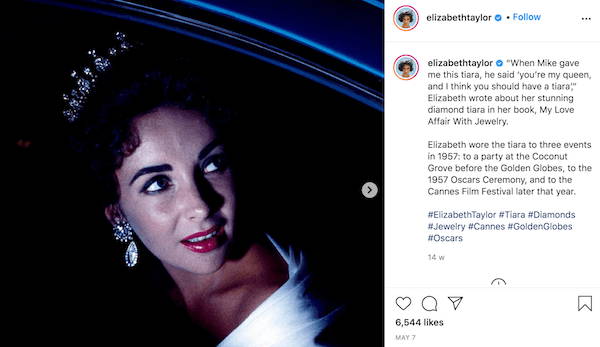 Photo Reference: @elizabethtaylor on Instagram
The first ring in Elizabeth Taylor's collection was presented to her when the star was just seventeen, and was a cushion-cut diamond solitaire. The cushion cut is one of the oldest shapes and is often referred to as an old European style as it features in many heirloom pieces from the continent. As retailers we are specialists in moissanite, which has only come onto the jewellery market in the last twenty years, and is a stunning alternative to diamond. Moissanite is a colourless gemstone that has huge amounts of sparkle, is incredibly durable and has exceptional clarity. One of the Lily Arkwright ring designs that features the attractive cushion cut, but of a moissanite stone rather than a diamond is the petite Lulu ring. With a rounded band shape for comfort as well as a secure four prong basket, the shank only measures a mere 1.65mm making for a dainty and sophisticated ring.
Ring number two was another round of diamonds, this time with a four carat diamond platinum solitaire. Our collection of lab grown diamond rings all feature a stone that has been grown in the lab rather than being traditionally mined and means an ethical and sustainable alternative is possible. A similar ring in our own collection would be the ever classical Grace ring, which is effortlessly stunning with its knife-edge band and secure four prong mount. Set with a beautiful lab diamond this ring is sure to make an impression. All lab grown diamonds offered by Lily Arkwright come fully certified to international standards and are accompanied by an International Gemological Institute (IGI) or Gem Certificate and Assurance Labs (GCAL) Certificate, which includes the cut, colour, clarity and carat weight specifications.
Photo Reference: @elizabethtaylor on Instagram
The third ring acquired by Taylor was a cabochon sapphire (which means the gemstone has a domed and polished look instead of being faceted). The collection of sapphire we have is grown in the lab, just like our diamonds and speciality moissanite. Chatham Labs are known the world over for their excellent quality lab grown stones, all of which are chemically and optically the same as the mined equivalent. In fact, as they are grown from the finest gemstone seeds, the sapphires, rubies, and emeralds from Chatham rival only the very best mined stones. One of our sapphire engagement rings is the Rosa, which features a breathtaking blue sapphire centre sandwiched in between a halo of conflict free diamonds, that run down onto the band as a half pavé setting.
The next ring Elizabeth received is perhaps her most famous engagement ring, and was gifted to her from film producer Mike Todd. When we talk about huge celebrity engagement rings on this blog there have been some knockout contenders for the largest rock, but the emerald cut diamond of this ring (which Taylor fondly referred to as her 'ice skating rink') really takes the biscuit. Unfortunately this marriage only lasted for just over a year, as Todd tragically passed away. Taylor kept the engagement ring however and carried on wearing it throughout her life to commemorate him.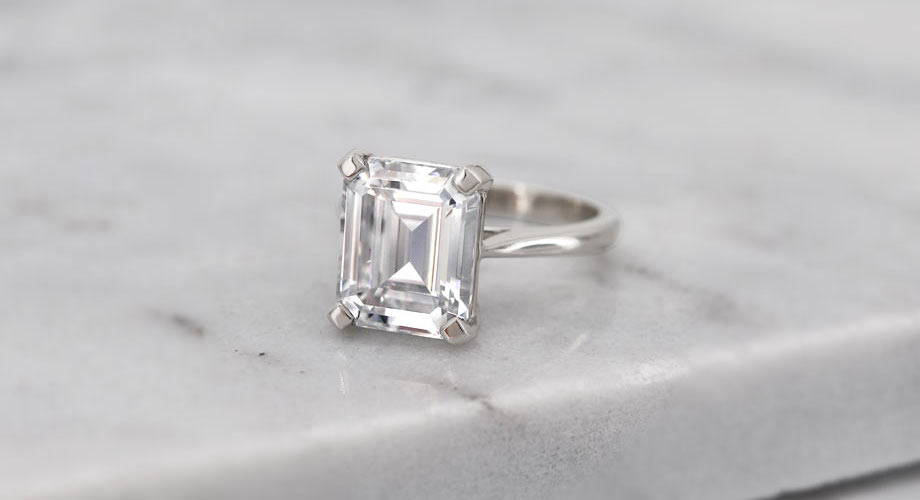 Our own Florence ring also features a humdinger of an emerald cut stone, and even though this cut is traditionally paired with the gemstone of the same name (which looks stunning as well) the clarity of a top quality moissanite shines through with the elegant and stately lines of an emerald cut. We offer Charles and Colvard Forever One and Hearts and Arrows range in moissanite, and as a company Charles and Colvard have years of experience and are known to make the worlds premium moissanite. We also have our own branded Lily Arkwright moissanite, which matches the superior quality of Charles and Colvard, but is priced lower simply because we are able to produce it ourselves. Check out our entire moissanite engagement ring collection to see for yourself.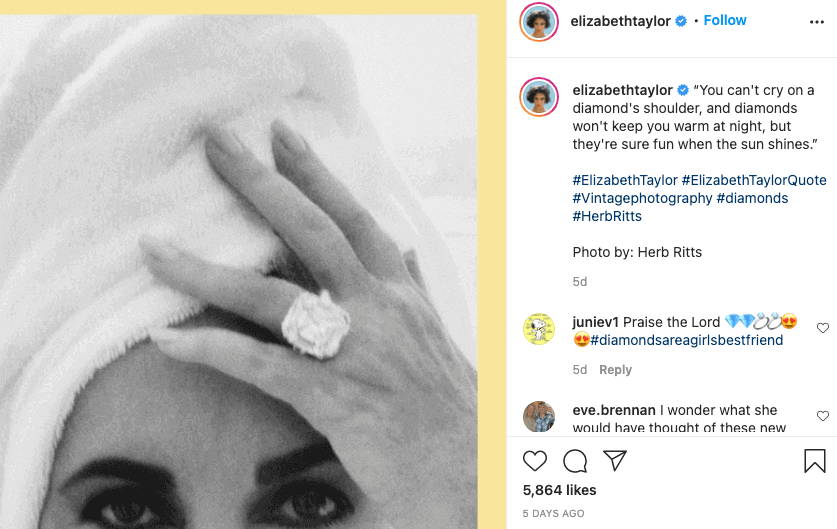 Photo Reference: @elizabethtaylor on Instagram
Because Taylor decided to carry on wearing her ring from Todd, her next husband presented her instead with an engagement bracelet that was made up from a row of 50 diamonds. Commonly known as tennis bracelets, these extravagant pieces are glittering sensations, and here at Lily Arkwright we offer a moissanite bracelet, the Monaco, which is available in three different diamond equivalent total carat weights. As well as being at a much better price point, all of our jewellery comes with a 30 day returns policy* and has a 12 month warranty. Lily Arkwright offer free and insured global shipping, making sure that all orders made through our website reach their destination and giving all our customers peace of mind. It is additionally worth bearing in mind that payments made through PayPal and Klarna start from 0% interest rate.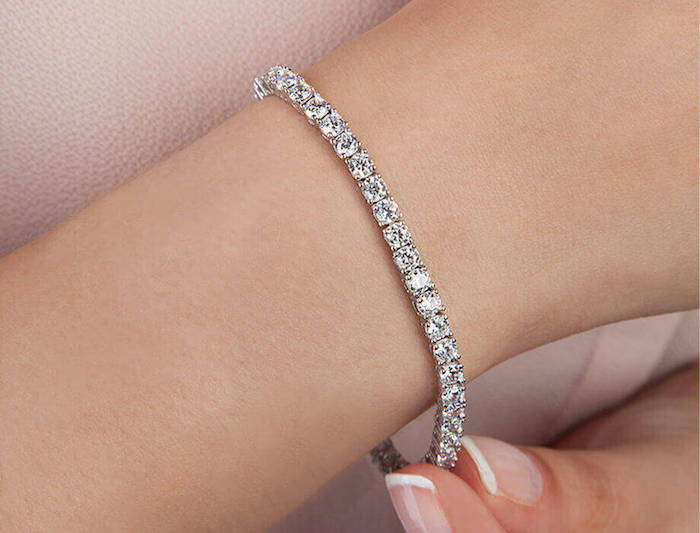 The next engagement was to Richard Burton and although he never produced an engagement ring for Taylor, he did provide her with some of her best known jewellery pieces. The Taylor- Burton diamond was gifted to the actor from Burton, after being purchased for $1.1 million and weighed 69 carats! Did you know that all lab grown diamonds are unique? Every single diamond gem produced in the lab has a unique growth pattern and can only be told apart from the mined stones by an expert gemologist using specialist equipment.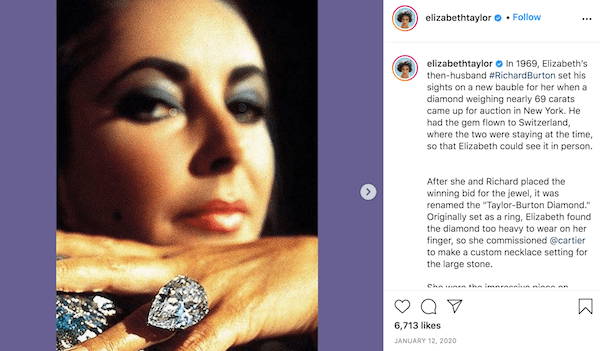 Photo Reference: @elizabethtaylor on Instagram
The next ring that happened onto Taylor's finger was a show stopper made up of rubies, emeralds and diamonds. A halo design with a huge central ruby surrounded by a wreath of diamonds, this would be most similar to our newly introduced Diana ring (inspired by the late Princess of Wales), and set with a stunning Chatham lab grown ruby.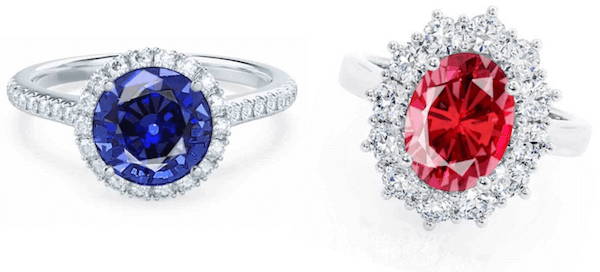 Another sapphire ring was next, presented to her by Victor Luna and was a huge 16 carats. This one also featured a halo of diamonds and a beautiful option in our own collection of jewellery would be the Lavender engagement ring. The Lavender had a brilliant round cut centre that can be set with one of our velvet blue and crystal clear Chatham sapphires, has a radiant garland of diamonds circling the centre stone, which follow down onto the rings petite band in a pavé setting. The Lavender comes in a variety of precious metals, and it is worth noting that all our jewellery is UK hallmarked. Hallmarking is a centuries-old practice in the UK, and verifies the purity of the precious metal content. Jewellery cannot be described as gold, silver or platinum without an independent, third party assuring buyers of the quality of the piece they are purchasing. To read more about hallmarking and why we are such a trusted online retailer, have a read through our blog post on being Assay Assured here.
Clearly Elizabeth Taylor had a thing for sapphires, because her next ring also had one of these regal stones, which was again set beside diamonds. The Lorella ring is one of our most stunning trilogy rings and can feature sapphires as either the main stone or as the flanking stones for a central moissanite or lab diamond. Trilogy rings are favoured for engagements because they are said to represent a couples past, present and future together, as well as simply being a gorgeous design with plenty of flexibility. Sapphires are actually some of the most difficult stones to grow because of its delicate formation and production process. One of the huge benefits of a lab grown sapphire and other gemstones grown in the lab, is that it allows for sizes and clarity that are just not possible in mined stones (or would be outrageously expensive). A lab grown stone is a wonderful alternative that means you can have the ring of your dreams, of the highest quality, that comes at a fraction of the price.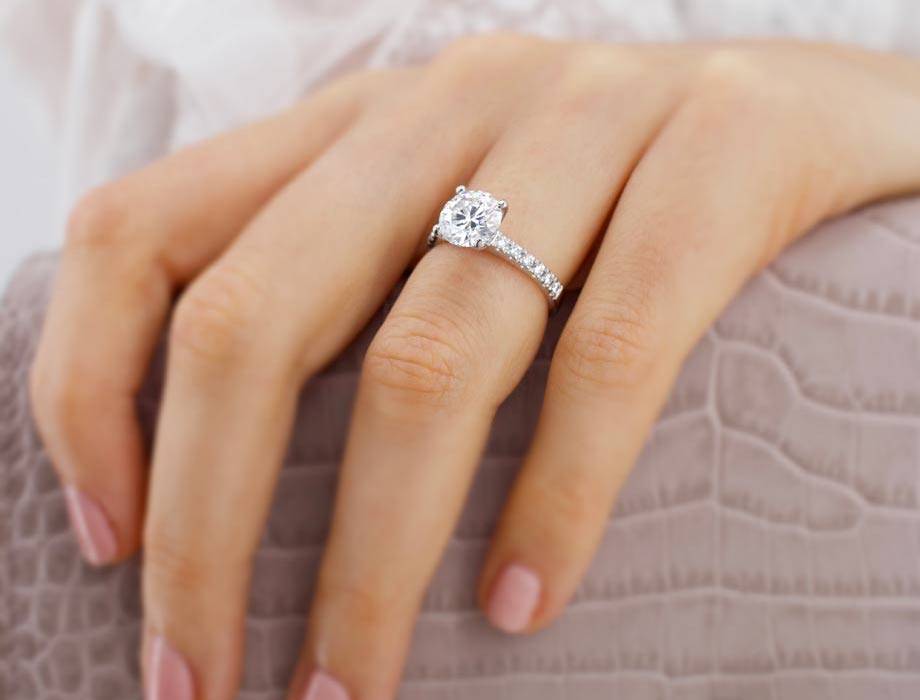 Lastly, the final ring Taylor received was a classical diamond with a pavé band. This was also Taylor's last marriage and divorce before her death in 2011, however she always remained good friends with her last ex husband, Larry Fortensky. We have many engagement rings that feature a diamond pavé, but perhaps our most sought after is the Giselle. This ring has a brilliant round cut centre stone that can be set with either a moissanite or lab diamond centre stone, secured in place with a four prong mount. We are members of the National Association of Jewellers, who are a professional membership body made up of thousands of UK jewellery traders that have a strict compliance policy. We are assessed by an independent third party, giving our customers the assurance that all our moissanite engagement rings and lab diamond engagement rings are of outstanding quality.
Bespoke Ring Design Service
All of Elizabeth's Rings are incredible pieces of jewellery and moissanite, lab grown diamond and coloured gemstones such as rubies, sapphire and emeralds all make for amazing engagement rings. Whichever gemstone you choose, Lily Arkwright has a bespoke ring design service for those who want something truly unique. As well as the wide range of options available on our website, we are able to work with you personally and make your very own moissanite engagement ring or lab diamond engagement ring, translating your ideas and sketches into a bespoke piece.
If you need any extra guidance on what would suit you, then you can always pay a visit to our UK showroom for an in-person consultation, or alternatively book an online WhatsApp appointment with one of our JET trained jewellery consultants.
What do you think of Liz Taylor's engagement rings? Hopefully you've found this article helpful and perhaps it's even helped provide some inspiration for your own engagement ring! Let us know in the comments below and if you have any questions or queries about any of our collections please don't hesitate to get in contact with a member of our jewellery consultancy staff. Wishing you all the best, the Lily Arkwright team xx
We pride ourselves on our ability to produce stunning ethical and sustainable fine jewellery at an amazing price point, supported by unrivalled customer service. We offer the highest quality moissanite, lab grown diamonds and gemstones.
Lily Arkwright are proud Assay Assured jewellery retailers and committed members of the National Association of Jewellers based on honesty, integrity and professionalism. All precious metal jewellery offered by Assay Assured jewellery retailers carries the legally-required independent hallmark verifying the precious metal content, a protection over and above legal requirements. Read our glowing customer reviews on Trust Pilot.
If you are interested in booking a consultation or simply would like to find out more information about ourselves or our collections, please call us on 0161 537 6773, alternatively you can email our jewellery consultancy team at hello@lilyarkwright.com.
*On standard collections that are not designated 'made to order'.
Did you enjoy this article? What do you think of Elizabeth's jewellery collection?
Let us know your thoughts and leave us a comment below. Also are there any future topics you'd like us to cover?
Wishing you all the best, The Lily Arkwright Team x