Guide to Princess Cut Moissanite Gemstones
---
The regal princess cut; perfectly square and effortlessly chic. This gemstone cut is the best choice for light, glamorous engagement rings.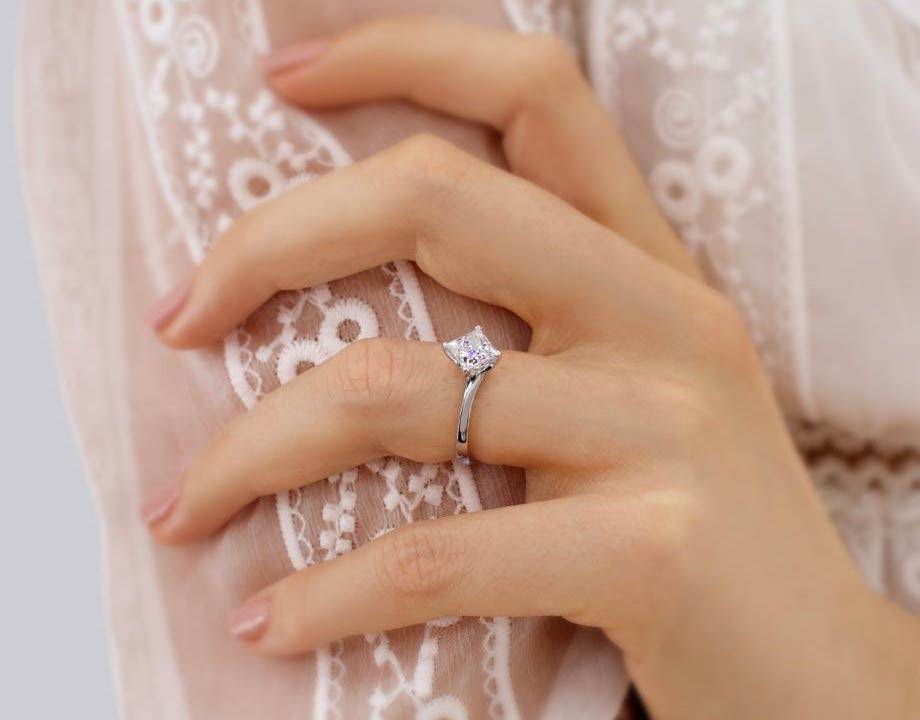 The first princess cut was carved by Israel Itzkowitz in 1979 – it has since become the second most popular engagement ring cut after the brilliant round cut.
Shape: perfectly square from above, pyramid shaped from the side, square from beneath.
Facets: 57 or 76
Style: modern and chic.
Cut Grading: the large number of facets and pyramid shape make it one of the best cuts for brightness. It dazzlingly disperses light in all 4 corners, enhancing the square shape and giving a delightful shine.
Princess cut gems and square cuts are often the same. As the term "princess cut" is a trademark, you'll find identical square engagement rings named simply "square" or "square modified brilliance."
The princess cut is similar to other square cuts, including the rounded cushion cut and rectangular radiant cut. While the other square cuts can have different length ratios, making them more rectangular in shape rather than square, for a gem to be a true princess cut it must between be a 1.00 to 1.05 ratio.
Take a look at our loose gem collection of lab created moissanite to compare the different square cuts.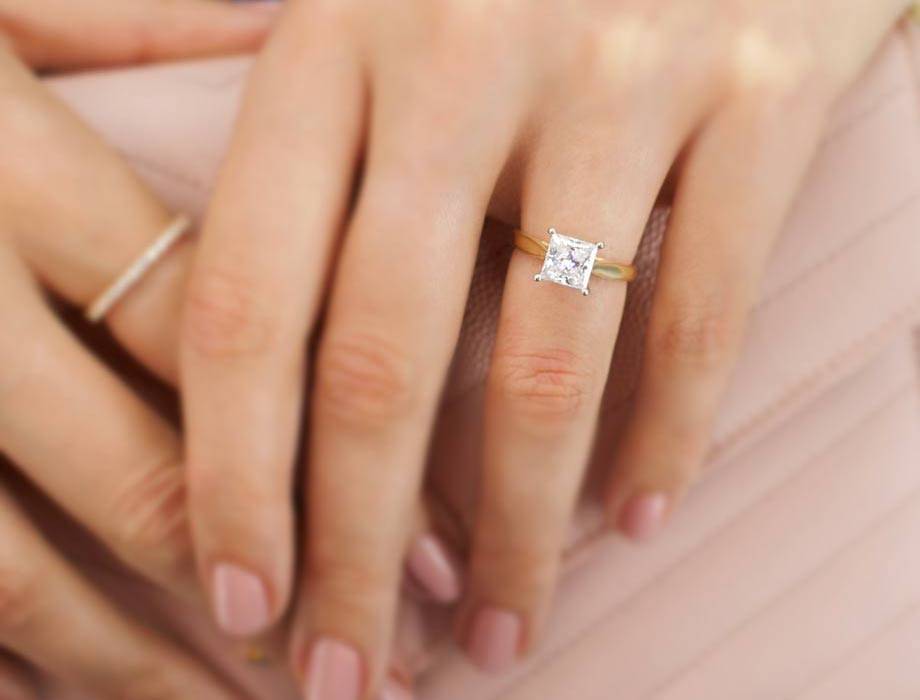 Princess Cut Moissanite Gemstone Style

Kate Bosworth's princess cut engagement ring is inspired by 1920s art deco design. It's a very cool design, featuring a simple platinum band with a large princess cut gem held by 4 prongs. She wears it above a simple platinum wedding band, similar to our Harper Channel Set Platinum Eternity band, studded with Charles and Colvard moissanite.
The square shape of the princess cut makes it ideal for sitting alongside other square or rectangle gems to create a detailed, gem-encrusted look. The princess cut also works well as a simple centrepiece. Take a look at our simple solitaire engagement rings, like the 1.7 ct moissanite princess cut "Rosalee" in rose gold, as seen on the Hitched website. The mounted lab grown moissanite is held by 4 prongs, allowing light to enter the gemstone from the sides, illuminating the facets and giving a delightful shine.
We pride ourselves on our ability to produce stunning ethical and sustainable fine jewellery at an amazing price point, supported by unrivalled customer service. We offer the highest quality moissanite, lab grown diamonds and gemstones.
Lily Arkwright are proud Assay Assured jewellery retailers and committed members of the National Association of Jewellers based on honesty, integrity and professionalism. All precious metal jewellery offered by Assay Assured jewellery retailers carries the legally-required independent hallmark verifying the precious metal content, a protection over and above legal requirements. Read our glowing customer reviews on Trust Pilot.
If you are interested in booking a consultation or simply would like to find out more information about ourselves or our collections, please call us on 0161 537 6773, alternatively you can email our jewellery consultancy team at hello@lilyarkwright.com.
Did you enjoy this article? What are your thoughts on Princess cut rings?
Let us know your thoughts and leave us a comment below. Also are there any future topics you'd like us to cover?
Wishing you all the best, The Lily Arkwright Team x