A Guide to Emerald Cut Moissanite Engagement Rings
---
The emerald cut is used to create stunning moissanite engagement rings, not just from emeralds!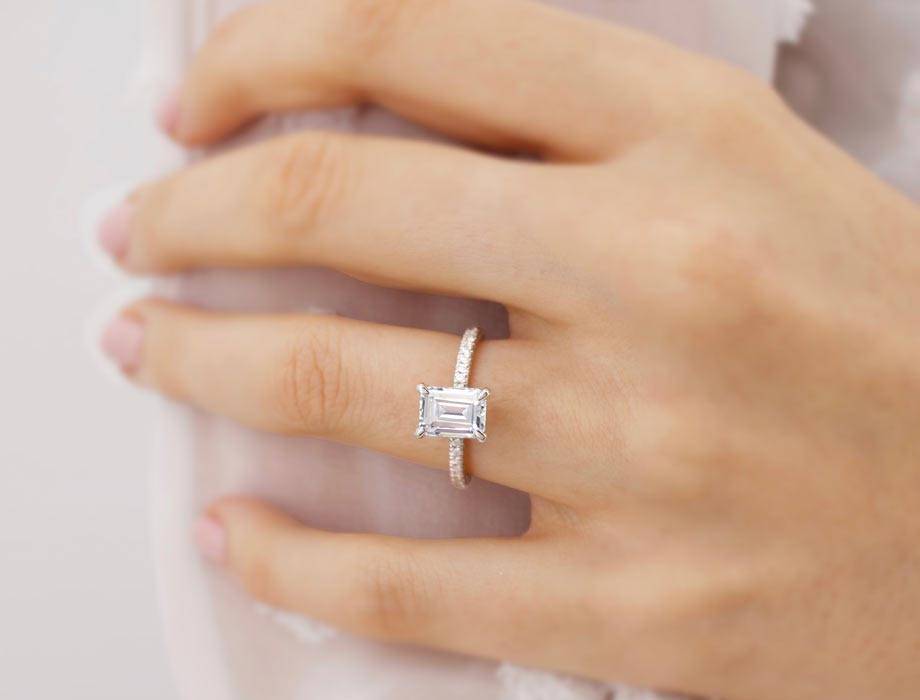 The modern emerald cut emerged in the art deco era at the beginning of the 20th century, used not only for beautiful coloured gemstones but also diamonds, and now ethical moissanite. While the popular brilliant round cut is classically sublime, the emerald cut exudes luxurious, vintage vibes and has a certain extravagance that better matches the princess and cushion cuts.
Shape: rectangular with a "stepped" appearance and cut corners from above and below, frustum cone from the side.
Facets: 46
Style: Art deco extravagance.
Cut Grading: the wide, clear "table" of the emerald cut really highlights the clarity and brilliance of moissanite stone. While the heavily faceted oval, pear and round cuts are unbeatable for refracting light, the emerald cut is the best style for exhibiting the natural clearness and depth of precious gemstones.
Typically, the emerald cut gemstone is rectangular and worn with the longer sides parallel to your ring finger. This elongates your hand and also makes room for added diamonds, real moissanite and other gems to be mounted either side. This is the case in reality star Bethenny Frankel's recent engagement ring, which features a gorgeous emerald cut trilogy. Make sure to read OK magazine's article which outlines some rings similar to Bethenny's.
Emerald Cut Moissanite Gemstone Style

Emerald cut gems are surprisingly versatile: they make eye catching, standalone centrepieces but they can also be complimented nicely by baguette cut, round or cushion gems embedded either side, for extra sparkle.
Anne Hathaway's modern emerald cut engagement ring features a large, 6 carat emerald cut diamond surrounded by round cut diamonds and extra diamonds embedded in the platinum band. Her fiancée wanted something timeless with old world charm, so the emerald cut was the perfect choice. The real moissanite and diamond engagement ring in white gold from Charles and Colvard retailers, "Evalina", is very similar in style.
However, Anne Hathaway isn't the first celebrity to fall in love with emerald cut styles. Both Grace Kelly and Elizabeth Taylor had glamorous emerald cut diamond engagement rings. The emerald cut is a symbol of timeless style.
Besides engagement rings, the emerald cut is also very beautiful with colour gemstone rings, like our simple "Florence" Chatham lab grown emerald ring. Our coloured gems and real moissanite are lab grown, making them ethical, affordable yet just as brilliant and gorgeous as mined diamonds.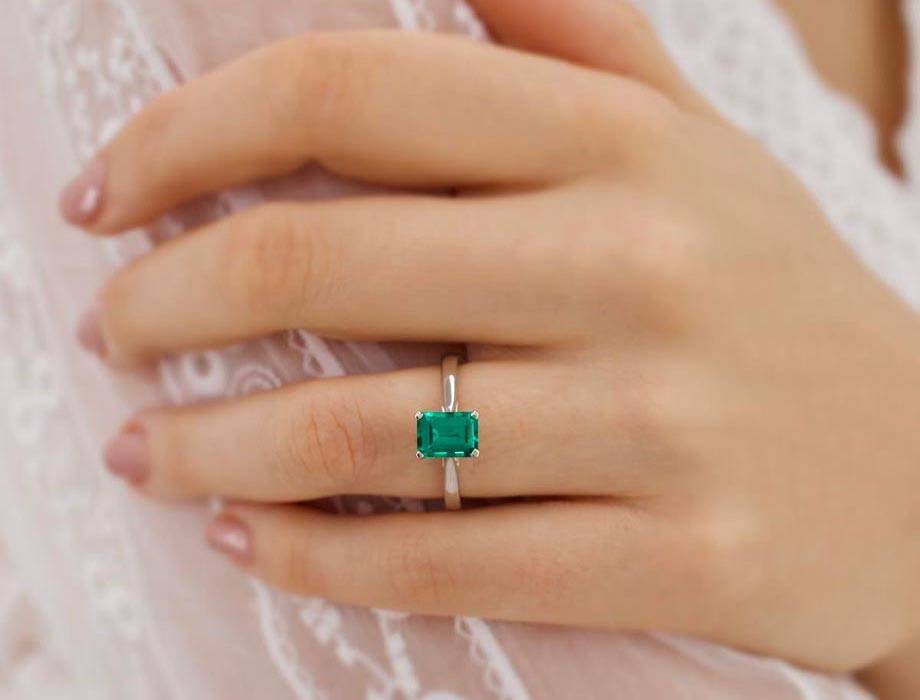 We pride ourselves on our ability to produce stunning ethical and sustainable fine jewellery at an amazing price point, supported by unrivalled customer service. We offer the highest quality moissanite engagement rings, lab grown diamond engagement rings and coloured gemstones. Make sure to also check our are collections of moissanite earrings and pendants as well, for a gorgeous bridal set.
Lily Arkwright are proud Assay Assured jewellery retailers and committed members of the National Association of Jewellers based on honesty, integrity and professionalism. All precious metal jewellery offered by Assay Assured jewellery retailers carries the legally-required independent hallmark verifying the precious metal content, a protection over and above legal requirements. Read our glowing customer reviews on Trust Pilot.
If you are interested in booking a consultation or simply would like to find out more information about ourselves or our collections, please call us on 0161 537 6773, alternatively you can email our jewellery consultancy team at hello@lilyarkwright.com.
Like Emerald Cut Gems? Let us know your thoughts and leave us a comment below. Also are there any future topics you'd like us to cover?
Wishing you all the best, The Lily Arkwright Team x