Multi Stone Moissanite Engagement Rings

Multi Stone Moissanite Engagement Rings

---
One of the major engagement ring trends for 2021 has most certainly been the multi stone ring. Whether that be on the hands of the rich and famous or on newly engaged couples, this ring type can be seen everywhere. Read on for a breakdown of everything there is to know about multi stone moissanite engagement rings, and an overview of our collection.



Featuring a series of stunning gemstones, a multi-stone ring doesn't have just one solo gem but many. Unlike a solitaire or shoulder set, the main centre piece of one of these rings is made up of multiple large gemstones. The most common type of multi stone ring is the trilogy ring which has three central jewels.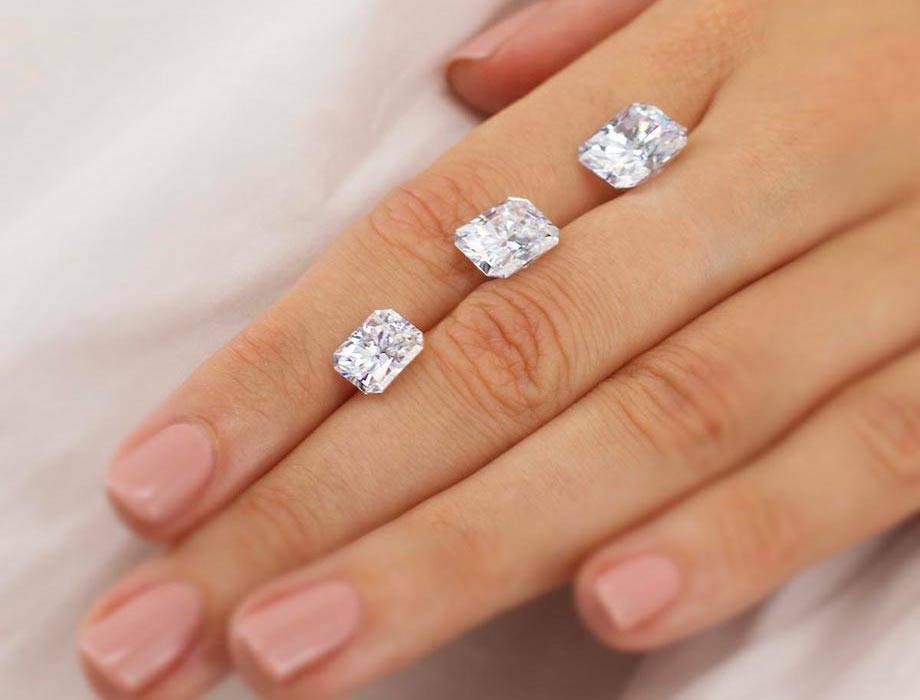 The Trilogy ring, otherwise known as the trinity ring, is known to be an excellent choice for an engagement ring because it is said to represent a strong relationship. Meant to symbolise either past, present and future or to depict friendship, love and fidelity, the trilogy ring is a romantic metaphor for a lifetime of happiness.  
Even though we have a variety of stunning engagement rings, we've left traditional mining in the past. Our lab grown moissanite, diamonds, and coloured gemstones are sourced sustainably, without harming local communities and the environment. With no need for mining we can cut out any such harmful practices.  
The Lily Arkwright Multi Stone Ring Collection
Let's begin by having a look at our most popular trilogy ring, the Leanora. Featuring a set of three brilliant round cut moissanite gemstones, the centre stone is slightly larger than the two that flank it on the side. All held in place by four prong mounts, the minimal setting allows for the moissanite stones to shine brilliantly; it happens to be a wed-fit design too, meaning it will sit snugly against other jewellery.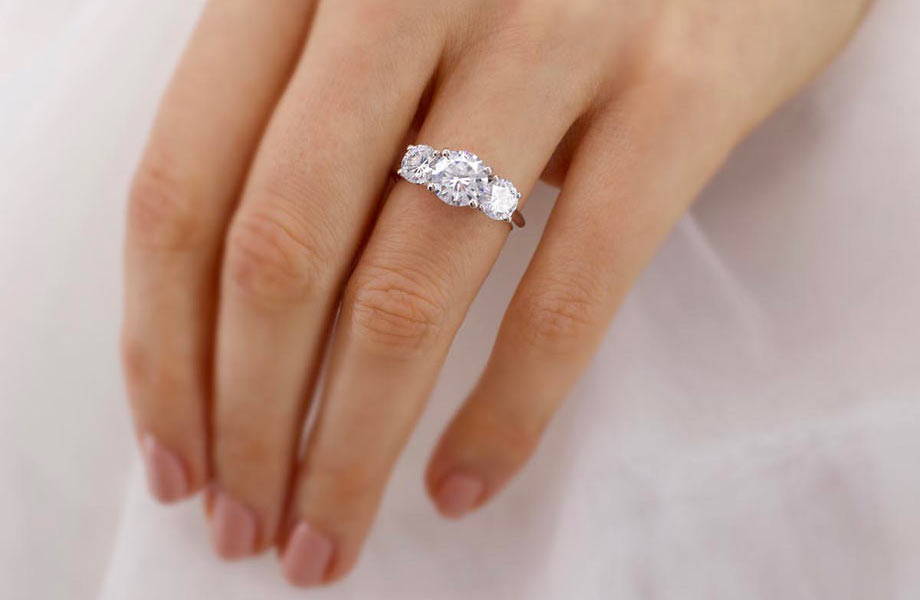 The Lorella is another of our trilogy rings which also has a set of three brilliant round cut gemstones, but instead has overlapping prongs underneath on its mount and an ever so slightly smaller band width. Able to be set with any of our moissanite choices, we also have the lorella set with different gemstones such as a centre moissanite stone bordered by two brilliant round cut sapphire stones. The image below is one of our custom rings and is set with two alexandrite stones on either side.
All of our coloured gemstones are grown by Chatham Laboratories, who are known the world over for their incredible quality sapphires, rubies and emeralds. Founded over 80 years ago, they are world renowned for their high quality and amazing cuts. The Leanora ring also features in a Hitched article about the 30 best moissanite engagement rings.
Lily Arkwright are also the only UK stockists of Chatham, supplying their exceptional quality gemstones in stunning designs that are the mark of British craftsmanship. You can check out the Chatham store locator here.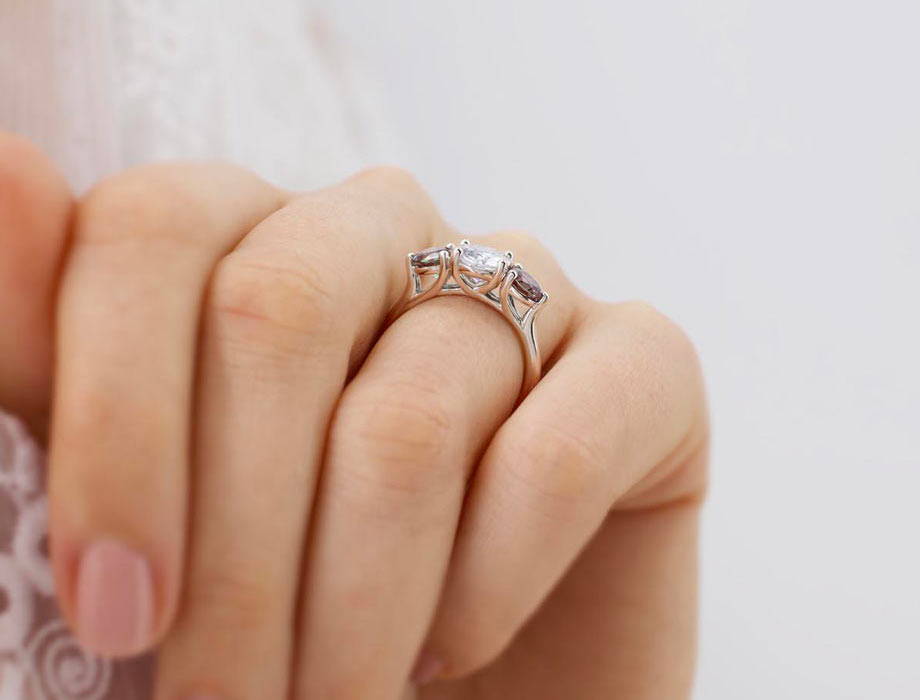 Carrying on with the trilogy theme, our Blossom ring features a brilliant round cut centre stone, which is framed by two pear cut conflict free diamonds. A four prong mount securely attaches the gemstones to the 2.3mm band, that is available in your choice of metal, 18k white, yellow or rose gold and also platinum. All of our jewellery is UK hallmarked, meaning that it has been independently checked by a third party to ensure our pieces are made of the highest quality materials.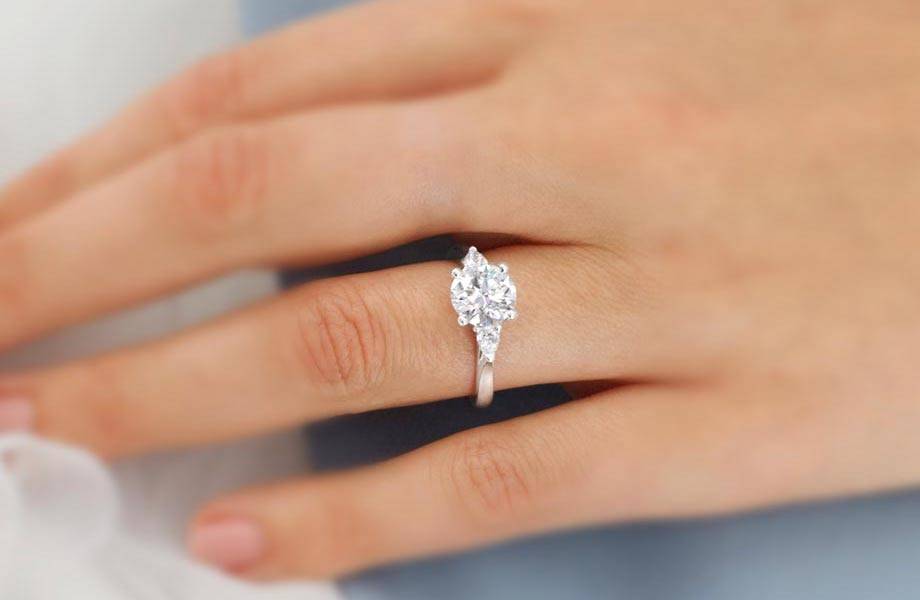 The Amabel ring has five equally sized gemstones that are all held in place by individual four prong settings. This ring is available in three different total carat weights, 1.25ct, 1.75ct, 2.50ct and is sure to be a dazzling showstopper, that is also gorgeous as a lab diamond engagement ring.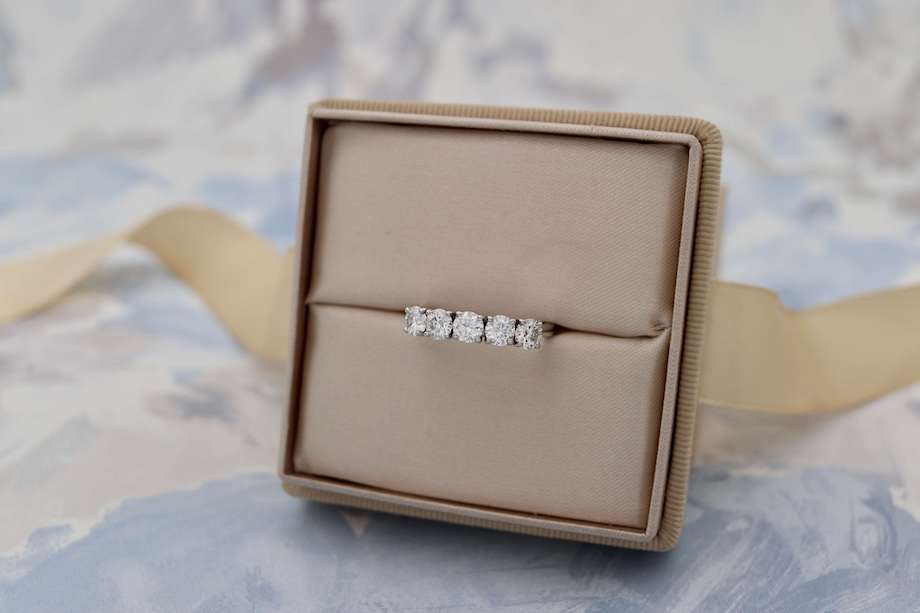 Finally the Everdeen ring is another of our multi-stone engagement rings and features three oval cut gemstones set on top of a tapered mount to make the most of the chosen carat size.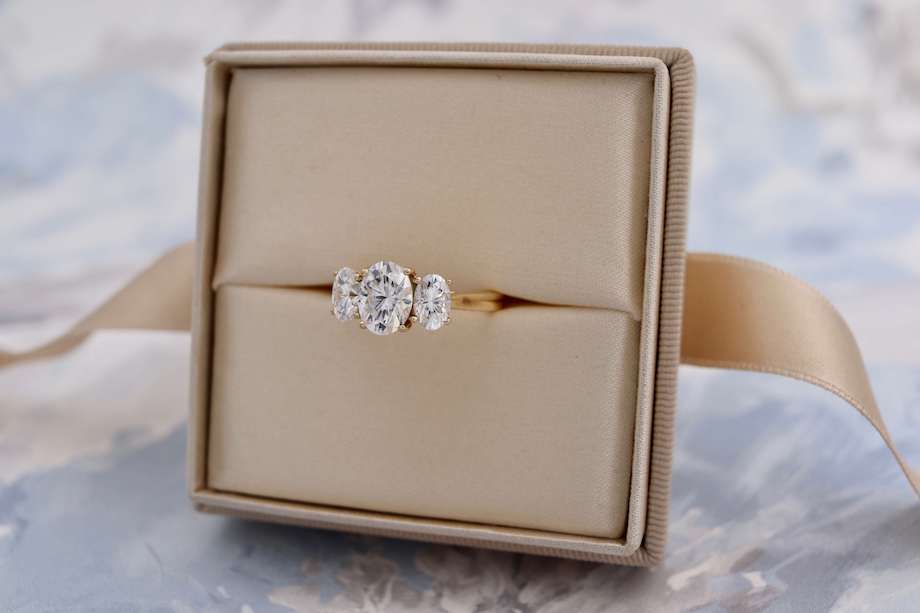 Make sure to come into our UK showroom to see any of our beautiful rings in person, or book an virtual WhatsApp appointment with one of our JET trained jewellery experts who can take you through our ranges and advise on what the perfect piece might be. With our 5* rating on TrustPilot, you can be sure of our excellent customer service and professional experience.
Moissanite Engagement Rings
We offer two different types of moissanite in our engagement rings, Lily Arkwright Moissanite and Charles & Colvard Forever One Moissanite. Charles and Colvard have been producing premium moissanite in their labs for the last 20 years and are world-renowned for their high quality. As the most well-known makers of moissanite, they have a large following and produce excellent quality gemstones. Taking two - three months to create a single gem, each stone is subject to exacting quality checks and must undergo several rounds of grading before being allowed for sale. We are proud authorised retailers of Charles and Colvard and are sellers of both their Forever One range and their Heart and Arrows range.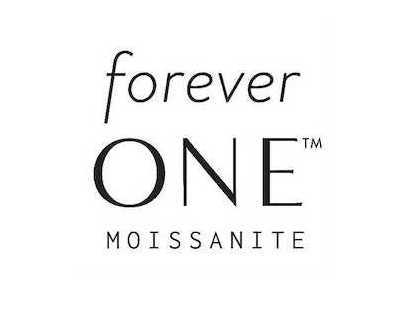 Our own branded Lily Arkwright moissanite is of the same calibre however comes at a slightly lower price point because we are able to source it ourselves. Lily Arkwright moissanite comes with a lifetime warranty, just like with Charles and Colvard, because we can assure our customers of the excellent quality we offer.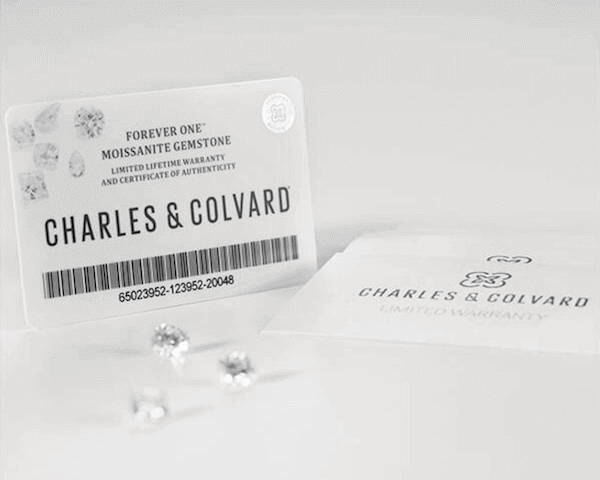 All Moissanite stones are accompanied by a certificate of authenticity and a limited lifetime warranty, and each stone is carefully inspected and graded by a fully qualified gemologist. We are proud Assay Assured retailers and members of the National Association of Jewelers, which means that everyone of our items has been quality checked by an independent assessor, ensuring great quality across our ranges. As an ethical and sustainable engagement ring option, moissanite comes at a better price to both the planet and your purse, check out this Bloved Blog article on the best places to buy an ethical engagement ring.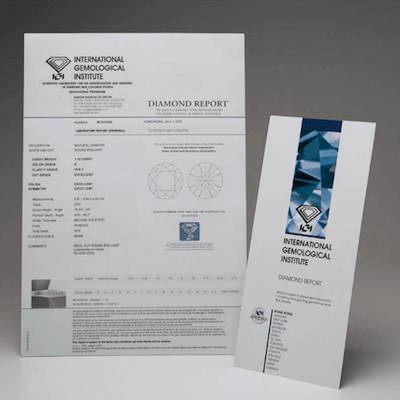 The lab diamond engagement rings available from Lily Arkwright also come with certificates of authenticity and are fully certified to international standards. Checked by either IGI or GCAL, our lab grown diamonds are of the highest quality on the market, and make for incredible engagement rings.  
Celebrity Multi Stone Engagement Rings
Perhaps the most well-known trilogy ring to grace the public consciousness over the last few years is Meghan Markle's engagement ring from Prince Harry. Her yellow gold sparkler is set with a central cushion cut diamond with two smaller round cut diamonds on the side, not entirely unlike our own blossom ring!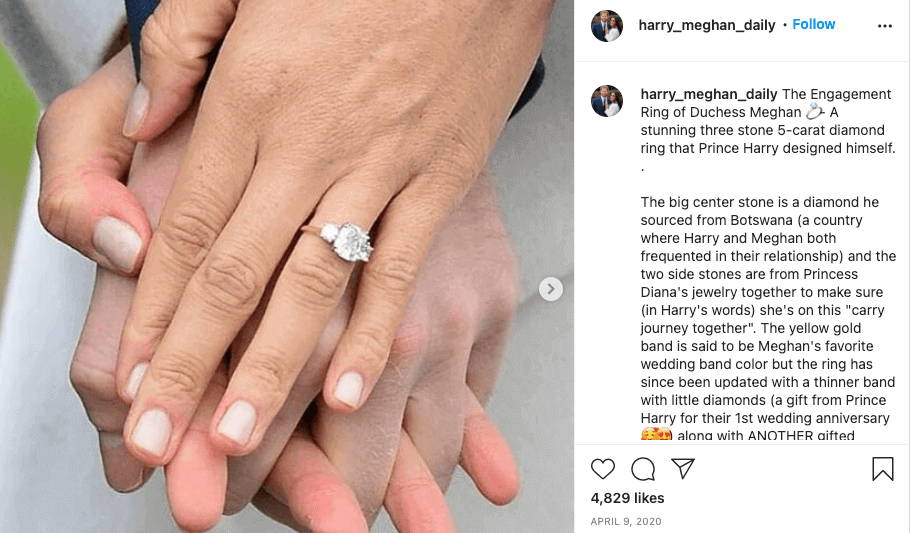 Photo Reference: @harry_meghan_daily on instagram
Another celeb who's opted for a trilogy ring is Halle Berry, who has an absolutely jaw-dropping emerald and yellow gold engagement ring that is bordered by two round cut diamonds. Have a look at our collection of emerald rings, and if you'd like something more akin to Halle's we have a bespoke ring design service, which is especially for couples who want something entirely unique. All of our rings showcase our British craftsmanship and have free and insured global shipping. Besides this, there is a 30 day hassle-free returns policy* and a 12 month warranty.  
As well as Halle Berry, Elizabeth Hurley's engagement ring also features a coloured gemstone, with a huge cushion cut sapphire adorning her ring finger. This trilogy ring is embellished with two trillion cut diamonds, all held in place on top of a 18k white gold band.  
Why Choose a Multi Stone Engagement Ring?
A multi-stone ring is perfect for those who want the romantic metaphor of a trilogy ring and they also mean a number of different choices in cut and colour of the gemstone is available. If you can't decide between a sapphire and a moissanite gemstone then choosing, a multi-stone ring is a great option - you can have both!
Our bespoke ring design service means that we can work with you to create a unique piece, have a look at this completely stunning ring that was one of our one-off designs.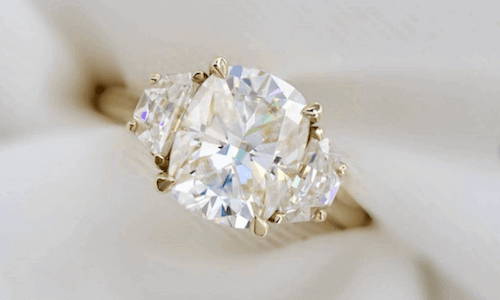 Featuring a elongated cushion cut, bordered by two trillion cut moissanite gemstones and all set in 18k yellow gold band; this ring is similar to Elizabeth's Hurley's ring mentioned earlier, but with a gorgeous moissanite centre stone rather than sapphire.
Check out our entire collection of multi-stone engagement rings, and let a member of our team know if you have any queries whatsoever. We hope that you have found this article helpful, and that we've helped those considering a multi-stone ring for their engagement. Let us know down in the comments your thoughts on this ring type.
We pride ourselves on our ability to produce stunning ethical and sustainable fine jewellery at an amazing price point, supported by unrivalled customer service. We offer the highest quality moissanite engagement rings, lab grown diamond engagement rings and coloured gemstones. Make sure to also check out our collections of moissanite earrings and pendants as well, for a gorgeous bridal set.
Lily Arkwright are proud Assay Assured jewellery retailers and committed members of the National Association of Jewellers based on honesty, integrity and professionalism. All precious metal jewellery offered by Assay Assured jewellery retailers carries the legally-required independent hallmark verifying the precious metal content, a protection over and above legal requirements. Read our glowing customer reviews on Trust Pilot.
If you are interested in booking a consultation or simply would like to find out more information about ourselves or our collections, please call us on 0161 537 6773, alternatively you can email our jewellery consultancy team at hello@lilyarkwright.com.
*On standard collections that are not designated 'made to order'.
Did you enjoy this article? What do you think of multi stone engagement rings?
Let us know your thoughts and leave us a comment below. Also are there any future topics you'd like us to cover?
Wishing you all the best, The Lily Arkwright Team x