Your Guide To Exquisite Emerald Engagement Rings
Created: August 2nd, 2019

Your Guide To Exquisite Emerald Engagement Rings

---
Emeralds were adored by Venus, the roman goddess of love, representing eternal love, devotion and passion. As the birthstone of May, the emerald is seen as a unique symbol of hope, faith and loyalty; and its beautiful appearance and symbolic story make it a favourite among celebrities such as Victoria Beckham and Halle Berry.

Emeralds were also said to be Cleopatra's favourite gemstones, and it was her conspicuous displays of these jewels that turned this gem into a mark of royalty. The colour green is also associated with wealth, abundance, and springtime.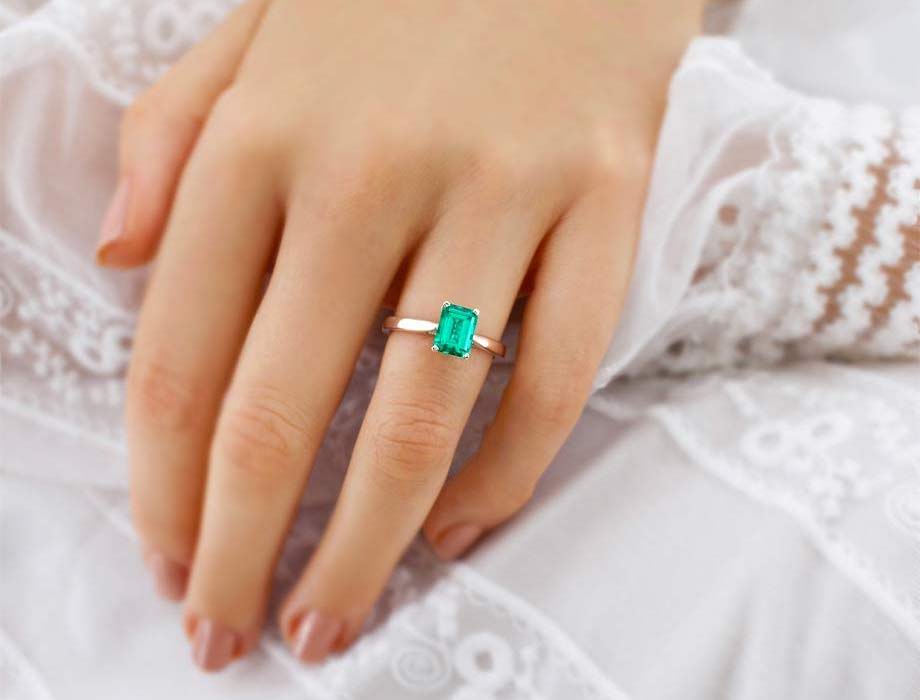 Lily Arkwright offers an exquisite collection of ethical emerald engagement rings featuring Chatham lab grown emeralds, which possess the finest colour and clarity only seen in the very best mined gems. The original creators of lab grown emeralds, Chatham have over 80 years experience growing gorgeous green emerald crystals in an exclusive and extensive process which takes around a year to complete. This process involves naturally replicating the conditions in which emeralds grow within the earth such as temperature, pressure and chemical makeup. In this controlled environment, they are able to create a gemstone physically, optically and chemically identical to mined emeralds. For more information on our Chatham gemstones, make sure to take a look at Boho Weddings article on sustainable luxurious jewellery that lasts a lifetime.
'From choice of metal to the cut of the stone and ring setting, there is a lot to consider when choosing your emerald engagement ring. We have created a detailed guide to inspire you when looking for the perfect emerald engagement ring.'
The Lily Arkwright Team
Are lab grown emeralds better than mined emeralds?

Here at Lily Arkwright we believe that lab grown emeralds produced by Chatham are a wonderful alternative to the mined variety. This is not only because lab grown gemstones are more ethical and sustainable, but also because of their superior colour and clarity. Mined emeralds are especially renowned for the number of inclusions that can be seen throughout the stone. The techniques used by Chatham to grow their emeralds always results in an amazingly clear, and richly green jewel. Lab grown emeralds are also able to be grown in shapes and sizes that are incredibly rare naturally, allowing for beautiful bespoke pieces.

Naturally occurring emeralds and lab grown emeralds are made from the same components, consisting of a mineral called beryl. An element within beryl called chromium is what gives the stone its amazing green colour, however when in a natural environment the amount of chromium will vary drastically throughout a single gemstone. When growing emeralds Chatham controls how much chromium is used to an exact degree, creating unbeatable green shades in just 12 months.
Here at Lily Arkwright we have a 12 month warranty with all our jewellery, and a limited lifetime warranty on our moissanite and Chatham gemstone collections. Our 30 day returns policy* and free and insured global shipping, make sure our customers can be rest assured they have the perfect engagement ring.
Lily Arkwright are also the only UK stockists of Chatham, supplying their exceptional quality gemstones in stunning designs that are the mark of British craftsmanship. You can check out the Chatham store locator here.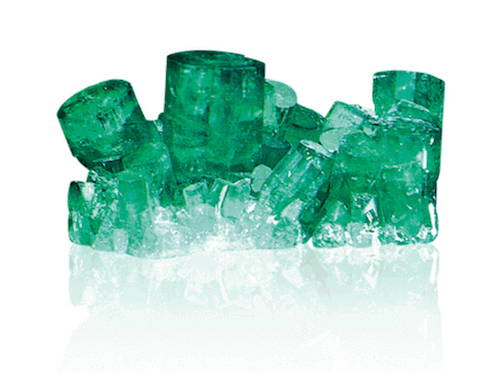 Photo Reference: CHATHAM LAB
A classic emerald cut emerald stone is ideal for the traditionalists searching for a timeless piece to symbolise their eternal love with their partner. This time honoured style is inspired by the art deco era, and is adored by those desiring a vintage design. An emerald cut elongates the hand, creating a luxuriously elegant appearance for the wearer.
The Florence emerald Solitaire, as pictured below, is a beautiful choice for those wishing for a classic emerald cut emerald engagement ring. This solitaire setting, set by our goldsmiths here in the UK, accentuates the stunningly vivid emerald centre stone for a sophisticated, eye-catching ring.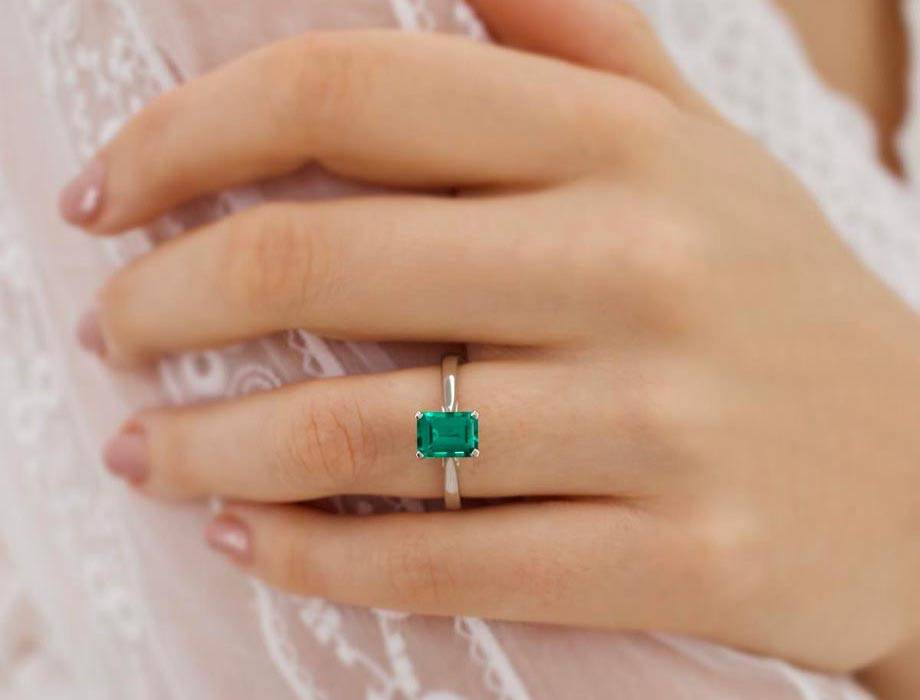 For a truly vintage inspired ring, pair an emerald with an expertly crafted 18k yellow gold band. The flattering contrast between the vibrant emerald centre stone and the yellow gold band creates a unique glow, making the ring unmissable on your hand.
A round cut emerald centre stone is a beautiful compliment to a yellow gold band. The simplicity of this classic cut draws attention to the stunning emerald centre stone and the incredible appearance of its contrasting colours. Check out our Annora ring in the video below which features this gorgeous pairing.
Make your emerald centre stone pop in a diamond halo setting. A halo shoulder set design provides a modern take on a vintage classic. This perfect pairing creates the appearance of extra brilliance and added shimmer, ideal for those dreaming of an impressively glamorous ring. If this is what you're looking for The Esme Chatham lab grown emerald & Diamond ring is a breathtaking choice. Delicately adorned with conflict-free diamonds meticulously placed surrounding the emerald centre stone and along the rings shoulders, the Esme is a show stopping choice.
A contemporary classic, white gold and platinum are the most popular metal choices for emerald engagement rings. Subtle and understated, a white gold or platinum band allows the emerald to take centre stage for a striking appearance.
A modern alternative to yellow gold, rose gold coupled with an emerald centre stone creates a rare and unusual engagement ring suited to individuals who desire a unique engagement ring. Rose gold is a graceful way of complimenting the emerald centre stone with colour whilst maintaining the ring's beauty.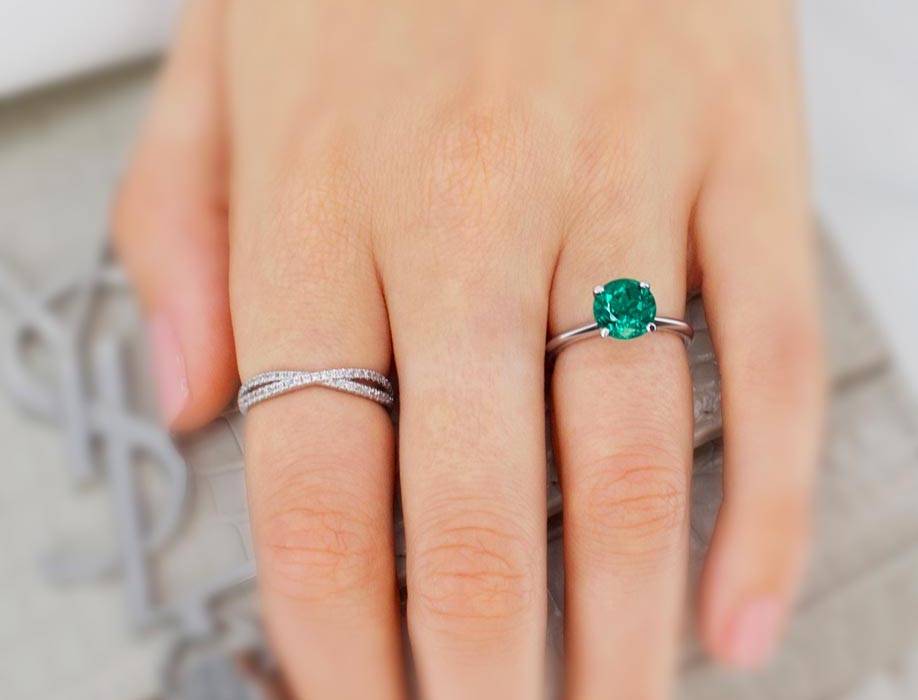 Can't find your dream emerald engagement ring on our website? With our Lily Arkwright bespoke design package it is easier than you think to design and own a custom made engagement ring. Our expert design team can guide you through our bespoke design process from start to finish, offering full custom made designs to suit your personal tastes. This can include a variety of cuts of emerald stones in customised settings to meet your every desire. Or, if you are looking to replace your current rings stone we hold a selection of loose emerald stones which can be set in your current mount.
You can additionally visit our UK showroom or book an online consultation with our JET trained jewellery consultants, for any queries you may have regarding you engagement ring.
We pride ourselves on our ability to produce stunning ethical and sustainable fine jewellery at an amazing price point, supported by unrivalled customer service. We offer the highest quality moissanite engagement rings, lab grown diamond engagement rings and coloured gemstones. Make sure to also check our are collections of moissanite earrings and pendants as well, for a gorgeous bridal set.
Lily Arkwright are proud Assay Assured jewellery retailers and committed members of the National Association of Jewellers based on honesty, integrity and professionalism. All precious metal jewellery offered by Assay Assured jewellery retailers carries the legally-required independent hallmark verifying the precious metal content, a protection over and above legal requirements. Read our glowing customer reviews on Trust Pilot.
If you are interested in booking a consultation or simply would like to find out more information about ourselves or our collections, please call us on 0161 537 6773, alternatively you can email our jewellery consultancy team at hello@lilyarkwright.com.
*On standard collections that are not designated 'made to order'.
Did you enjoy this article? Do you love emeralds just as much as we do? Let us know your thoughts and leave us a comment below. Also are there any future topics you'd like us to cover?
Wishing you all the best, The Lily Arkwright Team x