A Guide to Pear Cut Moissanite Engagement Rings
Created: February 01, 2018

A Guide to Pear Cut Moissanite Engagement Rings

---
The eloquent pear cut is timeless, dazzling and ideal for moisssanite engagement rings, beautiful drop pendants and bridal sets.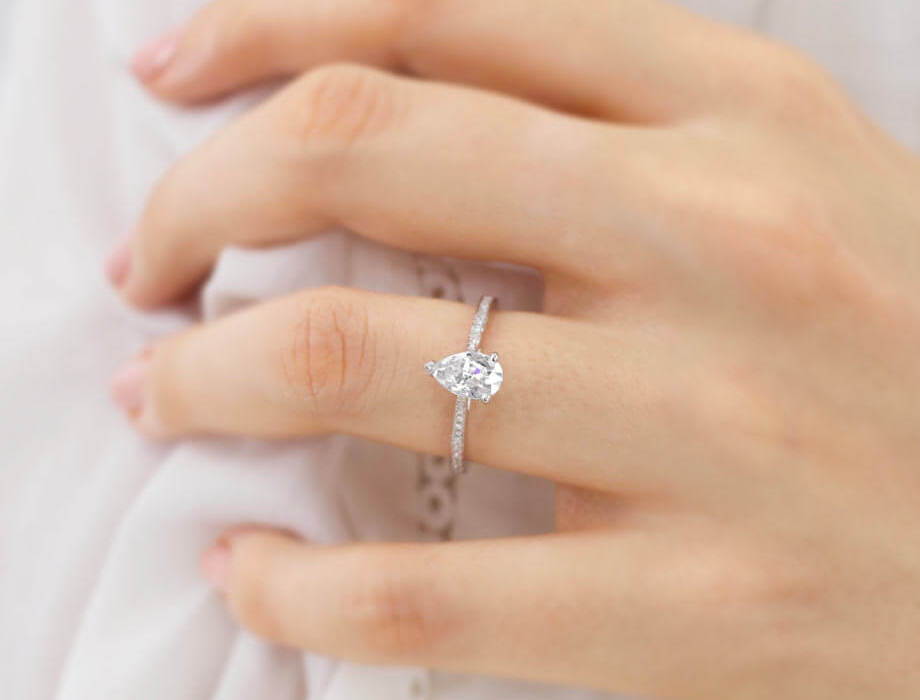 The pear cut shape is one of the oldest gemstone cuts from our Charles and Colvard jewellery collection. Over 4 centuries the pear cut was refined and adjusted by master jewellers until the early 20th century, when the modern pear cut shape was perfected.
Shape: teardrop from above and below (rounded at one end, pointed at the other), elongated cone shape from the side.
Facets: 72
Style: traditional and elegant – the shape tends to elongate the appearance of your fingers.
Cut Grading: much like the oval cut, the pear cut can have a bow tie effect where light is bounced around the centre of the gem. With the correct ratios and depth, this cut can glow intensely.
The pear cut is also known as the teardrop or pendeloque cut. The sharp, pointed end of the cut should traditionally be pointing towards the hand of the wearer, although this is really down to personal preference.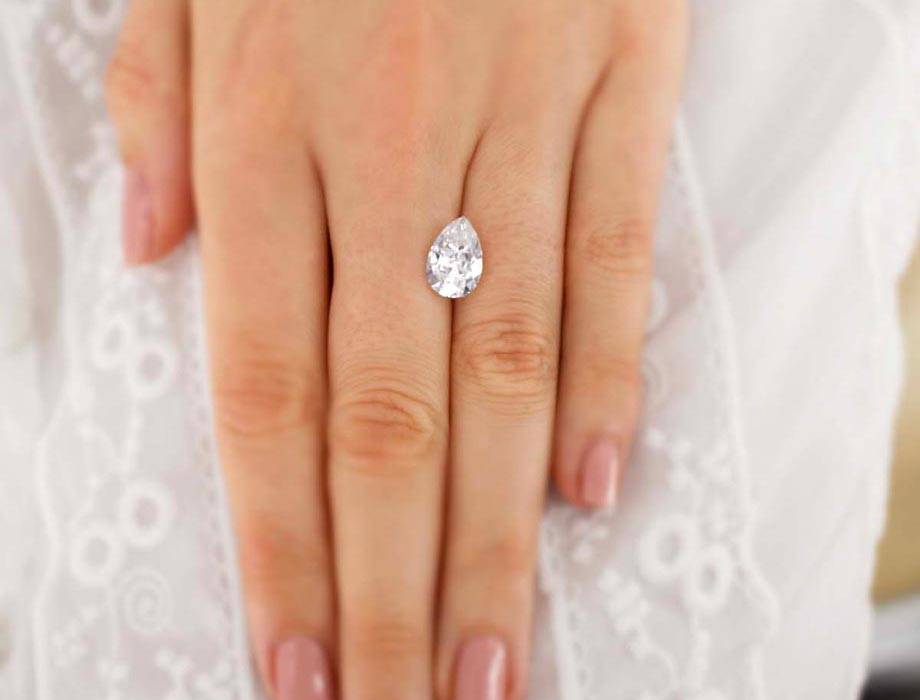 Pear Cut Moissanite Gemstone Style

The unusual shape of the pear cut works particularly well with warmer metals, like yellow gold. The shape is more associated with traditional styles, but of course it all depends on how you opt to wear the ring.
Victoria Beckham, for example, has had 13 different engagement rings so far, including a delightful pear cut diamond on a platinum, diamond pave band. Much like the "Lisette" 1.5 carat moissanite engagement ring from the Charles and Colvard Forever One collection, this vintage design has a modern edge thanks to the use of cool silver colours and minimalistic settings.
Mia Farrow on the other hand, accepted an extravagant vintage style 9 carat pear shaped engagement ring from Frank Sinatra in 1966. She wore the engagement ring above a simple wedding band, similar to the channel set eternity rings at Lily Arkwright.
The elongated point of pear cut engagement rings makes them ideal for stacking over eternity and wedding bands. Take a look at our full range of eternity bands and moissanite engagement rings and lab diamond engagement rings for inspiration, and create your own bridal sets with some of our moissanite earrings and pendants.
We pride ourselves on our ability to produce stunning ethical and sustainable fine jewellery at an amazing price point, supported by unrivalled customer service. We offer the highest quality moissanite, lab grown diamonds and gemstones.
Lily Arkwright are proud Assay Assured jewellery retailers and committed members of the National Association of Jewellers based on honesty, integrity and professionalism. All precious metal jewellery offered by Assay Assured jewellery retailers carries the legally-required independent hallmark verifying the precious metal content, a protection over and above legal requirements. Read our glowing customer reviews on Trust Pilot.
If you are interested in booking a consultation or simply would like to find out more information about ourselves or our collections, please call us on 0161 537 6773, alternatively you can email our jewellery consultancy team at hello@lilyarkwright.com.
Love pear cut moissanite engagement rings, let us know you're number one style!
Let us know your thoughts and leave us a comment below. Also are there any future topics you'd like us to cover?
Wishing you all the best, The Lily Arkwright Team x